In the tranquil moments preceding slumber, a timeless and cherished tradition is observed in countless households worldwide. Bedtime prayers, a ritual of remarkable universality, unite hearts and spirits regardless of age or cultural background. This practice transcends geographical boundaries and connects individuals to a divine realm, creating a profound link between the earthly and the spiritual.
Bedtime Prayers
Bedtime prayers serve as a gentle reminder of the enduring beauty of faith. They encapsulate the essence of gratitude, offering an opportunity to express thanks for the day's blessings, both seen and unseen. This practice is a comforting and reassuring balm that nurtures our connection with forces greater than ourselves, ushering us into a realm of serenity and trust.
In the following pages, we embark on an exploration of the profound significance of bedtime prayers. We navigate the soothing comfort they bestow, their capacity to provide guidance in times of reflection, and the deep sense of solace they bring, especially in those vulnerable moments that precede sleep. Let us uncover the profound impact of these nightly rituals and how they offer a sacred bridge between our hearts and the divine.
1. The Importance of Bedtime Prayers:
Dear Heavenly Father, as I prepare to rest, I recognize the importance of bedtime prayers. Thank You for this time of reflection and connection with You. May my prayers be a source of solace and a reminder of Your love.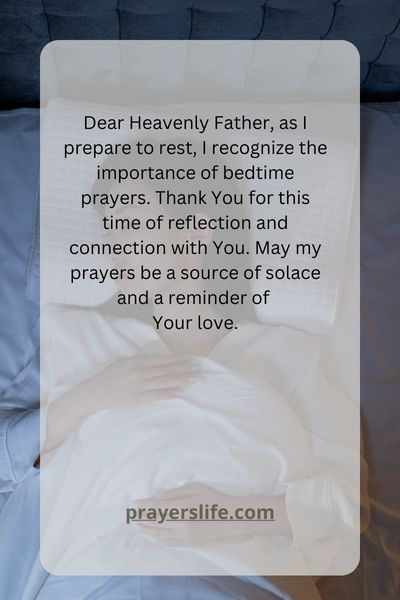 "In peace I will lie down and sleep, for you alone, Lord, make me dwell in safety."
2. Teaching Children Bedtime Prayers:
Lord, I pray for the little ones, as I teach them the beauty of bedtime prayers. May they grow to understand Your love and the comfort that comes from connecting with You before sleep.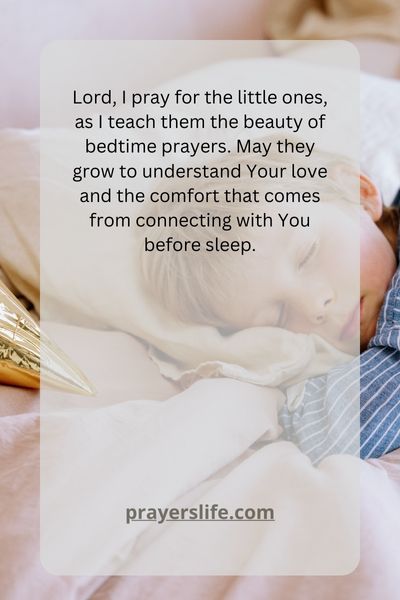 "Train up a child in the way he should go; even when he is old he will not depart from it."
3. Bedtime Prayers for Peaceful Sleep:
Heavenly Father, grant me peaceful sleep as I lay down my worries and cares. May Your presence surround me, and may I awaken refreshed, ready to face a new day.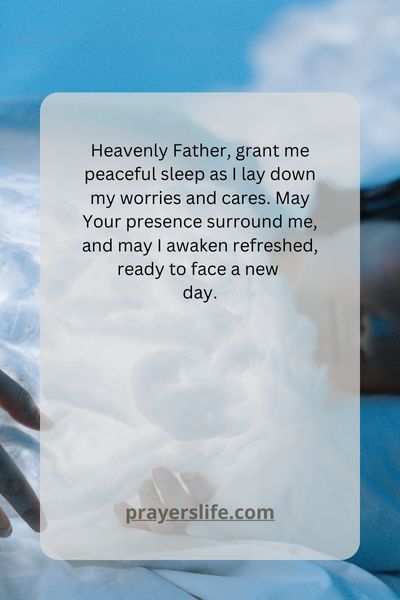 "Do not be anxious about anything, but in everything by prayer and supplication with thanksgiving let your requests be made known to God. And the peace of God, which surpasses all understanding, will guard your hearts and your minds in Christ Jesus."
4. Praying for Loved Ones at Bedtime:
Lord, I lift up my loved ones in prayer as I prepare for sleep. Watch over them, protect them, and bless them with a peaceful night. Let Your love be their guardian.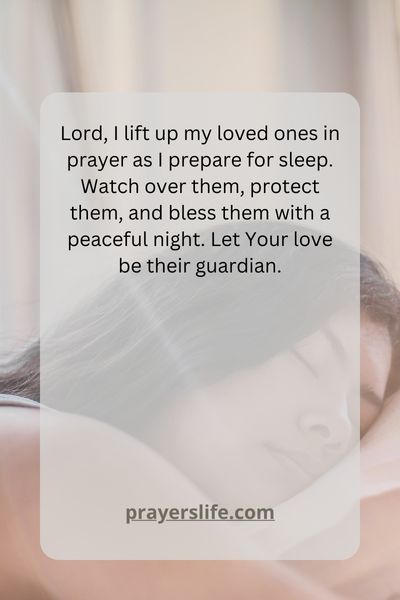 "The Lord will keep you from all harm— he will watch over your life; the Lord will watch over your coming and going both now and forevermore."
5. Bedtime Prayers for Gratitude:
Dear God, I end my day with a heart full of gratitude. Thank You for the blessings of this day, both seen and unseen. I am thankful for Your love and guidance in my life.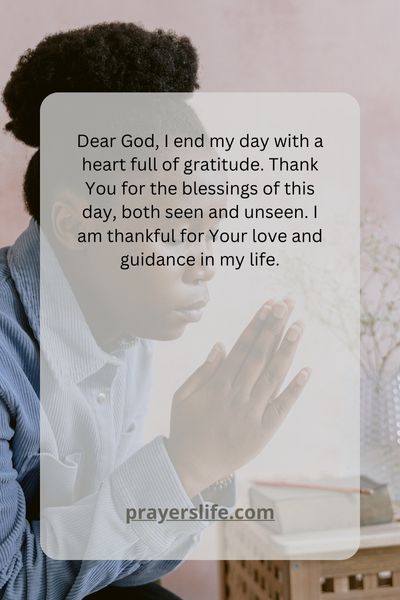 "Give thanks in all circumstances; for this is the will of God in Christ Jesus for you."
6. Finding Comfort in Bedtime Prayers:
Heavenly Father, as I prepare for sleep, I find comfort in knowing that You are with me. Grant me the assurance that I am not alone and that You watch over me.
Isaiah 41:10
"Fear not, for I am with you; be not dismayed, for I am your God; I will strengthen you, I will help you, I will uphold you with my righteous right hand."
7. Bedtime Prayers for Healing:
Lord, I pray for healing in body and spirit as I lay down to rest. May Your restorative power work within me, bringing physical and emotional renewal during the night.
Psalm 147:3
"He heals the brokenhearted and binds up their wounds."
8. Nightly Reflections with Bedtime Prayers:
Dear God, I reflect on the day's events as I prepare for sleep. May my reflections help me grow and learn, drawing me closer to You and Your wisdom.
Psalm 119:15
"I meditate on your precepts and consider your ways."
9. Bedtime Prayers for Families:
Heavenly Father, I pray for my family as we lay down to rest. Watch over each member, and may our bonds of love and faith be strengthened in the quiet of the night.
Psalm 133:1
"Behold, how good and pleasant it is when brothers dwell in unity!"
10. The Power of Bedtime Prayers for Children:
Lord, I recognize the power of bedtime prayers for children. Bless the young hearts as they pray and grant them a deep understanding of Your love and presence in their lives.
Matthew 19:14
"But Jesus said, 'Let the little children come to me and do not hinder them, for to such belongs the kingdom of heaven.'"
11. Personalized Bedtime Prayers:
Dear God, I offer my personalized bedtime prayers, reflecting my hopes and concerns. Thank You for always listening to my unique expressions of faith and trust.
Psalm 139:23-24
"Search me, O God, and know my heart! Try me and know my thoughts! And see if there be any grievous way in me, and lead me in the way everlasting!"
12. Bedtime Prayers for Strength and Courage:
Heavenly Father, as I prepare for rest, I seek Your strength and courage. May I find the fortitude to face challenges with faith, knowing that You are my refuge.
Joshua 1:9
"Have I not commanded you? Be strong and courageous. Do not be frightened, and do not be dismayed, for the Lord your God is with you wherever you go."
13. A Guide to Bedtime Prayers:
Lord, I turn to You as my guide for bedtime prayers. May Your wisdom direct my words and thoughts as I commune with You, seeking solace and insight.
Psalm 73:23-24
"Nevertheless, I am continually with you; you hold my right hand. You guide me with your counsel, and afterward, you will receive me to glory."
14. Bedtime Prayers for Inner Peace:
Dear God, grant me inner peace as I prepare for sleep. May my worries be laid to rest, and may Your tranquility fill my heart and mind.
Philippians 4:7
"And the peace of God, which surpasses all understanding, will guard your hearts and your minds in Christ Jesus."
15. Bedtime Prayers for Protection:
Heavenly Father, I seek Your protection as I lay down to rest. Watch over me and shield me from harm, both seen and unseen. May I feel secure in Your care.
Psalm 91:11-12
"For he will command his angels concerning you to guard you in all your ways; they will lift you up in their hands, so that you will not strike your foot against a stone."
16. The Joy of Bedtime Prayers
:
Lord, I find joy in the act of bedtime prayers. May this nightly ritual fill my heart with gladness and thankfulness for the gift of Your presence in my life.
Psalm 16:11
"You make known to me the path of life; in your presence, there is fullness of joy; at your right hand are pleasures forevermore."
17. Bedtime Prayers for a Good Night's Rest:
Dear God, grant me a good night's rest as I prepare for sleep. May I awaken refreshed and rejuvenated, ready to face a new day with vitality and energy.
Proverbs 3:24
"If you lie down, you will not be afraid; when you lie down, your sleep will be sweet."
18. Bedtime Prayers for the World:
Dear Heavenly Father, as I prepare to conclude my bedtime prayers, my heart expands beyond the confines of my personal concerns. In a world that often finds itself fractured by discord and strife, I extend my thoughts and supplications to encompass all of humanity. With a deep sense of purpose, I beseech You for the universal gifts of peace, healing, and unity.
Matthew 5:9
"Blessed are the peacemakers, for they shall be called sons of God."
Conclusion
In the tranquil moments before we surrender to sleep's embrace, we engage in a time-honored practice of offering our heartfelt prayers to the heavens. It is in these whispered petitions that we cradle the promise of a fresh and untarnished day, as bedtime prayers emerge as a perennial tradition, forging a profound connection between our innermost selves and the divine.
These bedtime prayers serve as a sacred bridge between our faith and the profound sense of gratitude that rests in our hearts. They are a tapestry of our hopes for the dawn of a new day, each uttered word and heartfelt sentiment woven together with threads of devotion. In our moments of vulnerability, just before we relinquish our conscious awareness, we draw strength from this connection with the divine, understanding that our trust in the eternal offers solace and refuge.
Concluding our journey through the realms of bedtime prayers, we carry with us the knowledge that this cherished ritual is a wellspring of comfort, a soothing balm that calms our restless souls, and a tether to the everlasting. As we surrender to the gentle embrace of sleep, these bedtime prayers serve as unwavering guiding lights, illuminating our path through the night and ushering us into the radiant promise of a new day with a heart full of solace and unshakable faith.