As the festive season unfolds and the air becomes infused with the spirit of joy, it is a poignant time for Christmas reflections and prayers. In the hustle and bustle of holiday preparations, there exists a sacred space for introspection, gratitude, and connection with the divine. Christmas, beyond its vibrant decorations and cheerful melodies, beckons us to delve into the deeper meaning of this cherished celebration.
Join us on a journey of contemplation and communion as we explore the significance of Christmas through reflective prayers that touch the heart and soul.
Christmas Reflections and Prayers
Discover the profound meaning of Christmas through reflections and prayers. Dive into the festive spirit with engaging insights, personal experiences on Christmas Reflections and Prayers
1. Reflecting on the Gift of Love
Dear Heavenly Father, as we gather to celebrate the birth of Your Son, Jesus Christ, we reflect on the profound gift of love You bestowed upon us. May our hearts be filled with the love that Christmas represents, and may we share that love with those around us. Help us to embody the selfless love shown by Jesus, and may our actions reflect the true spirit of Christmas.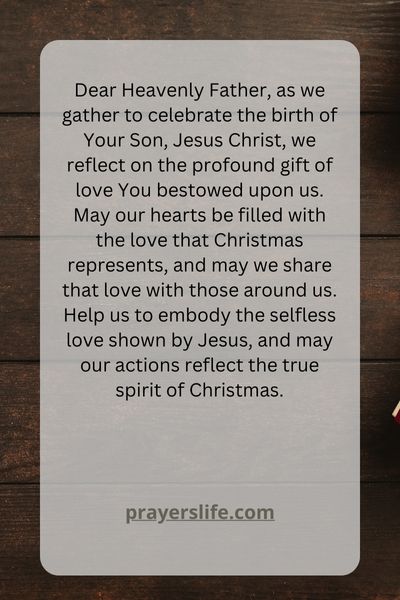 "And now these three remain: faith, hope, and love. But the greatest of these is love." Lord, let our lives be a testament to the transformative power of love, just as Your love transforms us. Amen.
2. Gratitude for Blessings
Gracious God, as we come together in this season of joy, we pause to reflect on the countless blessings You have bestowed upon us. Thank You for the gift of life, love, and the hope that Christmas brings. Open our hearts to appreciate the abundance of Your blessings, both big and small, and cultivate a spirit of gratitude within us.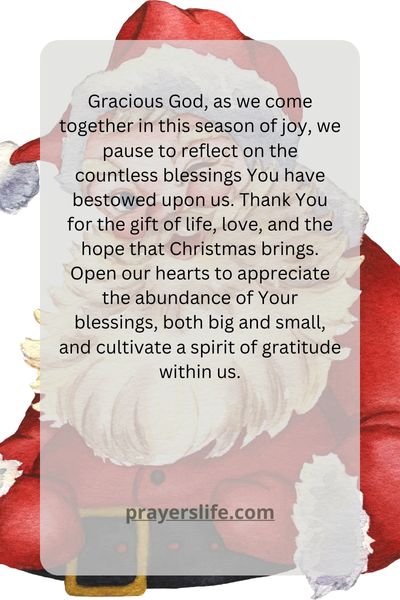 "Praise the Lord, my soul, and forget not all his benefits." Lord, help us to remember and be grateful for Your abundant blessings, and may our lives be a constant hymn of thanksgiving to You. Amen.
3. Peaceful Moments
Prince of Peace, in the midst of the festive hustle and bustle, we seek the tranquillity that Your presence brings. Grant us peaceful moments of reflection and solitude, where we can connect with You and experience the calmness that surpasses all understanding.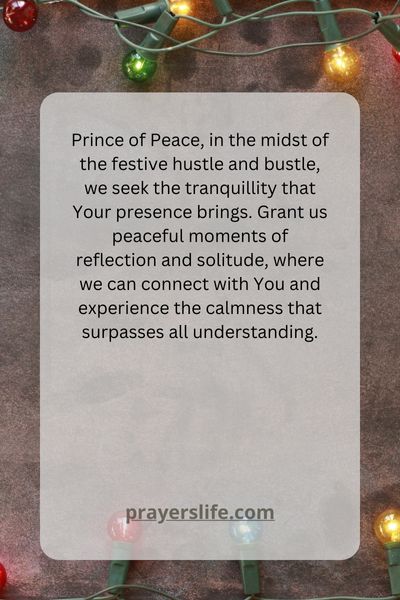 "Peace I leave with you; my peace I give you. I do not give to you as the world gives. Do not let your hearts be troubled and do not be afraid." Lord, fill our hearts with Your peace and guide us to share that peace with others. Amen.
4. Joyful Hearts
Heavenly Father, as we celebrate the birth of Your Son, Jesus, fill our hearts with uncontainable joy. May the joy of Christmas be a contagious spirit that spreads to all we encounter. Help us to find joy not just in the festivities, but in the profound truth that You have come to dwell among us.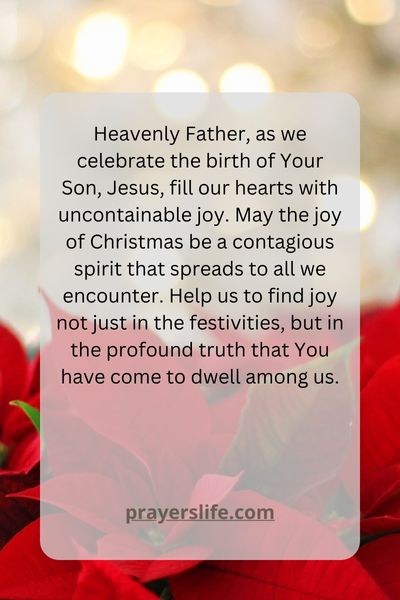 "But the angel said to them, 'Do not be afraid. I bring you good news that will cause great joy for all the people. Today in the town of David a Savior has been born to you; he is the Messiah, the Lord.'" Lord, may our hearts echo the joyous proclamation of the angels as we celebrate the Savior's birth. Amen.
5. Family Bonds
Dear God, as families gather during this Christmas season, we thank You for the precious gift of loved ones. Strengthen the bonds that unite us, and may our homes be filled with warmth, love, and understanding. Bless our families with moments of shared reflection and prayer, deepening our connection with You and each other.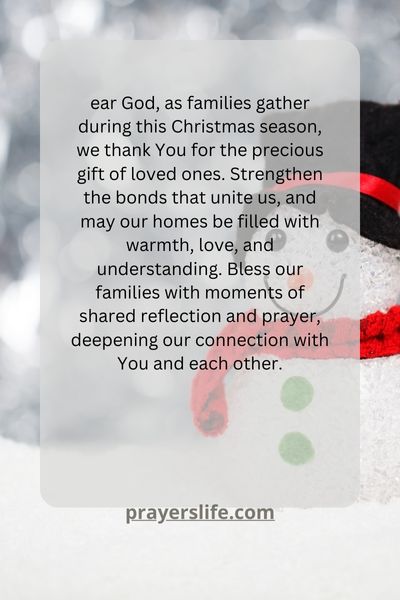 "And over all these virtues put on love, which binds them all together in perfect unity." Lord, may love be the foundation of our families, binding us together in unity and harmony. Amen.
6. Hope for the Future
Eternal God, as we celebrate the birth of Your Son, Jesus, instil within us a profound sense of hope for the future. May the promise of Christmas remind us that You are with us always, guiding us through every season of life.
Jeremiah 29:11
"'For I know the plans I have for you,' declares the Lord, 'plans to prosper you and not to harm you, plans to give you hope and a future.'" Lord, may the hope found in Your plans sustain us, and may we trust in Your unwavering faithfulness. Amen.
7. Giving Thanks
Gracious Provider, as we gather in gratitude for the gift of Your Son, Jesus, we reflect on the abundance of Your blessings. Thank You for the ultimate sacrifice of love and for the grace that surrounds us. Open our eyes to the countless reasons to give thanks, and may our hearts overflow with gratitude.
1 Thessalonians 5:18
"Give thanks in all circumstances; for this is God's will for you in Christ Jesus." Lord, help us cultivate a spirit of thanksgiving in all aspects of our lives, recognizing Your goodness in every moment. Amen.
8. Lighting the Path
Guiding Light, as we navigate the joys and challenges of this Christmas season, we seek Your divine guidance. Illuminate our path with Your wisdom and grace, leading us towards the true meaning of Christmas and guiding our steps in alignment with Your will.
Psalm 119:105
"Your word is a lamp for my feet, a light on my path." Lord, may Your word be our guiding light, illuminating our journey and directing us in righteousness. Amen.
9. Kindness and Compassion
Merciful Father, as we celebrate the birth of Your Son, Jesus, let kindness and compassion flow from our hearts. May the Christmas story inspire us to extend love and mercy to those in need, embodying the spirit of Christ's selfless compassion.
Ephesians 4:32
"Be kind and compassionate to one another, forgiving each other, just as in Christ God forgave you." Lord, help us to be vessels of Your kindness and compassion, reflecting Your love to a world in need. Amen.
10. Harmony in Diversity
God of Unity, as we come together in celebration, helps us embrace the diversity that makes each of us unique. May the Christmas story remind us that in Christ, there is no division, and help us build bridges of understanding and love across all differences.
Galatians 3:28
"There is neither Jew nor Gentile, neither slave nor free, nor is there male and female, for you are all one in Christ Jesus." Lord, may the unity found in Christ permeate our hearts and communities, fostering harmony amidst diversity. Amen.
11. Remembering the Less Fortunate
Compassionate God, as we rejoice in the gift of Your Son, Jesus, we remember those who are less fortunate. Open our eyes to the needs of others, and move our hearts to extend a helping hand. May
the spirit of generosity and compassion prevail this Christmas season.
Matthew 25:40
"The King will reply, 'Truly I tell you, whatever you did for one of the least of these brothers and sisters of mine, you did for me.'" Lord, may our actions reflect Your love, especially towards those in need, bringing comfort and hope to the less fortunate. Amen.
12. Healing and Comfort
Healer of Hearts, as we gather to celebrate the birth of Your Son, Jesus, we seek Your healing touch. Bring comfort to those who are hurting, and may the message of Christmas be a source of solace and restoration to all in need.
Psalm 147:3
"He heals the brokenhearted and binds up their wounds." Lord, extend Your healing grace to those who are in pain, and may the hope of Christmas bring comfort to their souls. Amen.
13. Treasured Memories
Eternal God, as we reminisce about Christmases past, we thank You for the gift of treasured memories. Bless us with the joy of nostalgia, and may the recollection of precious moments fill our hearts with gratitude and warmth.
Deuteronomy 4:9
"Only be careful, and watch yourselves closely so that you do not forget the things your eyes have seen or let them fade from your heart as long as you live. Teach them to your children and to their children after them." Lord, may the memories of Your faithfulness be etched in our hearts, passing down the legacy of Your love through generations. Amen.
14. Renewing Faith
Faithful God, as we celebrate the birth of Your Son, Jesus, renew our faith in You. May the Christmas story inspire a deepening trust in Your promises and a rekindling of our devotion to You.
Hebrews 11:1
"Now faith is confidence in what we hope for and assurance about what we do not see." Lord, strengthen our faith, that we may walk confidently in the assurance of Your love and grace. Amen.
15. Embracing the Present
Ever-Present God, in the midst of the holiday rush, help us to be fully present in the moment. May we cherish the gift of the present, savouring the joy of fellowship and the richness of Your love.
Philippians 4:6-7
"Do not be anxious about anything, but in every situation, by prayer and petition, with thanksgiving, present your requests to God. And the peace of God, which transcends all understanding, will guard your hearts and your minds in Christ Jesus." Lord, guide us to experience Your peace as we embrace the present with gratitude and mindfulness. Amen.

Conclusion

As the echoes of Christmas celebrations fade and the world returns to its routine, let the reflections and prayers linger in our hearts. May the lessons learned during this season of love, hope, and joy guide us throughout the year. Christmas is not just a day; it is a spirit to be carried within us, shaping our interactions and perspectives. In the moments of quiet reflection and the utterances of heartfelt prayers, we find a connection that transcends the material aspects of the holiday.

Let the essence of Christmas inspire us to embody love, kindness, and gratitude, not only during this festive season but in every season of our lives. As we bid farewell to another Christmas, let our hearts remain attuned to the message of peace and goodwill, carrying the light of Christmas throughout the journey ahead.