The Spirit of Herod, a symbol of manipulation, deceit, and the suppression of truth, has been a recurring challenge in the narratives of faith and spirituality. Just as King Herod sought to thwart the divine plan by targeting the infant Jesus, the modern-day manifestation of this spirit can threaten our spiritual well-being, relationships, and communities.
Prayer Against The Spirit Of Herod
In this article, we look into the concept of prayer against the Spirit of Herod, exploring how faith and fervent petitions can serve as a powerful shield against manipulation and deception. Join us on a journey of spiritual renewal and empowerment through prayer, as we strive to reclaim the truth and protect our faith.
1. Understanding the Spirit of Herod
Heavenly Father, in your infinite wisdom, we humbly beseech you to bestow upon us the gift of discernment and the ability to comprehend the intricate nuances of the Spirit of Herod as it manifests in our lives. We acknowledge that this spirit is characterized by cunning, manipulation, and the insidious suppression of truth.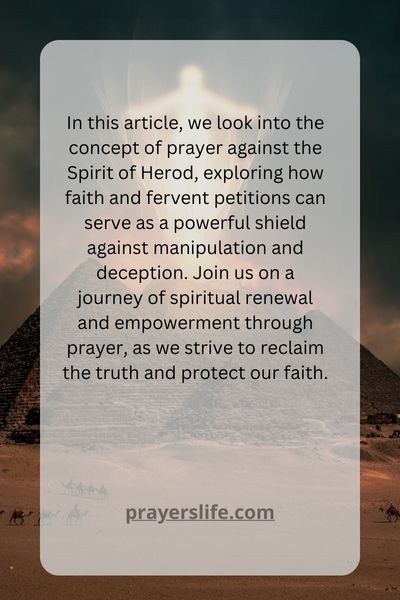 "For the Lord gives wisdom; from his mouth come knowledge and understanding."
2. Praying for Protection and Deliverance
Dear Heavenly Father, in this moment of seeking refuge from the Spirit of Herod, we come before Your presence with hearts humbled and spirits in need of Your divine intervention. We implore Your steadfast protection and deliverance to envelop us in these trying times.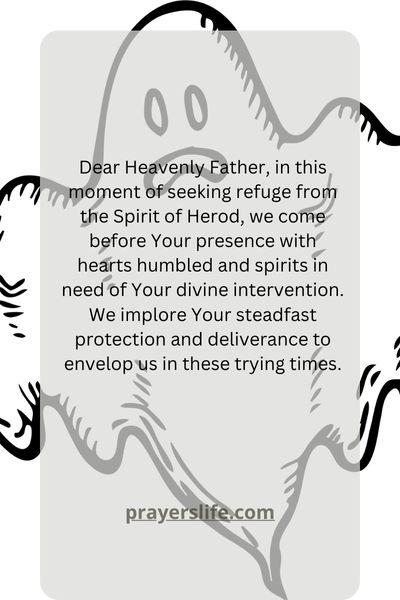 "But the Lord is faithful, and he will strengthen you and protect you from the evil one."
3. Unveiling Herod's Deceptive Tactics
O gracious Lord, we humbly implore Your divine guidance to reveal the cunning and deceptive tactics employed by the Spirit of Herod in our lives. In this intricate battle of spiritual warfare, we earnestly seek the discernment necessary to discern these insidious schemes, to see through the veils of deceit, and to guard our hearts and faith with unwavering resolve through the mighty weapon of prayer.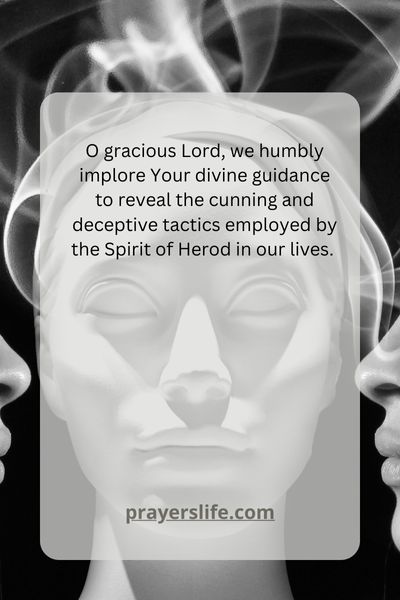 "Put on the whole armor of God, that you may be able to stand against the schemes of the devil."
4. The Power of Intercessory Prayer
Heavenly Father, we recognize the power of intercessory prayer in combating the Spirit of Herod. Grant us the strength and conviction to stand in the gap for ourselves and our loved ones.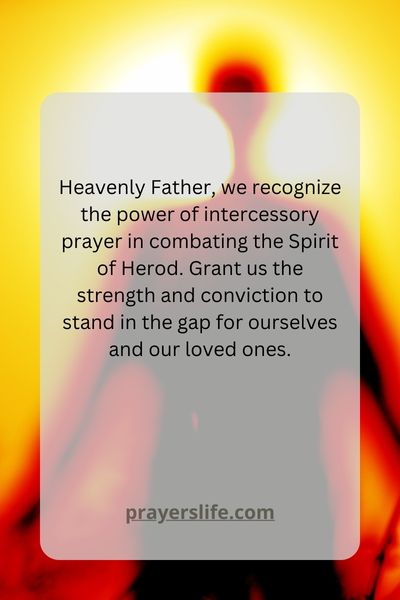 "First of all, then, I urge that supplications, prayers, intercessions, and thanksgivings be made for all people."
5. Confronting Spiritual Attacks
Dear God, as we confront spiritual attacks from the Spirit of Herod, we seek Your guidance and protection. Strengthen our faith and shield us from harm.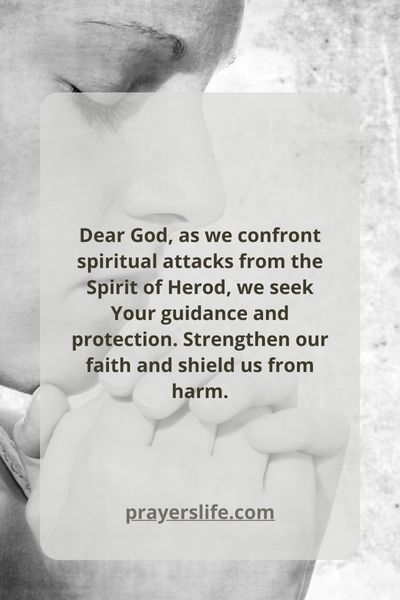 "Be sober-minded; be watchful. Your adversary the devil prowls around like a roaring lion, seeking someone to devour."
6. Overcoming Herod's Schemes through Prayer
Lord, help us overcome Herod's schemes through the power of prayer. Grant us the strength to resist manipulation and deceit, finding refuge in Your grace.
James 4:7
"Submit yourselves therefore to God. Resist the devil, and he will flee from you."
7. Finding Strength in Faith and Prayer
Heavenly Father, in times of spiritual adversity, we find strength in our faith and in prayer. Help us remain steadfast, knowing that You are our refuge and source of resilience.
Isaiah 40:31
"But they who wait for the Lord shall renew their strength; they shall mount up with wings like eagles; they shall run and not be weary; they shall walk and not faint."
8. Prayer for Family and Loved Ones
Dear God, we lift our family and loved ones in prayer for protection against the Spirit of Herod. Surround them with Your divine love and shield them from harm.
Psalm 91:4
"He will cover you with his pinions, and under his wings you will find refuge; his faithfulness is a shield and buckler."
9. Strategies to Combat Herod's Spirit
Lord, reveal to us effective strategies to combat the Spirit of Herod. May our prayers be a powerful weapon against manipulation and deception.
2 Corinthians 10:4
"For the weapons of our warfare are not of the flesh but have divine power to destroy strongholds."
10. Seeking Divine Guidance and Intervention
Heavenly Father, in the midst of the trials presented by the Spirit of Herod, we earnestly seek Your divine guidance and intervention. As we traverse this intricate and often treacherous path, we beseech You to illuminate our way, like a radiant beacon amidst the darkest of nights.
Psalm 25:5
"Lead me in your truth and teach me, for you are the God of my salvation; for you I wait all the day long."
11. Breaking Free from Herod's Influence
Dear God, empower us to break free from the influence of the Spirit of Herod through prayer. Grant us the strength to resist manipulation and deceit, finding freedom in Your grace.
John 8:32
"And you will know the truth, and the truth will set you free."
12. Prayer for Church and Community
Heavenly Father, we come before You with outstretched hearts, extending our earnest prayers to encompass not only our personal lives but also the broader scope of our church and the cherished community to which we belong. We understand that the insidious Spirit of Herod is not confined to individual struggles alone, but it may also attempt to infiltrate and weaken the collective faith we share.
Matthew 18:20
"For where two or three are gathered in my name, there am I among them."
13. Renewing Your Spiritual Strength
Heavenly Father, in this critical juncture where we find ourselves confronted by the cunning and manipulative Spirit of Herod, we turn to You in earnest supplication. We recognize that this spiritual battle requires not only our faith but a renewal of our inner strength. It is through the wellspring of our faith that we seek a profound revival, a rekindling of the flickering flame within our hearts.
Isaiah 41:10
"Fear not, for I am with you; be not dismayed, for I am your God; I will strengthen you, I will help you, I will uphold you with my righteous right hand."
14. Reclaiming Your Spiritual Territory
Dear Heavenly Father, with hearts filled with determination and unwavering faith, we come before You, seeking to reclaim the spiritual territory that has fallen under the grip of the Spirit of Herod. We understand that this malevolent force seeks to weaken our faith, manipulate our beliefs, and cloud our spiritual clarity. But in Your divine presence, we find the strength and guidance we need to challenge this oppressive spirit.
Joel 2:25
"I will restore to you the years that the swarming locust has eaten, the hopper, the destroyer, and the cutter, my great army, which I sent among you."
15. Declaring Victory over Herod's Spirit
Heavenly Father, with hearts steadfast in faith and united in purpose, we boldly declare triumphant victory over the Spirit of Herod through the transcendent power of prayer. We come before Your divine presence, seeking Your guidance and protection as we navigate the intricate labyrinth of spiritual warfare.
1 Corinthians 15:57
"But thanks be to God, who gives us the victory through our Lord Jesus Christ."
16. Overcoming Fear and Manipulation
Heavenly Father, grant us the strength to overcome fear and manipulation by the Spirit of Herod. Through our prayers, we find courage, discernment, and divine protection.
2 Timothy 1:7
"For God gave us a spirit not of fear but of power and love and self-control."
17. Navigating Life's Challenges with Prayer
Heavenly Father, in the midst of life's myriad challenges and trials, we humbly beseech You to be our guiding light. Grant us the wisdom and strength to navigate these tumultuous waters with the unwavering power of prayer. We recognize that the Spirit of Herod, with its cunning influence and deceptive ways, can cast shadows over our faith, but in Your divine presence, we find the refuge we need.
Philippians 4:6-7
"Do not be anxious about anything, but in everything by prayer and supplication with thanksgiving, let your requests be made known to God. And the peace of God, which surpasses all understanding, will guard your hearts and your minds in Christ Jesus."
Conclusion
As we draw our exploration of prayer against the Spirit of Herod to a close, we derive profound comfort from the realization that faith, unwavering perseverance, and the extraordinary power of prayer serve as robust instruments in our ongoing battle against manipulation and deceit. This spiritual odyssey transcends individual pursuit; it evolves into a collective endeavor to not only preserve the veracity of our beliefs but also to fortify the sanctity of our faith community.
In the spirit of unity and shared conviction, we stand resolute in the face of the formidable challenges that the Spirit of Herod may present. As we confront the shadows of manipulation and the veils of deception, we emerge from the crucible of adversity strengthened, enlightened, and remarkably resilient.
Our vigilance remains unwavering, and our prayers resound with fervor, for we comprehend that it is through the profound wellspring of our faith that we hold the key to declaring triumphant victory over the forces that endeavor to stifle the truth. The journey continues, fueled by faith, fortified by unity, and anchored in the belief that, together, we can overcome all that seeks to obscure the brilliance of our unwavering faith.