Life is an unpredictable journey filled with challenges, but finding solace in prayer for God to take control of a situation can bring profound peace. In this article, we explore the depth of this powerful practice, offering insights, experiences, and a comprehensive guide to navigating life's uncertainties through prayer.
Prayer for God to Take Control of a Situation
Embarking on this spiritual journey allows us to witness the transformative impact of entrusting our troubles to a higher power. When we surrender to the divine will, acknowledging God's sovereignty, we open the door to profound guidance and comfort. Let's look into these prayers;
1. Surrendering to the Divine Will
Almighty God, I humbly surrender this situation to Your divine will. I acknowledge Your sovereignty and trust that Your plans are greater than my understanding. Grant me the strength to let go of my own desires and embrace Your perfect design for my life. May Your will be done in every aspect of this circumstance, and may Your wisdom prevail.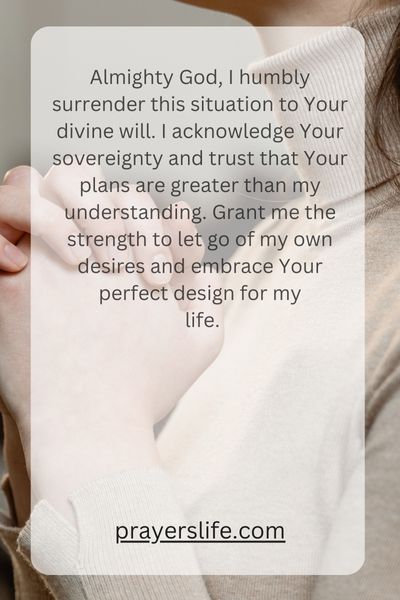 "Trust in the Lord with all your heart and lean not on your own understanding; in all your ways submit to him, and he will make your paths straight."
2. Invoking God's Guidance in Turmoil
Heavenly Father, as I navigate through this challenging situation, I seek Your divine guidance. Illuminate my path with Your wisdom, and grant me discernment in making decisions. Lord, be my compass in the midst of confusion, and let Your light lead me out of the darkness. May Your guidance bring clarity and peace to my heart.
"Show me your ways, Lord, teach me your paths. Guide me in your truth and teach me, for you are God my Savior, and my hope is in you all day long."
3. Entrusting Our Troubles to the Almighty
Gracious God, I lay before You the burdens of this situation. I trust in Your unfailing love and power to carry the weight of my troubles. Take control, Lord, and bring comfort to my weary soul. I surrender these concerns to You, knowing that You are my refuge and strength.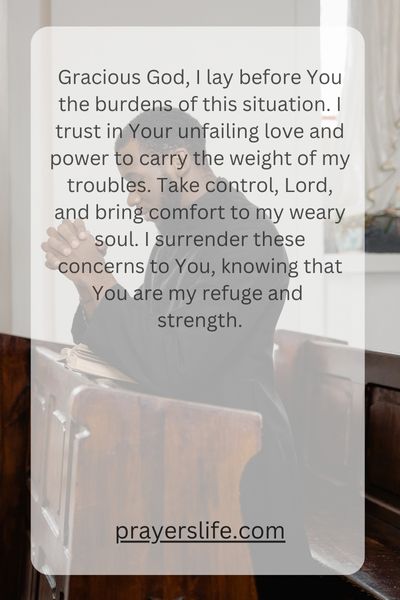 "Cast your cares on the Lord and he will sustain you; he will never let the righteous be shaken."
4. Seeking Divine Intervention in Challenges
Merciful God, I come before You in the face of challenges, seeking Your divine intervention. I recognize my limitations and implore Your mighty hand to work miracles in this situation. Let Your power manifest, and may Your grace bring breakthroughs where they are needed.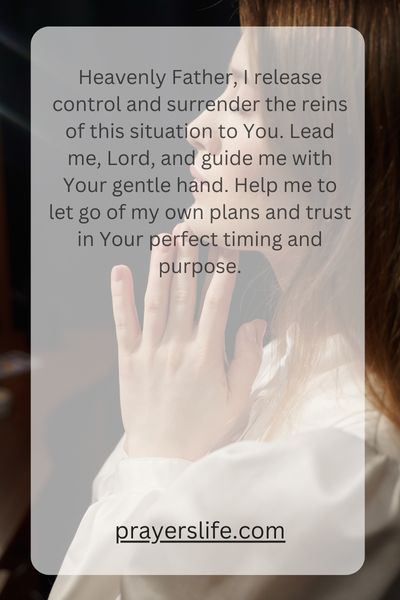 "I am the Lord, the God of all mankind. Is anything too hard for me?"
5. Letting Go and Letting God Lead
Heavenly Father, I release control and surrender the reins of this situation to You. Lead me, Lord, and guide me with Your gentle hand. Help me let go of my plans and trust in Your perfect timing and purpose.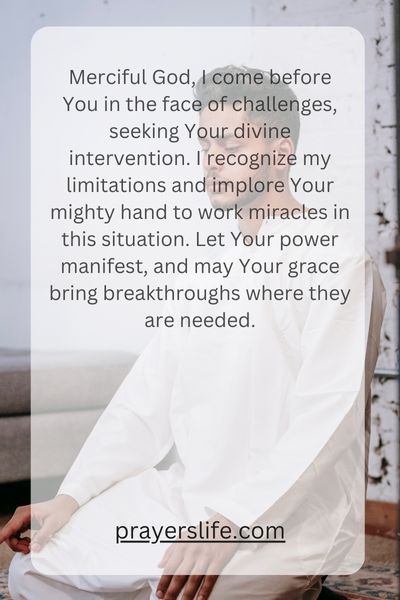 "For my thoughts are not your thoughts, neither are your ways my ways," declares the Lord. "As the heavens are higher than the earth, so are my ways higher than your ways and my thoughts than your thoughts."
6. Praying for God's Sovereignty in Difficult Times
Almighty God, I acknowledge Your sovereignty in the midst of these difficult times. Reign over this situation, O Lord, and bring forth Your justice and mercy. May Your divine rule prevail, and may Your peace reign in our hearts.
1 Chronicles 29:11
"Yours, Lord, is the greatness and the power and the glory and the majesty and the splendor, for everything in heaven and earth is yours. Yours, Lord, is the kingdom; you are exalted as head over all."
7. Yielding to the Higher Power in Crisis
Gracious God, in the midst of this crisis, I yield to Your higher power. I recognize Your authority over all circumstances, and I place my trust in Your ability to bring order out of chaos. Let Your peace reign in my heart, and may Your wisdom guide me through this storm.
Psalm 46:1-2
"God is our refuge and strength, an ever-present help in trouble. Therefore we will not fear, though the earth give way and the mountains fall into the heart of the sea."
8. Pleading for God's Takeover in the Midst of Chaos
Loving Father, I plead for Your takeover in the midst of this chaos. Bring order to the disorder, calm to the storm, and clarity to the confusion. I trust in Your ability to transform chaos into divine order.
1 Corinthians 14:33
"For God is not a God of disorder but of peace—as in all the congregations of the Lord's people."
Creator God, I willingly hand over control of this situation to You. You formed the heavens and the earth, and I trust that Your creative power can bring beauty out of any circumstance. Take control, Lord, and work Your masterpiece in my life.
Isaiah 64:8
"Yet you, Lord, are our Father. We are the clay, you are the potter; we are all the work of your hand."
10. Embracing the Power of God's Providence
Sovereign God, I embrace the power of Your providence in this situation. Your plans are perfect, and Your timing is flawless. I surrender to Your divine orchestration, trusting that Your providential care will guide me through every step.
Romans 8:28
"And we know that in all things God works for the good of those who love him, who have been called according to his purpose."
11. Turning to Prayer for Divine Intervention
Heavenly Father, in times of need, I turn to You in prayer for divine intervention. I place my concerns before Your throne, trusting that You hear and answer. Let Your mercy and grace intervene in this situation, bringing forth healing and resolution.
Philippians 4:6-7
"Do not be anxious about anything, but in every situation, by prayer and petition, with thanksgiving, present your requests to God. And the peace of God, which transcends all understanding, will guard your hearts and your minds in Christ Jesus."
12. Trusting God's Plan Amidst Uncertainty
Almighty God, in the face of uncertainty, I trust in Your divine plan. Though I may not understand the twists and turns of this situation, I believe in Your wisdom and goodness. Grant me the patience and faith to endure, knowing that Your plan is unfolding for my ultimate good.
Jeremiah 29:11
"For I know the plans I have for you, declares the Lord, plans for welfare and not for evil, to give you a future and a hope."
13. Seeking God's Governance Over Life's Challenges
Sovereign Lord, I seek Your governance over the challenges that life presents. You are the ultimate authority, and I submit to Your rule in every aspect of this situation. May Your wisdom prevail, and Your guidance directs me through the complexities of life's journey.
Proverbs 16:9
"In their hearts humans plan their course, but the Lord establishes their steps."
14. Offering Up Our Concerns to the Heavenly Authority
Gracious God, we come before Your heavenly authority, offering up our concerns. You are the all-knowing and all-powerful One, capable of bringing resolution to every issue. Accept our prayers, O Lord, and let Your divine authority reign over this situation.
Matthew 28:18
"Then Jesus came to them and said, 'All authority in heaven and on earth has been given to me.'"
15. Praying for God's Hand to Guide Us Through Trials
Loving Father, as we face trials, we pray for Your hand to guide us. Lead us through the challenges, and let Your presence be a constant source of strength. May Your hand of mercy and grace be evident in every step we take.
Isaiah 41:10
"So do not fear, for I am with you; do not be dismayed, for I am your God. I will strengthen you and help you; I will uphold you with my righteous right hand."
16. Acknowledging God's Control Over the Situation
Almighty God, we acknowledge Your control over this situation. Nothing is beyond Your authority, and we place our trust in Your capable hands. Let Your perfect will be done, and may Your sovereignty bring peace to our hearts.
Psalm 103:19
"The Lord has established his throne in heaven, and his kingdom rules over all."
17. Seeking Peace through Divine Oversight
Prince of Peace, in the midst of turmoil, we seek peace through Your divine oversight. Watch over us, O Lord, and bring serenity to our hearts. May Your presence be a calming force in the midst of life's storms.
John 14:27
"Peace I leave with you; my peace I give you. I do not give to you as the world gives. Do not let your hearts be troubled and do not be afraid."
18. Inviting God's Wisdom to Navigate Life's Storms
Wise and Gracious God, we invite Your wisdom to navigate the storms of life. Guide us with Your profound understanding, and grant us discernment in every decision. In the face of challenges, may Your wisdom be our anchor.
James 1:5
"If any of you lacks wisdom, you should ask God, who gives generously to all without finding fault, and it will be given to you."
19. Finding Strength in Surrender to the Divine
Almighty God, we find strength in surrender to the divine. In yielding to Your will, we discover resilience and courage. Strengthen us, O Lord, as we lay our burdens at Your feet and trust in Your unwavering strength.
2 Corinthians 12:9
"But he said to me, 'My grace is sufficient for you, for my power is made perfect in weakness.' Therefore I will boast all the more gladly about my weaknesses, so that Christ's power may rest on me."
20. Resting in Faith as God Takes Charge of Our Circumstances
Faithful God, as You take charge of our circumstances, we rest in faith. Your promises are true, and Your faithfulness endures forever. May our hearts find peace in the assurance that You are in control, and Your love guides us through every season of life.
Psalm 46:10
"Be still, and know that I am God; I will be exalted among the nations, I will be exalted in the earth."
Conclusion
In the journey of life, the prayer for God to take control of a situation becomes a beacon of hope, offering peace, guidance, and strength. Embrace the transformative power of surrender, finding solace in the divine's unwavering presence.