In the rhythmic hum of tires on asphalt and the distant echoes of air brakes, a unique journey unfolds—a journey undertaken by the unsung heroes of our highways, the truck drivers. Behind the wheel, navigating endless stretches of road, is a husband, a provider, a modern-day adventurer.
Prayer For My Truck Driver Husband
In the unpredictable world of trucking, where every mile holds a story and each turn brings new challenges, the spouse left behind finds solace in a powerful practice—prayer. This article explore into the heartfelt prayers offered for the truck driver husbands, exploring the hopes, fears, and unwavering faith that accompany those who seek divine guidance for the safety, well-being, and success of their loved ones on the open road.
1. A Protective Journey
Dear Heavenly Father, I lift up my husband as he embarks on his trucking journey. Surround him with Your protective angels, guiding him safely through every mile. Shield him from accidents, road hazards, and fatigue. Grant him wisdom and alertness. May Your presence be felt in the cabin, bringing peace and assurance.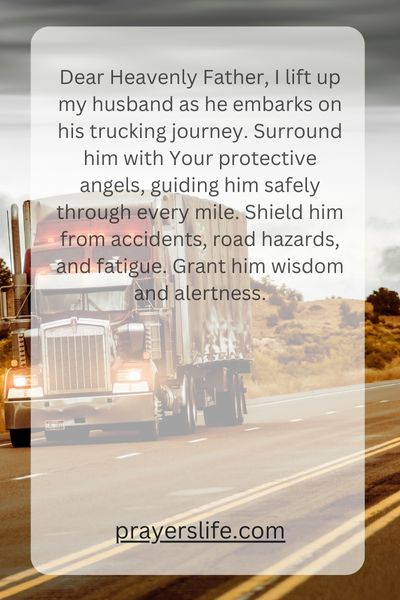 "The Lord will keep you from all harm— he will watch over your life; the Lord will watch over your coming and going both now and forevermore."
I entrust his travels to Your care, believing in Your promise of protection. Amen.
2. Guiding Light
Dear Lord, be the guiding light for my husband on his trucking adventures. Illuminate his path, both physically on the road and spiritually in his heart. May Your presence lead him through challenging routes and unknown territories.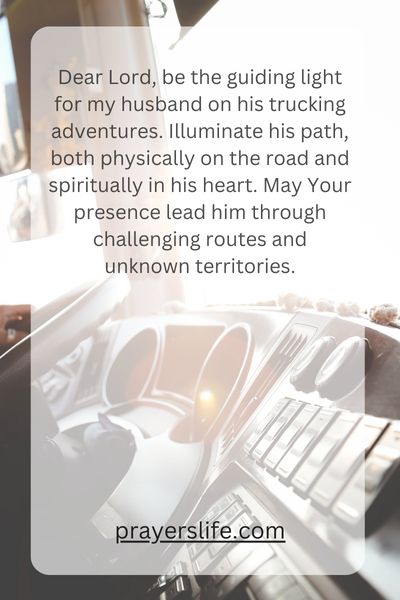 "Send me your light and your faithful care, let them lead me; let them bring me to your holy mountain, to the place where you dwell."
Grant him discernment in decision-making, and may he always find his way back home safely. In Your light, he finds direction and purpose. Amen.
3. Strength and Stamina
Dear Lord, I seek Your blessings for my husband's strength and stamina as he navigates the challenges of the road. Grant him physical endurance to withstand long hours and mental resilience to face any obstacles with grace.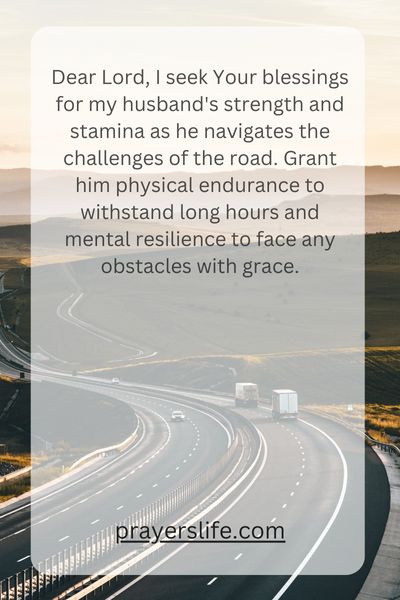 "But those who hope in the Lord will renew their strength. They will soar on wings like eagles; they will run and not grow weary, they will walk and not be faint."
May he find renewed energy in You each day, knowing that his strength comes from the Lord. Amen.
4. Graceful Travels
Heavenly Father, I lift up my husband's travels to You, praying for a journey filled with Your grace. May Your favor surround him like a protective cloak, ensuring a smooth and accident-free passage through each mile.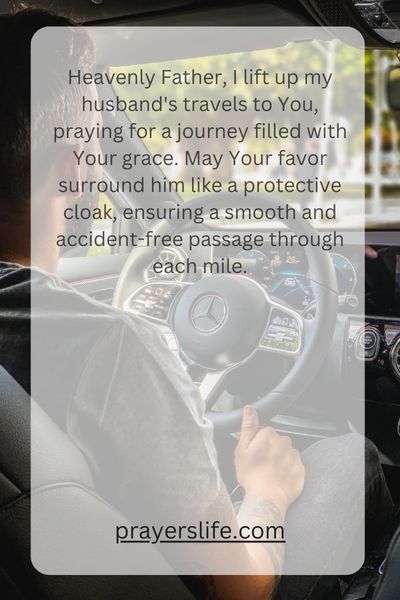 "Then you will go on your way in safety, and your foot will not stumble. When you lie down, you will not be afraid; when you lie down, your sleep will be sweet."
I trust in Your grace to guide him, and I thank You for Your watchful eye on his every move. Amen.
5. Patience and Peace
Dear Lord, grant my husband the gift of patience and inner peace as he faces the challenges of traffic and the unpredictability of the road. In moments of frustration, may Your calming presence fill his heart and mind.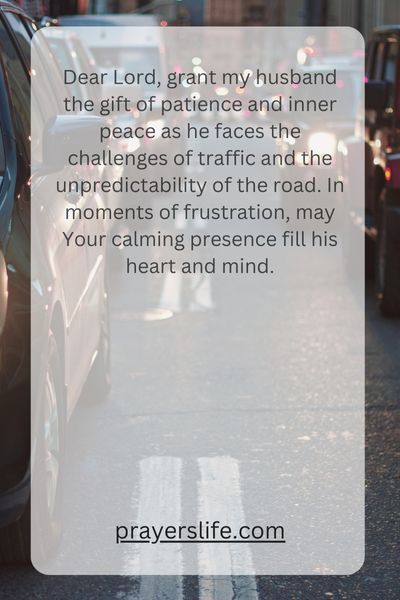 "Let the peace of Christ rule in your hearts since as members of one body you were called to peace. And be thankful."
May he navigate each situation with a calm spirit, trusting in Your plan and timing. Amen.
6. Guardian Angels on the Highway
Heavenly Father, I pray for the constant presence of Your guardian angels to accompany my husband on the highway. Surround his truck with celestial protection, ensuring that he is watched over and guided through every twist and turn.
Hebrews 1:14
"Are not all angels ministering spirits sent to serve those who will inherit salvation?"
I trust in Your heavenly messengers to keep him safe on his journey, and I thank You for their vigilant watch. Amen.
7. Daily Devotion
Dear Lord, I dedicate my husband's trucking career to Your divine care. May his daily endeavors be infused with Your guidance and protection. Let him feel Your presence in the driver's seat, knowing that he is not alone on this journey.
Proverbs 3:6
"In all your ways submit to him, and he will make your paths straight."
I surrender his professional path to You, trusting that Your wisdom will navigate him through every intersection of life. Amen.
Heavenly Provider, I humbly ask for Your favor upon my husband's trucking endeavors. Bless his work with prosperity, open doors of opportunity, and grant him financial success in each delivery.
Philippians 4:19
"And my God will meet all your needs according to the riches of his glory in Christ Jesus."
I trust in Your abundant provision, believing that You will supply all his needs according to Your glorious riches. Amen.
9. Restful Nights and Alert Days
Dear God, I pray for restful nights and alert days for my husband. Grant him peaceful sleep when he rests, and wake him with a renewed sense of purpose and awareness.
Psalm 4:8
"In peace I will lie down and sleep, for you alone, Lord, make me dwell in safety."
May his mind and body be rejuvenated, ready to face the challenges of the road with clarity and focus. Amen.
10. Emotional Resilience
Heavenly Father, as my husband navigates the challenges of separation and the emotional toll of long hours on the road, I pray for Your strength to sustain him.
Isaiah 41:10
"So do not fear, for I am with you; do not be dismayed, for I am your God. I will strengthen you and help you; I will uphold you with my righteous right hand."
May he find comfort in Your presence and resilience in his spirit, knowing that You are with him every step of the way. Amen.
11. Communication and Connection
Dear God, I lift up the communication and connection between me and my husband, despite the miles that separate us. Strengthen the bonds of love and understanding, bridging the physical distance with emotional closeness.
1 Corinthians 13:7
"Love bears all things, believes all things, hopes all things, endures all things."
May our communication be filled with patience, love, and support, fostering a deep connection that withstands the challenges of distance. Amen.
12. Maintenance Miracles
Heavenly Father, I pray for maintenance miracles for my husband's truck. Watch over the vehicle, keeping it in optimal condition for safe travels. Guide the hands of those responsible for maintenance, and may any potential issues be detected and addressed before they become problems.
Proverbs 3:24-26
"When you lie down, you will not be afraid; when you lie down, your sleep will be sweet. Do not be afraid of sudden terror or of the ruin of the wicked, when it comes, for the Lord will be your confidence and will keep your foot from being caught."
I trust in Your provision for a well-functioning and reliable truck. Amen.
13. Traffic Troubles
Dear Lord, I pray for Your guidance and protection during moments of traffic troubles. When the roads are congested or challenging, be my husband's navigator, helping him navigate through with patience and skill.
Psalm 25:5
"Guide me in your truth and teach me, for you are God my Savior, and my hope is in you all day long."
Grant him discernment to make wise decisions and arrive safely at his destination. Amen.
14. Faith in the Journey
Heavenly Father, instill in my husband unwavering faith in his journey as a truck driver. May he trust in Your plan for his life, finding confidence in the purpose and calling You've placed on his heart.
Jeremiah 29:11
"For I know the plans I have for you, declares the Lord, plans for welfare and not for evil, to give you a future and a hope."
May he embrace each day with faith, knowing that You are guiding him on a path designed by Your loving hand. Amen.
15. Kindness on the Road
Dear Lord, I pray for kindness to abound on the roads my husband travels. May he encounter understanding and considerate individuals, fostering an atmosphere of goodwill and cooperation among fellow drivers.
Colossians 3:12
"Therefore, as God's chosen people, holy and dearly loved, clothe yourselves with compassion, kindness, humility, gentleness, and patience."
I ask for a spirit of kindness to prevail, creating a safe and harmonious environment for all who share the journey. Amen.
16. A Truckload of Blessings
Heavenly Father, I seek Your abundant blessings for my husband's trucking endeavors. Pour out Your favor and grace upon every load he carries, ensuring successful deliveries and a prosperous journey.
Malachi 3:10
"Bring the whole tithe into the storehouse, that there may be food in my house. Test me in this," says the Lord Almighty, "and see if I will not throw open the floodgates of heaven and pour out so much blessing that there will not be room enough to store it."
May his truck be a vessel of blessing, and may Your abundance overflow in every aspect of his work. Amen.
17. Crisis Management
Dear Lord, I pray for Your guidance and wisdom in times of unexpected challenges. When crises arise on the road, grant my husband the discernment to navigate through them with resilience and courage.
James 1:5
"If any of you lacks wisdom, you should ask God, who gives generously to all without finding fault, and it will be given to you."
May he turn to You for wisdom, finding solutions and overcoming obstacles with confidence in Your providence. Amen.
18. Homecoming Happiness
Heavenly Father, I anticipate the joy of my husband's safe returns. Bless our reunions with happiness and gratitude, celebrating the moments when he comes home after his journeys on the road.
Psalm 118:24
"This is the day that the Lord has made; let us rejoice and be glad in it."
May our home be filled with love and thanksgiving each time he returns safely. Amen.
19. Health and Healing
Dear Lord, I lift up my husband's health to Your loving care. Guard him against illness and fatigue, and grant him the strength and vitality needed for his demanding profession.
3 John 1:2
"Beloved, I pray that all may go well with you and that you may be in good health, as it goes well with your soul."
May he experience Your healing touch, both physically and emotionally, as he fulfills his responsibilities on the road. Amen.
20. Navigating Storms
Heavenly Father, I pray for Your protection and guidance during storms and inclement weather. When the elements pose challenges on the road, be a shelter for my husband, guiding him safely through the turbulence.
Psalm 107:29
"He made the storm be still, and the waves of the sea were hushed."
Command the storms to calm, and may Your presence bring peace amid the tempest. Keep him secure in Your unfailing protection. Amen.
21. Trailblazer's Prayer
Dear Lord, I pray for Your guidance as my husband leads on the road. May his decisions be inspired by Your wisdom, and may he be a beacon of light for other drivers, setting an example of safety and responsibility.
Proverbs 4:11
"I guide you in the way of wisdom and lead you along straight paths."
Make him a trailblazer for righteousness, and may his leadership contribute to a culture of respect and responsibility among fellow drivers. Amen.
22. Time Management
Heavenly Father, I seek Your assistance in my husband's time management on the road. Grant him the ability to prioritize tasks, meet deadlines, and navigate through his schedule with efficiency.
Ephesians 5:15-16
"Look carefully then how you walk, not as unwise but as wise, making the best use of the time because the days are evil."
May each moment be utilized wisely, and may his journeys be characterized by punctuality and order. Amen.
23. Gratitude for the Road Ahead
Dear God, as my husband faces the road ahead, I express gratitude for the opportunities and challenges that lie before him. May he approach each day with a thankful heart, recognizing the blessings of the journey and the lessons learned along the way.
1 Thessalonians 5:18
"Give thanks in all circumstances; for this is God's will for you in Christ Jesus."
Conclusion:
As we conclude this exploration into the realm of prayers for our truck driver husbands, we recognize the profound connection between spirituality and the challenges of life on the road. The heartfelt petitions, grounded in love and faith, serve as beacons of hope in the vast expanse of highways and byways. In every twist of the journey, the silent whispers of these prayers resonate, forming a protective shield around those who navigate the asphalt rivers.