Bringing a new life into the world is a momentous occasion, filled with hope, anticipation, and sometimes a touch of anxiety. For grandparents, the birth of a grandchild is a joyous event that carries special significance.
In this article, we will explore the profound connection between prayer and the arrival of a grandchild, seeking solace, guidance, and divine blessings on this beautiful journey.
Prayer for Safe Delivery of Grandchild
Discover the power of prayer in ensuring a safe and blessed delivery for your grandchild. Learn about the significance of Prayer for the Safe Delivery of Grandchild, gain insights, and find answers to your questions in this comprehensive guide.
1. The Power of Grandparental Prayers
Heavenly Father, I come before You with a heart full of gratitude for the gift of grandparenthood. I ask for Your guidance and strength as I pray for the safe delivery of my grandson. May my prayers be a source of comfort and protection for both the child and their parents.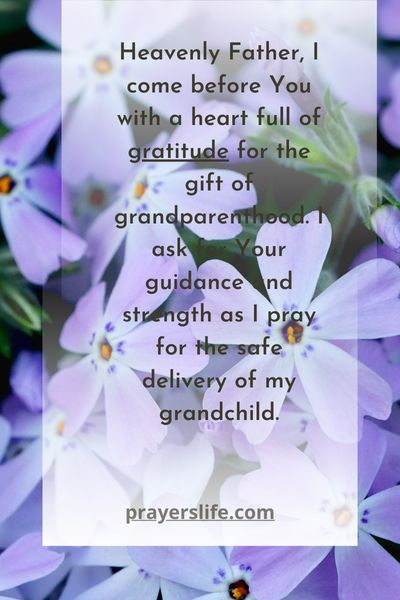 "I thank my God every time I remember you." Lord, I thank You for the blessing of family and for the opportunity to intercede on their behalf. Amen.
2. Preparing Your Heart for a Grandchild's Arrival
Dear Lord, as the day of my grandchild's birth draws near, I pray for a heart filled with love, joy, and anticipation. Help me prepare emotionally and spiritually for this momentous occasion, knowing that Your grace will guide us through it.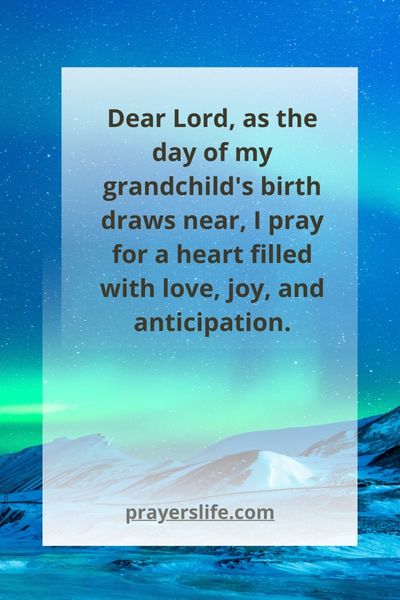 "Children are a heritage from the Lord, offspring a reward from him." I thank You, Lord, for this precious gift, and I trust in Your divine plan. Amen.
3. Blessing Your Grandchild's Journey into the World
Heavenly Father, I offer my grandchild into Your loving hands, asking for Your blessings and protection during their journey into this world. May their arrival be safe and full of Your grace.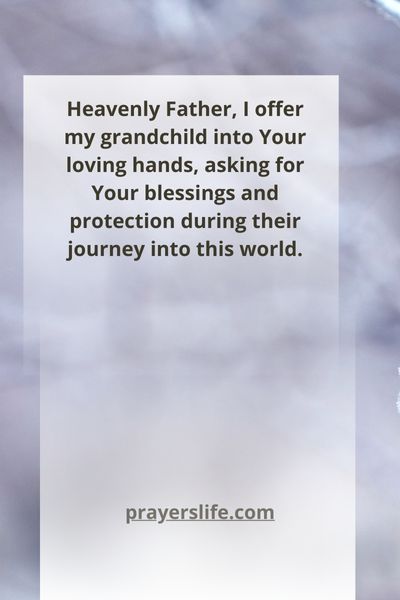 "The Lord bless you and keep you; the Lord make his face shine on you and be gracious to you; the Lord turn his face toward you and give you peace." I pray for Your blessings to surround my grandchild from the very beginning. Amen.
4. Praying for the Health and Wellbeing of Your Grandchild
Lord, I lift up my grandchild's health and well-being to You. Please grant them a strong and healthy start in life. Protect them from illness and ensure their growth and development are smooth.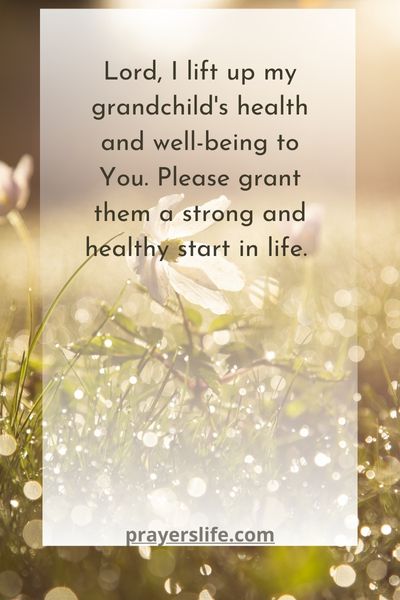 "Beloved, I pray that all may go well with you and that you may be in good health, as it goes well with your soul." May my grandchild's physical health be a reflection of their spiritual well-being. Amen.
5. A Grandparent's Role in Ensuring a Safe Delivery
Gracious God, guide me as I step into the role of a supportive grandparent during this delivery. Help me offer love, comfort, and prayers to my child and their partner, and may Your presence be felt in the delivery room.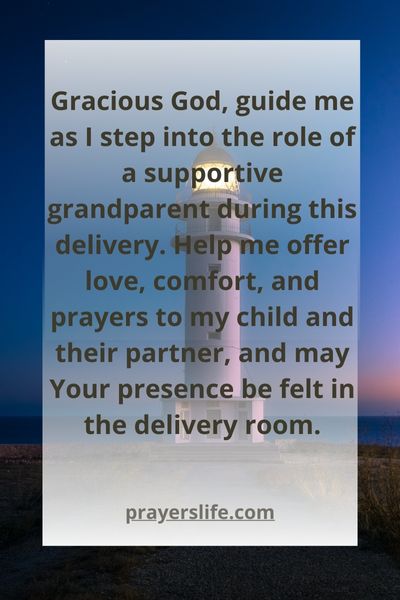 "Children's children are a crown to the aged, and parents are the pride of their children." I thank You, Lord, for this generational blessing, and I pray for Your wisdom in my support. Amen.
6. Finding Strength Through Prayer in Times of Anxiety
Heavenly Father, in moments of anxiety and uncertainty, I turn to You for strength. Help me find solace in my prayers and trust in Your divine plan for the safe delivery of my grandchild.
Isaiah 41:10
"So do not fear, for I am with you; do not be dismayed, for I am your God. I will strengthen you and help you; I will uphold you with my righteous right hand." Lord, I lean on Your strength to ease my worries. Amen.
7. Invoking Divine Protection for Your Grandchild
Dear God, I humbly request Your divine protection for my grandchild. Surround them with Your love and shield them from harm, both during delivery and throughout their life.
Psalms 5:11-12
"But let all who take refuge in you be glad; let them ever sing for joy. Spread your protection over them, that those who love your name may rejoice in you." I pray for Your loving protection over my grandchild, now and always. Amen.
8. A Grandparent's Heartfelt Plea for a Safe Delivery
Heavenly Father, hear the depths of my heart as I plead for a safe delivery for my grandchild. I offer my prayers, trust, and love, believing in Your unwavering care.
Psalm 34:17
"The righteous cry out, and the Lord hears them; he delivers them from all their troubles." I cry out to You, Lord, in faith, knowing You are our deliverer. Amen.
9. Surrendering Worry Through the Act of Prayer
Lord, I surrender my worries and anxieties at Your feet, knowing that You are in control. Help me find peace through prayer and let go of fear, trusting in Your plan for the safe delivery of my grandchild.
1 Peter 5:7
"Cast all your anxiety on him because he cares for you." I cast my worries upon You, Lord, for I know You care deeply for us. Amen.
10. Prayer: A Bonding Experience with Your Grandchild
Heavenly Father, I look forward to the day when I can share the power of prayer with my grandchild. May our bond grow strong, and may they learn to seek solace and guidance through conversations with You.
Proverbs 22:6
"Start children off on the way they should go, and even when they are old, they will not turn from it." Lord, guide us in nurturing our grandchild's faith. Amen.
11. Encouraging a Positive Birth Experience Through Prayer
Dear God, I pray for a positive and joyous birth experience for my grandchild and their parents. May Your presence fill the room with peace, love, and hope.
Jeremiah 29:11
"For I know the plans I have for you, plans to prosper you and not to harm you, plans to give you hope and a future." I trust in Your plan, Lord, for this birth. Amen.
12. Supporting Your Child and Their Partner with Prayer
Heavenly Father, I offer my prayers not only for my grandchild but also for my child and their partner. May they find strength, love, and unity in this beautiful journey of parenthood.
Ephesians 4:2-3
"Be completely humble and gentle; be patient, bearing with one another in love. Make every effort to keep the unity of the Spirit through the bond of peace." I pray for unity and peace within our family, Lord. Amen.
13. Connecting with the Divine for a Safe Grandchild Delivery
Lord, I connect with You on this sacred occasion, seeking Your blessings and protection for the safe delivery of my grandchild. May Your divine presence be a source of comfort and reassurance.
Psalm 46:1
"God is our refuge and strength, an ever-present help in trouble." I find refuge and strength in You, Lord, during this significant moment. Amen.
14. Trusting in God's Plan for Your Grandchild's Birth
Heavenly Father, I place my trust in Your divine plan for my grandchild's birth. I believe that You have a purpose for their life and that this journey will unfold according to Your will.
Proverbs 16:9
"In their hearts, humans plan their course, but the Lord establishes their steps." I surrender to Your guidance, Lord, knowing Your plan is perfect. Amen.
15. Cultivating Hope and Faith in the Delivery Room
Dear God, as I enter the delivery room, I carry hope and faith in my heart. May these qualities shine through and provide comfort to my family, knowing that Your love and guidance are ever-present.
Hebrews 11:1
"Now faith is confidence in what we hope for and assurance about what we do not see." I hold onto faith and hope, Lord, believing in the miracle of life. Amen.
16. Praying for the Doctors and Medical Team
Lord, I extend my prayers to the skilled hands and compassionate hearts of the medical team caring for my grandchild's birth. Grant them wisdom, strength, and a steady hand.
James 1:5
"If any of you lacks wisdom, you should ask God, who gives generously to all without finding fault, and it will be given to you." I ask for Your wisdom to guide the doctors and nurses, Lord. Amen.
17. The Grandparent's Guide to Prayerful Waiting
Heavenly Father, as I wait for news of my grandchild's arrival, help me embrace the waiting with patience and prayer. May my heart be calm and steadfast, knowing that You are in control.
Psalm 27:14
"Wait for the Lord; be strong and take heart and wait for the Lord." I take heart in waiting for Your perfect timing, Lord. Amen.
18. Gratitude for the Gift of a Grandchild
Dear God, I am filled with gratitude for the precious gift of a grandchild. Thank You for entrusting us with this joy, and I pray for their safe and healthy arrival into our lives.
Psalm 127:3
"Children are a heritage from the Lord, offspring a reward from him." We thank You, Lord, for this beautiful heritage and reward. Amen.
19. Offering Love and Protection Through Prayer
Heavenly Father, I offer my love and protection through the power of prayer. May my grandchild feel the warmth and safety of Your love in every moment of their life.
Psalm 91:4
"He will cover you with his feathers, and under his wings, you will find refuge; his faithfulness will be your shield and rampart." I pray for Your divine protection to cover my grandchild, Lord. Amen.
20. A Grandparent's Prayer Circle for Safe Delivery
Lord, we gather as a prayer circle, united in our love and concern for the safe delivery of our grandchild. May our collective prayers create a shield of protection and peace.
Matthew 18:20
"For where two or three gather in my name, there am I with them." We gather in Your name, Lord, seeking Your presence in our prayers. Amen.
21. Finding Peace Amidst the Uncertainty
Dear God, in the midst of uncertainty, I seek Your peace. Grant me the serenity to trust in Your plan and find solace in the knowledge that You are with us, guiding us through this journey.
Philippians 4:7
"And the peace of God, which transcends all understanding, will guard your hearts and your minds in Christ Jesus." I pray for Your transcendent peace, Lord, to guard our hearts and minds. Amen.
22. Preparing Your Home for the Grandchild's Arrival
Heavenly Father, as we prepare our home for the arrival of our grandchild, we seek Your blessings. May our home be a place of warmth, love, and safety, reflecting Your grace.
Joshua 24:15
"But as for me and my household, we will serve the Lord." We dedicate our home to Your service, Lord, and pray that it may be a haven for our family. Amen.
23. Welcoming Your Grandchild with Open Hearts and Prayers
Dear God, as we welcome our grandchild into our lives, may our hearts be open with love and our prayers surround them like a protective cocoon. Bless this momentous occasion with Your presence.
Romans 12:10
"Be devoted to one another in love. Honor one another above yourselves." We honor and love our grandchild, Lord, as we open our hearts and prayers to their arrival. Amen.
These prayers are offered with love and faith, seeking God's blessings and protection for the safe delivery and well-being of your grandchild.
Conclusion
In the circle of life, the arrival of a grandchild is a remarkable chapter that unfolds with anticipation and love. It is a moment when generations connect, hearts expand, and faith deepens. Through the power of prayer, we as grandparents find comfort, strength, and a means to express our love for the little one on the way. Our prayers serve as a protective shield, a guiding light, and a heartfelt plea for the safe delivery of our grandchild.
As we embrace this journey with open hearts and uplifted spirits, we trust in the divine plan and look forward to the day when our family is blessed with the safe arrival of our precious grandchild, a true testament to the beauty of life, love, and faith.