The journey toward spiritual enlightenment often encounters hurdles that demand divine intervention. For those seeking refuge from the burdens of sin and the chains of despair, the profound practice of prayer offers a transformative pathway.
Prayer For Salvation And Deliverance
This article explores the sacred realm of "Prayer for Salvation and Deliverance," exploring the profound impact of seeking divine solace and liberation through heartfelt supplications. Join us on a spiritual odyssey as we unveil the transcendent power of prayer to illuminate the path toward salvation, break the chains of bondage, and usher in a renewed sense of freedom and redemption.
1. Embracing Redemption: A Prayer for Salvation and Deliverance
Dear Heavenly Father, I humbly seek redemption through Your boundless love. As I utter this prayer for salvation, cleanse my soul and guide me towards the path of righteousness. Let the light of Your mercy illuminate my darkest corners, lifting me from the depths of sin into the brilliance of Your grace.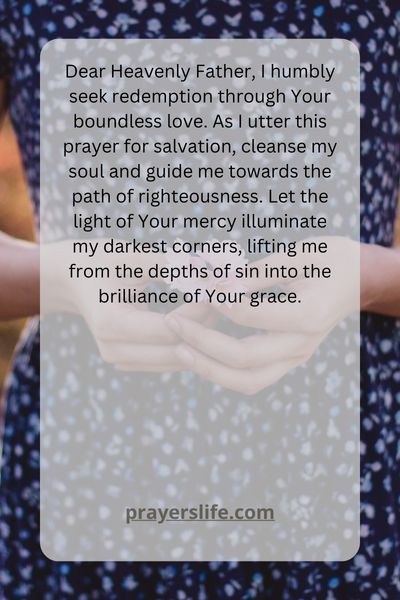 "As far as the east is from the west, so far has he removed our transgressions from us." Lord, grant me the freedom that comes with true salvation, wiping away my sins and restoring me in Your love. Amen.
2. Finding Liberation in Prayer: A Journey of Salvation
Heavenly Father, I embark on this prayerful journey, seeking liberation and salvation in Your divine presence. Break the chains that bind me, and lead me to the freedom found only in surrendering to Your mercy and grace.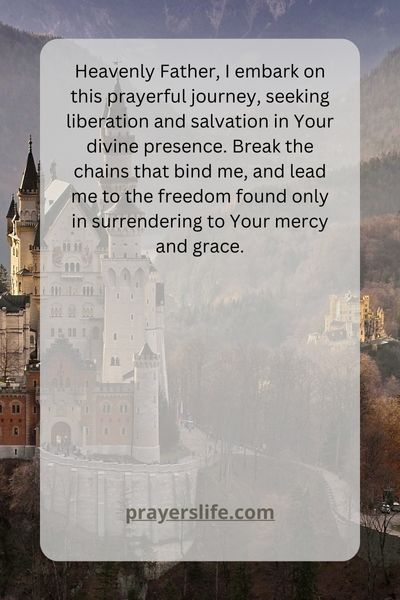 "See, I am doing a new thing! Now it springs up; do you not perceive it? I am making a way in the wilderness and streams in the wasteland." May this prayer be a gateway to a new life in You, marked by true salvation and lasting deliverance. Amen.
3. Seeking Divine Rescue: A Prayer for Deliverance
Lord of mercy, I cry out for deliverance from the challenges that bind me. In this prayer, rescue me from the snares of darkness and lead me into the light of Your salvation. I trust in Your mighty hand to lift me from despair.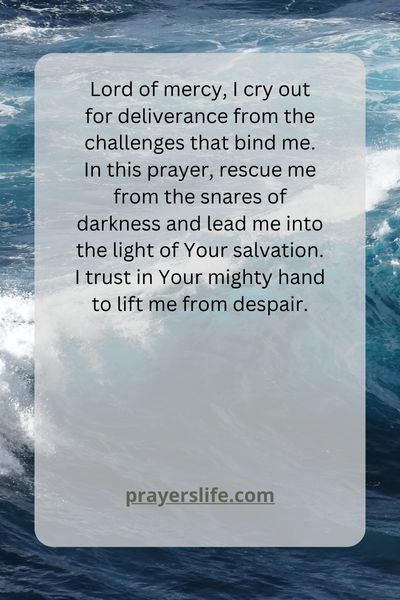 "The righteous cry out, and the Lord hears them; he delivers them from all their troubles." Answer my plea, O Lord, and deliver me into the safety of Your embrace. Amen.
4. The Transformative Power of Prayer for Salvation
Eternal God, I stand before You, acknowledging the transformative power of prayer. Through this sacred communication, mold me into the vessel of salvation You intend me to be. May my heart be a sanctuary for Your redeeming love.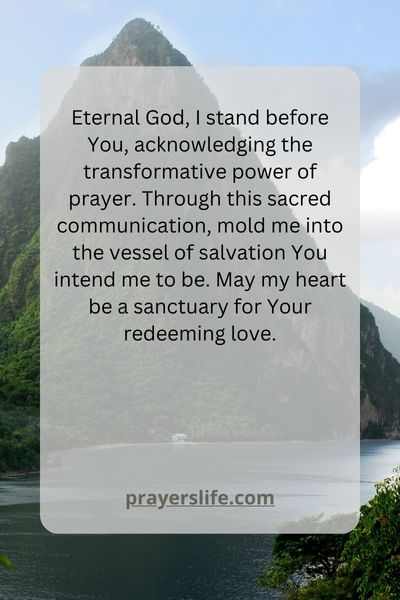 "Do not conform to the pattern of this world, but be transformed by the renewing of your mind. Then you will be able to test and approve what God's will is—his good, pleasing and perfect will." Let this prayer reshape me according to Your divine will. Amen.
5. Breaking Chains Through Prayer: A Path to Deliverance
O Lord, as I utter this prayer for deliverance, I recognize the chains that bind me. Break these shackles with the might of Your love, freeing me from the burdens that hinder my spiritual journey.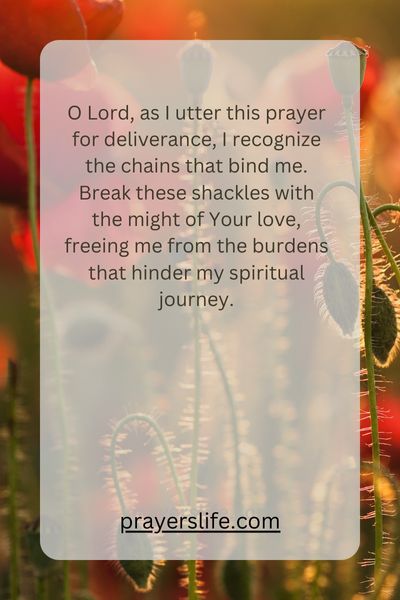 "It is for freedom that Christ has set us free. Stand firm, then, and do not let yourselves be burdened again by a yoke of slavery." Grant me the freedom to walk unhindered on the path of Your salvation. Amen.
6. Surrendering to Grace: A Prayer for Salvation
Gracious Father, I come before You, surrendering to Your boundless grace. In this prayer for salvation, cleanse my heart and soul, and lead me into the fullness of Your redeeming love. May Your grace be my guiding light.
Ephesians 2:8
"For it is by grace you have been saved, through faith—and this is not from yourselves, it is the gift of God." Let this prayer be a testament to Your unmerited favor, transforming my life. Amen.
7. Overcoming Bondage: A Deliverance Prayer Guide
Mighty Deliverer, I turn to You with this prayer guide, seeking liberation from the bondage that ensnares me. Illuminate the steps to freedom and empower me to overcome every chain that impedes my journey.
John 8:36
"So if the Son sets you free, you will be free indeed." Guide me, Lord, through this prayer, that I may experience the true freedom that comes from You alone. Amen.
8. Liberation Through Prayer: A Call for Salvation
Heavenly Redeemer, as I raise my voice in this prayer, hear my call for salvation. Liberate me from the burdens of sin and guide me into the joyous freedom found in Your mercy.
Psalm 18:19
"He brought me out into a spacious place; he rescued me because he delighted in me." Lead me into the spacious place of Your love, where true salvation reigns. Amen.
9. Redemption Unveiled: A Deep Dive into Prayer
O Lord, unveil the depths of redemption as I engage in this prayerful exploration. May this deep dive into prayer reveal the richness of Your mercy, leading me to a profound experience of salvation.
1 Peter 1:18-19
"For you know that it was not with perishable things such as silver or gold that you were redeemed from the empty way of life handed down to you from your ancestors, but with the precious blood of Christ, a lamb without blemish or defect." Let the depth of Your redemption be my refuge and joy. Amen.
10. Navigating Darkness with Prayer: Seeking Deliverance
Lord of Light, in the shadows of darkness, I seek deliverance through this prayer. Illuminate my path and guide me safely through the challenges, bringing me into the radiant realm of Your salvation.
Psalm 119:105
"Your word is a lamp for my feet, a light on my path." May this prayer be my guiding light, leading me out of darkness and into the brilliance of Your deliverance. Amen.
11. The Healing Touch of Salvation: A Prayerful Odyssey
Healing Savior, as I embark on this prayerful odyssey, let the touch of Your salvation bring restoration to my soul. May this journey through prayer be a transformative experience, healing wounds and bringing joy.
Psalm 147:3
"He heals the brokenhearted and binds up their wounds." Let Your healing touch be upon me as I utter this prayer for salvation. Amen.
12. Prayer for Spiritual Breakthrough: Embracing Deliverance
Mighty God, in this prayer for spiritual breakthrough, I seek Your divine intervention. Break down the barriers hindering my spiritual growth, and lead me into the breakthrough of deliverance You have prepared for me.
2 Corinthians 10:4
"The weapons we fight with are not the weapons of the world. On the contrary, they have divine power

to demolish strongholds." Grant me the strength to overcome, O Lord. Amen.
13. The Power of Surrender: A Prayer for Salvation
Merciful Father, in the surrender of this prayer, I acknowledge Your supreme authority. I lay before You my sins and shortcomings, seeking salvation through the transformative power of Your redeeming love.
James 4:10
"Humble yourselves before the Lord, and he will lift you up." As I humbly surrender, lift me into the embrace of Your salvation. Amen.
14. Illuminating Paths to Redemption: A Guided Prayer
Divine Guide, illuminate the paths to redemption through this guided prayer. As I journey through each word, lead me to the avenues of Your mercy, where salvation awaits to transform my life.
Psalm 119:35
"Direct me in the path of your commands, for there I find delight." Guide my steps, O Lord, in this prayerful exploration of redemption. Amen.
15. Breaking Strongholds: A Prayer for Deliverance and Freedom
Mighty Deliverer, break the strongholds that bind me in this prayer for deliverance and freedom. With Your powerful hand, dismantle every chain, setting me free to walk in the fullness of Your redeeming grace.
2 Corinthians 3:17
"Now the Lord is the Spirit, and where the Spirit of the Lord is, there is freedom." May the Spirit of the Lord bring freedom through this prayer. Amen.
16. Divine Intervention: Prayer for Salvation and Deliverance
Heavenly Intercessor, I call upon You in this prayer for divine intervention. Intervene in my life, bringing salvation and deliverance. May Your sovereign hand guide me through this transformative journey.
Isaiah 41:10
"So do not fear, for I am with you; do not be dismayed, for I am your God. I will strengthen you and help you; I will uphold you with my righteous right hand." Uphold me, O Lord, as I seek Your intervention through prayer. Amen.
17. Awakening the Soul: A Transformative Prayer Experience
Awaken my soul, O Lord, in this transformative prayer experience. As I utter words of surrender and longing, let Your spirit breathe life into my inner being, leading me to the profound depths of salvation.
Ephesians 5:14
"This is why it is said: 'Wake up, sleeper, rise from the dead, and Christ will shine on you.'" May this prayer be a wake-up call to my soul, shining the light of Christ upon me. Amen.
18. Unveiling Light Through Prayer: The Path to Salvation
Divine Light, unveil Your brilliance through this prayerful journey. As I seek the path to salvation, let Your radiant presence guide me through the shadows, leading me to the eternal light of Your redeeming love.
John 8:12
"When Jesus spoke again to the people, he said, 'I am the light of the world. Whoever follows me will never walk in darkness, but will have the light of life.'" Lead me, O Light of the World, on the path to salvation. Amen.
19. Deliverance Through Faith: A Prayerful Reflection
Faithful God, in this prayerful reflection, strengthened my faith for the journey of deliverance. As I meditate on Your promises, let the assurance of Your salvation empower me to face every challenge with unwavering trust.
Hebrews 11:6
"And without faith, it is impossible to please God, because anyone who comes to him must believe that he exists and that he rewards those who earnestly seek him." May my earnest seeking be rewarded with deliverance through faith. Amen.
20. A Spiritual Resurgence: Prayer for Salvation and Freedom
Spirit of Resurgence, breathe new life into my soul through this prayer for salvation and freedom. Let this sacred conversation be a catalyst for spiritual renewal, lifting me into the freedom that comes only through Your redeeming love.
2 Corinthians 4:16
"Therefore we do not lose heart. Though outwardly we are wasting away, yet inwardly we are being renewed day by day." Renew me, O Lord, through this prayer, and lead me into the glorious freedom of Your salvation. Amen.
Conclusion
As we conclude our exploration into the realm of "Prayer for Salvation and Deliverance," let the echoes of heartfelt supplications resonate within your spirit. The power of prayer, a divine conversation between the seeker and the Almighty, has the potential to bring about profound transformation.
May this journey through prayer be a guiding light, breaking the shackles that bind and leading to the embrace of divine redemption. As you continue your spiritual pilgrimage, may the echoes of your prayers reverberate in the chambers of your soul, bringing forth the promised freedom and salvation that only the Creator can bestow.