In a world marked by trials and tribulations, where the weight of life's challenges often presses upon us, finding solace and guidance is a universal yearning. It is in these moments of doubt and despair that the power of faith and prayer becomes a beacon of hope. As we navigate the labyrinth of life's complexities, the Bible stands as an unwavering source of wisdom, offering us divine insights and a roadmap for seeking God's mercy.
"Prayer Points for Mercy With Bible Verses" is more than a mere subject; it's a spiritual journey. Join us as we look into the profound art of prayer, coupled with the timeless verses of the Bible, to uncover prayer points that can bring comfort, strength, and divine support during our most challenging moments.
Prayer Points for Mercy With Bible Verses
Prayer is a profound expression of faith, and the Bible is a timeless source of spiritual guidance. Combining the two, we can discover prayer points that call for God's mercy, providing strength, solace, and a path toward transformation. In this guide, we will explore the depths of mercy, its biblical foundations, and how you can incorporate prayer into your life to receive God's boundless compassion.
1. Understanding God's Mercy
Dear Heavenly Father, I come before You in awe of Your boundless mercy. Help me to understand the depth of Your compassion and grace, just as You have revealed it in Your Word. Open my heart to fully receive and embrace Your mercy, and grant me the wisdom to extend it to others as well.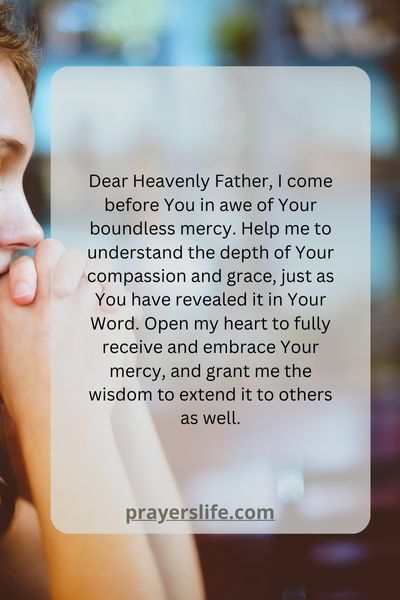 "But because of his great love for us, God, who is rich in mercy, made us alive with Christ even when we were dead in transgressions—it is by grace you have been saved."
2. The Power of Prayer for Mercy
Dear God, I recognize the incredible power of prayer in seeking Your mercy. I humbly ask You to hear my heartfelt pleas and grant me Your mercy in times of need. Your Word promises that when we pray according to Your will, You hear us.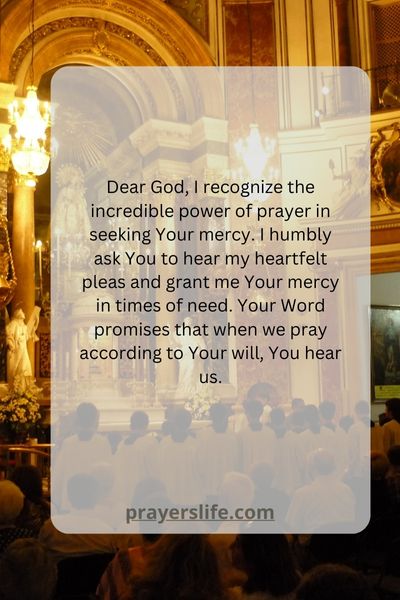 "This is the confidence we have in approaching God: that if we ask anything according to his will, he hears us."
3. Praying for God's Compassion
Heavenly Father, I seek Your compassion and tender care in my life. You are the God of all comfort and compassion. Grant me the strength to overcome challenges, and help me feel Your loving embrace in times of sorrow.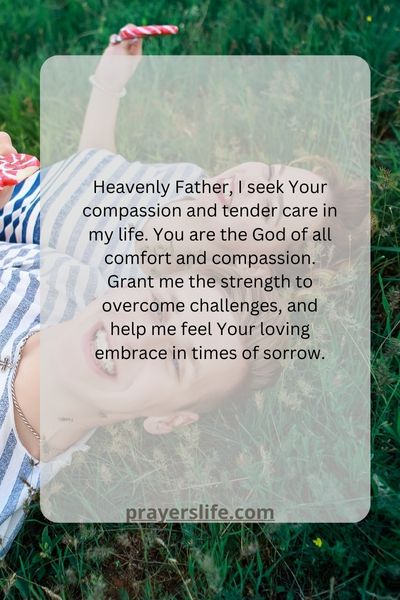 "Praise be to the God and Father of our Lord Jesus Christ, the Father of compassion and the God of all comfort, who comforts us in all our troubles."
4. The Biblical Foundation of Mercy
Lord, I thank You for the solid foundation of mercy that Your Word provides. Help me to build my life on the principles of love, forgiveness, and compassion found in the Bible.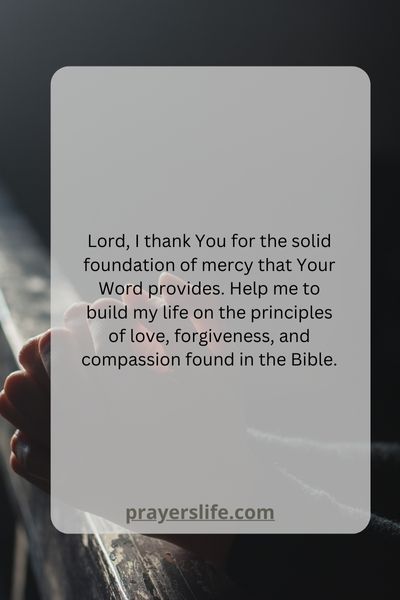 "Blessed are the merciful, for they will be shown mercy."
5. Psalm 51: A Model Prayer for Mercy
O God, just as King David prayed for Your mercy in Psalm 51, I come before You with a repentant heart, seeking Your forgiveness and mercy. Create in me a clean heart and renew a right spirit within me, as David requested.
"Create in me a pure heart, O God, and renew a steadfast spirit within me."
6. The Parable of the Prodigal Son
Heavenly Father, I am reminded of the parable of the prodigal son. Just as You welcomed him back with open arms, I humbly ask for Your mercy and forgiveness, no matter how far I've strayed. Help me return to You with a contrite heart.
Luke 15:20
"But while he was still a long way off, his father saw him and was filled with compassion for him; he ran to his son, threw his arms around him and kissed him."
7. Seeking Mercy in Times of Trouble
Dear Lord, in times of trouble and distress, I seek Your merciful presence. Your Word assures me that in my weakness, Your strength is made perfect. I ask for Your mercy to guide me through the storms of life.
2 Corinthians 12:9
"But he said to me, 'My grace is sufficient for you, for my power is made perfect in weakness.' Therefore, I will boast all the more gladly about my weaknesses, so that Christ's power may rest on me."
8. Mercy in the Beatitudes
Heavenly Father, as I reflect on the Beatitudes, I see the emphasis on mercy as a blessing. Help me to be merciful as You are merciful, and may I receive the blessings You promise to the merciful.
Matthew 5:7
"Blessed are the merciful, for they will be shown mercy."
9. Repentance and God's Mercy
O Lord, as I repent of my sins and turn to You, I rely on Your abundant mercy and forgiveness. Your Word assures me that when I confess my sins, You are faithful to forgive me and cleanse me from all unrighteousness.
1 John 1:9
"If we confess our sins, he is faithful and just and will forgive us our sins and purify us from all unrighteousness."
10. Mercy Triumphs Over Judgment
Dear God, I'm grateful for the truth that Your mercy triumphs over judgment. Your Word reminds me that showing mercy is an essential aspect of my faith, and I pray for the strength to extend it to others.
James 2:13
"Because judgment without mercy will be shown to anyone who has not been merciful. Mercy triumphs over judgment."
11. Mercy in the Lord's Prayer
Heavenly Father, as I pray the Lord's Prayer, I am reminded of the request for forgiveness and the call to forgive others. Grant me the grace to both seek Your mercy and extend it to those who have wronged me.
Matthew 6:12
"And forgive us our debts, as we also have forgiven our debtors."
12. Trusting in God's Endless Mercy
Lord, I place my trust in Your endless mercy. Your Word assures me that Your mercy is new every morning. I lean on Your loving-kindness, knowing that it will sustain me throughout each day.
Lamentations 3:22-23
"Because of the Lord's great love we are not consumed, for his compassions never fail. They are new every morning; great is your faithfulness."
13. Praying for Mercy in Difficult Times
Dear God, in the midst of difficult times and trials, I cry out for Your mercy. Your Word teaches me to call upon You in my distress, and I do so now, seeking Your grace to see me through.
Psalm 86:7
"When I am in distress, I call to you because you answer me."
14. The Woman Caught in Adultery
Heavenly Father, I reflect on the story of the woman caught in adultery and Your merciful response. Just as You forgave her and told her to go and sin no more, I seek Your forgiveness and the strength to turn from my sins.
John 8:11
"And Jesus said, 'Neither do I condemn you; go, and from now on sin no more.'"
15. King David's Cry for Mercy
O God, like King David, I cry out for Your mercy. Just as David acknowledged his transgressions and sought Your forgiveness, I too acknowledge my sins and ask for Your compassion.
Psalm 51:1
"Have mercy on me, O God, according to your unfailing love; according to your great compassion blot out my transgressions."
16. The Mercy Seat in the Tabernacle
Heavenly Father, I am reminded of the mercy seat in the tabernacle, where Your presence dwelled. Just as Your mercy covered the Ark of the Covenant, I seek Your mercy to cover my life. Be the center of my existence, and let Your mercy be my guiding light.
Exodus 25:22
"There, above the cover between the two cherubim that are over the Ark of the Covenant law, I will meet with you and give you all my commands for the Israelites."
17. The Lord's Everlasting Mercy
Lord, I'm grateful for Your everlasting mercy. Your Word proclaims that Your love and mercy endure forever. I find comfort in the assurance that Your mercy is unwavering and never-ending.
Psalm 136:26
"Give thanks to the God of heaven. His love endures forever."
18. The Story of the Good Samaritan
Heavenly Father, as I reflect on the story of the Good Samaritan, I am inspired by the compassion and mercy displayed. Help me to be a source of mercy and kindness to those in need, just as the Good Samaritan was.
Luke 10:37
"The one who showed mercy… Go and do likewise."
19. God's Promises of Mercy
Dear Lord, I hold on to Your promises of mercy found in Your Word. Your Scripture is filled with assurances of Your compassion and grace. Grant me the faith to trust in these promises, knowing that Your mercy is available to all who seek it.
Psalm 145:9
"The Lord is good to all; he has compassion on all he has made."
20. Mercy and Forgiveness in Christianity
Lord, I am thankful for the central role of mercy and forgiveness in Christianity. Through the sacrifice of Jesus, I have received Your forgiveness and mercy. Help me to extend that same mercy to others, living out the teachings of Christ.
Ephesians 4:32
"Be kind and compassionate to one another, forgiving each other, just as in Christ God forgave you."
21. Praying for Mercy with a Humble Heart
Heavenly Father, I approach You with a humble heart, recognizing my need for Your mercy. Your Word reminds me that You resist the proud but give grace to the humble. Grant me the humility to seek Your mercy in all aspects of my life.
James 4:6
"But he gives us more grace. That is why Scripture says: 'God opposes the proud but shows favor to the humble.'"

https://www.youtube.com/watch?v=Z0gJV7J4LEk&pp=ygUpUHJheWVyIFBvaW50cyBmb3IgTWVyY3kgV2l0aCBCaWJsZSBWZXJzZXM%3D
Conclusion
The concept of "Prayer Points for Mercy With Bible Verses" is not just a guide; it's an invitation to a deeper connection with the Divine. As we've journeyed through the power of prayer, understanding God's mercy, and the various dimensions of seeking divine compassion, we've discovered that prayer is more than just words; it's a heart-to-heart conversation with our Creator.
It's an act of faith that transcends the boundaries of time and space, allowing us to tap into the infinite wellspring of God's mercy. So, as you embark on your personal exploration of prayer points for mercy with Bible verses, may you find the solace and strength that comes from knowing you are never alone on this sacred journey of faith.