"Prayer Verses for Healing" is a sacred journey into the heart of divine solace and restoration. In the sacred scriptures, a treasure trove of verses offers comfort for both the body and the soul. These verses, rooted in the timeless wisdom of the Bible, serve as a source of strength, a balm for the wounded, and a beacon of hope for those navigating the complexities of illness, grief, or emotional distress. As we embark on this spiritual exploration, we look into the transformative power of prayer, discovering how it has the capacity to bring inner peace, physical well-being, and emotional resilience.
Prayer Verses For Healing
Whether facing health challenges, seeking solace in times of grief, or yearning for a sense of wholeness, the verses within this collection offer a sacred space for communion with the divine. Join us in the embrace of these prayer verses, as we navigate the path toward healing, restoration, and a profound connection with the transcendent source of grace.
1. The Power of Healing Prayers
Heavenly Father, in the healing words of Your Scripture, I seek comfort. Psalm 147:3 assures me, "He heals the brokenhearted and binds up their wounds."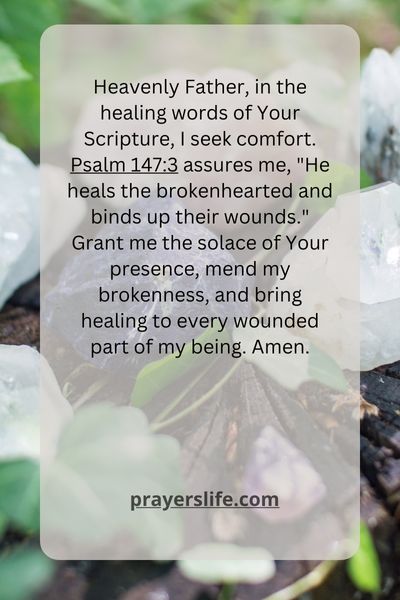 Grant me the solace of Your presence, mend my brokenness, and bring healing to every wounded part of my being. Amen.
2. Biblical Verses for Physical and Emotional Healing
Lord of Healing, as I face physical and emotional challenges, I turn to Your Word. James 5:16 encourages me to "pray for each other so that you may be healed."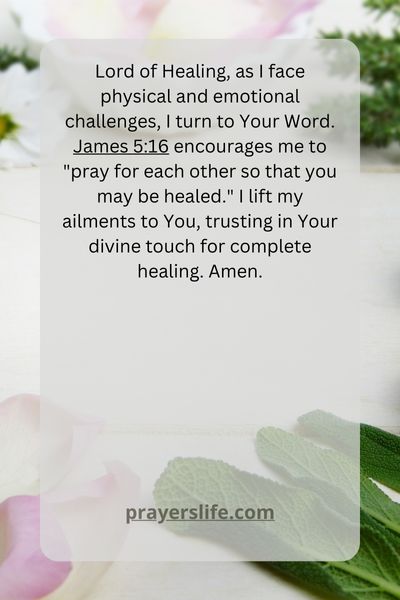 I lift my ailments to You, trusting in Your divine touch for complete healing. Amen.
3.Prayers for Inner Peace and Spiritual Restoration
Prince of Peace, grant me inner peace and spiritual restoration through prayer. Philippians 4:6-7 guides me: "Do not be anxious about anything, but in every situation, by prayer and petition, with thanksgiving, present your requests to God. And the peace of God, which transcends all understanding, will guard your hearts and your minds in Christ Jesus."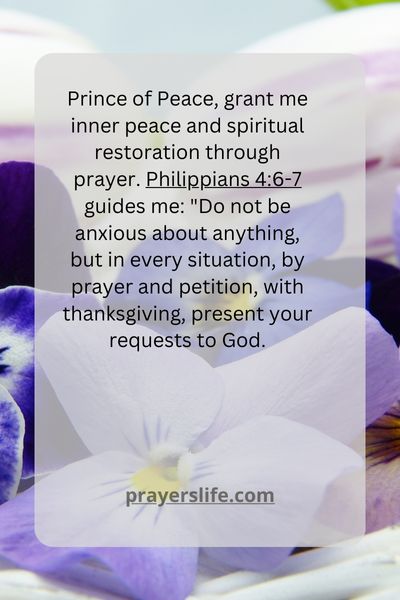 I surrender my concerns to You, seeking the peace that surpasses understanding. Amen.
4. Seeking God's Healing Grace Through Prayer
Merciful God, I seek Your healing grace through prayer. Jeremiah 17:14 offers hope: "Heal me, Lord, and I will be healed; save me and I will be saved, for you are the one I praise."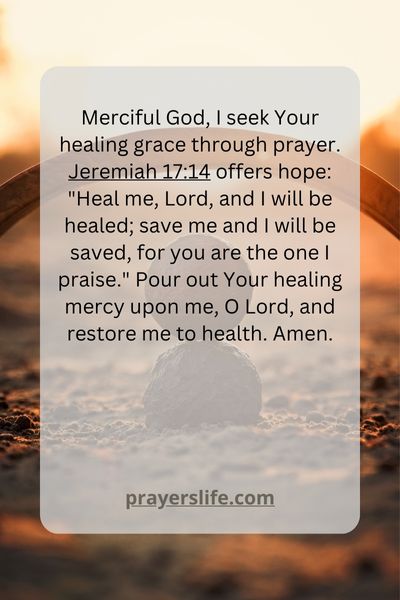 Pour out Your healing mercy upon me, O Lord, and restore me to health. Amen.
5. Healing Verses for Those Facing Health Challenges
Divine Healer, I lift those facing health challenges to You. James 5:15 declares, "And the prayer offered in faith will make the sick person well."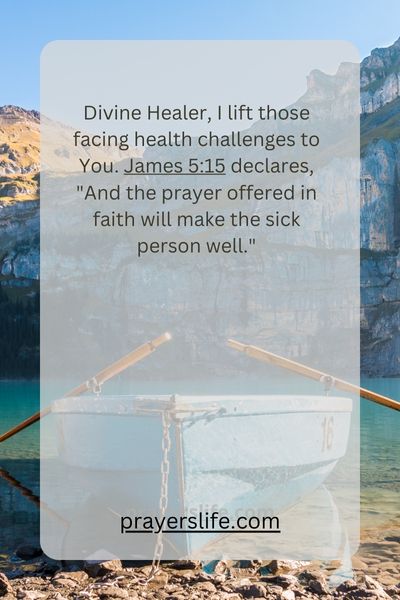 I pray for the healing touch of Your grace to be upon them, restoring health and wholeness according to Your will. Amen.
6. The Comfort of God's Word: Healing Prayers in Scripture
Comforting God, Your Word brings healing and solace. Psalm 119:50 assures me, "My comfort in my suffering is this: Your promise preserves my life."
As I pray, may Your promises bring comfort to my soul and healing to my circumstances. Amen.
7. Emotional Healing through the Art of Prayer
God of Compassion, I bring my emotional wounds before You in prayer. Psalm 34:18 consoles me: "The Lord is close to the brokenhearted and saves those who are crushed in spirit." May Your closeness bring emotional healing, saving me from despair. Amen.
8. Finding Hope in Prayer: Verses for Healing Brokenness
Hopeful God, in prayer, I find hope for healing my brokenness. Psalm 147:3 promises, "He heals the brokenhearted and binds up their wounds." I place my brokenness before You, trusting in Your healing touch to restore me. Amen.
9. Navigating Pain with Faith: Healing Prayers in the Bible
Faithful God, as I navigate pain, I turn to Your healing prayers in the Bible. Psalm 30:2 declares, "Lord my God, I called to you for help, and you healed me." I call upon You, O Lord, trusting in Your healing power to alleviate my pain. Amen.
10. Divine Restoration: Prayers for Physical Wellness
Restoring God, I lift my physical wellness to You in prayer. Jeremiah 30:17 assures me, "But I will restore you to health and heal your wounds." May Your divine restoration bring healing to every aspect of my body. Amen.
11. Encountering Healing through Faithful Prayers
Faithful God, I encounter healing through faithful prayers. Mark 11:24 guides me, "Therefore I tell you, whatever you ask for in prayer, believe that you have received it, and it will be yours." I pray with unwavering faith, trusting in Your healing response. Amen.
12. Inner Healing and Wholeness: Praying with Purpose
God of Purpose, I pray with purpose for inner healing and wholeness. Psalm 30:2 assures me, "Lord my God, I called to you for help, and you healed me." May my prayers be purposeful, leading to the inner healing and wholeness only You can provide. Amen.
13. Overcoming Suffering with Healing Prayers from Scripture
Sovereign God, I seek to overcome suffering through healing prayers from Scripture. Psalm 34:19 comforts me, "The righteous person may have many troubles, but the Lord delivers him from them all." Deliver me, O Lord, from the trials I face, bringing healing to my suffering. Amen.
14. A Journey of Faith: Healing Verses for Life's Challenges
Faithful Guide, as I journey through life's challenges, I turn to healing verses. Psalm 30:2 declares, "Lord my God, I called to you for help, and you healed me." Guide me, O Lord, through challenges, and bring healing to every aspect of my life. Amen.
15. Prayers for Strength and Healing in Times of Adversity
Source of Strength, I offer prayers for strength and healing in times of adversity. Isaiah 41:10 assures me, "So do not fear, for I am with you; do not be dismayed, for I am your God. I will strengthen you and help you; I will uphold you with my righteous right hand." Strengthen and uphold me, O Lord, as I navigate adversity. Amen.
16. Divine Comfort in Times of Illness: Healing Prayers
God of Comfort, I seek Your divine comfort in times of illness. Psalm 41:3 offers solace, "The Lord sustains them on their sickbed and restores them from their bed of illness." May Your sustaining comfort be upon those facing illness, restoring them to health. Amen.
17. Emotional Resilience Through the Power of Healing Prayer
Resilient God, grant emotional resilience through the power of healing prayer. Psalm 30:2 assures me, "Lord my God, I called to you for help, and you healed me." May the power of prayer fortify my emotions, bringing resilience in times of challenge. Amen.
18. Restoring the Soul: Healing Prayers in Times of Grief
Soul Restorer, in times of grief, I turn to Your healing prayers. Psalm 23:3 assures me, "He restores my soul." Restore my grieving soul, O Lord, and bring healing in the midst of sorrow. Amen.
19. God's Compassion: Healing Verses for Every Circumstance
Compassionate God, in every circumstance, I seek Your healing verses. Psalm 86:15 declares, "But you, Lord, are a compassionate and gracious God, slow to anger, abounding in love and faithfulness." May Your compassion bring healing to every aspect of my life. Amen.
Conclusion
Through the profound words of scripture, we discover a divine invitation to lay our burdens before the Creator, seeking solace and wholeness. The journey of healing prayers is not merely a ritual; it is an intimate dialogue with the Divine, a sacred exchange where our vulnerabilities find refuge in the arms of a compassionate God. As we traverse the terrain of physical, emotional, and spiritual challenges, the verses become a guiding light, illuminating the path to healing and renewal.
The concluding note resonates with the assurance that, in the tapestry of prayers, every supplication is heard, and every ache is acknowledged. In the resonance of each healing verse, there is a promise — a promise of divine companionship, restoration, and a healing touch that transcends the boundaries of our understanding. May the verses for healing prayers be a perpetual source of comfort, resilience, and faith, guiding us towards the enduring embrace of God's unwavering love.