The threads of joy, love, and unity are interwoven with challenges and uncertainties. As we navigate the complexities of this journey, the need for divine intervention and spiritual fortification becomes paramount. This article, "Prayers and Scriptures for Family Deliverance," serves as a guide for families seeking solace, protection, and deliverance through the power of prayer and the wisdom of sacred scriptures.
Rooted in the belief that a family anchored in faith is resilient in the face of life's storms, we embark on a spiritual journey together, exploring prayers and scriptures designed to uplift, protect, and deliver our families from adversity.
Prayers and Scriptures for Family Deliverance
Transform your family's life with powerful Prayers and Scriptures for Family Deliverance. Discover a comprehensive guide to spiritual strength and unity.
1. Seeking Divine Protection
Dear Heavenly Father, we humbly gather as a family, seeking Your divine protection. Guard us against the challenges that life may bring, shield us from harm, and surround us with Your unwavering love. Grant us the strength to navigate difficulties and the wisdom to make choices that align with Your will.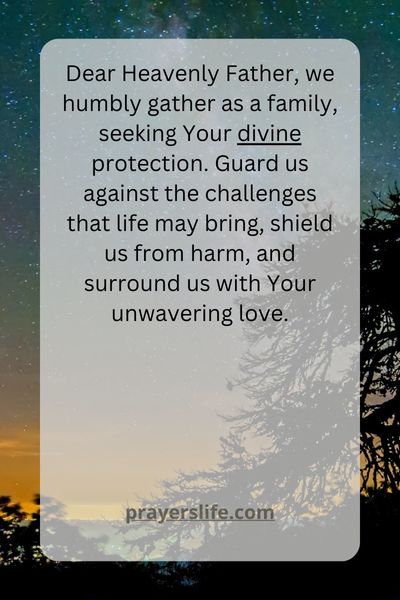 "The Lord will keep you from all harm— he will watch over your life; the Lord will watch over your coming and going both now and forevermore." May Your protective hand be upon our family, guiding us in every step we take. Amen.
2. Guardianship in Faith
Heavenly Father, we place our family under Your guardianship, trusting in Your unwavering faithfulness. Surround us with Your angels, standing watch over our home. Strengthen our faith and help us to anchor ourselves in Your promises, finding safety in Your loving embrace.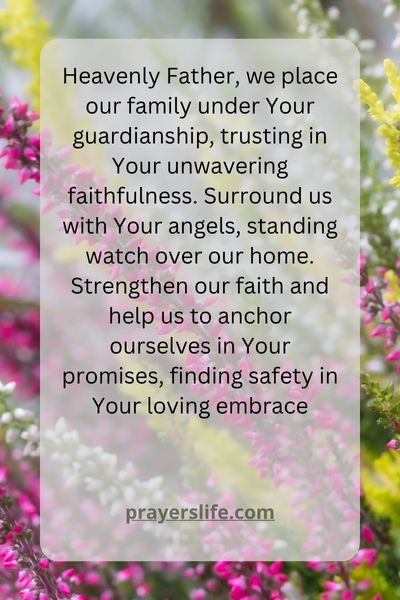 "For he guards the course of the just and protects the way of his faithful ones." Lord, guard our family's path and protect us as we journey through life together. In faith, we find our safety. Amen.
3. Uplifting the Home
Gracious God, we lift our home to You, seeking deliverance and security. Pour Your blessings upon each family member, creating an atmosphere of peace and harmony. Break chains of fear and doubt, replacing them with the assurance of Your unwavering presence.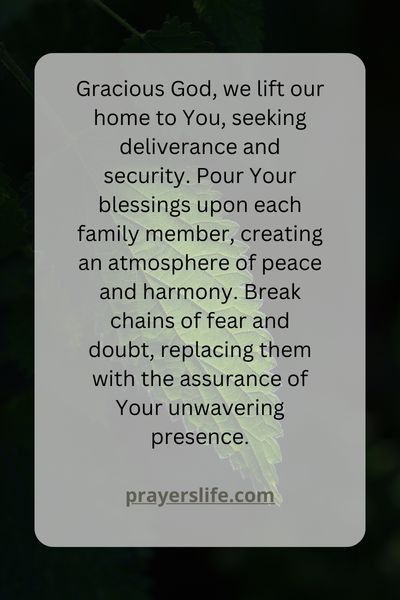 "You will keep in perfect peace those whose minds are steadfast because they trust in you." May our home be a haven of perfect peace as we trust in Your unchanging love. Amen.
4. Scriptural Shields
Heavenly Father, we stand before You, recognizing the power of Your Word to shield and fortify. As we look into Your Scriptures, may Your truth become our shield against the schemes of the enemy. Strengthen our family's foundation in Your Word.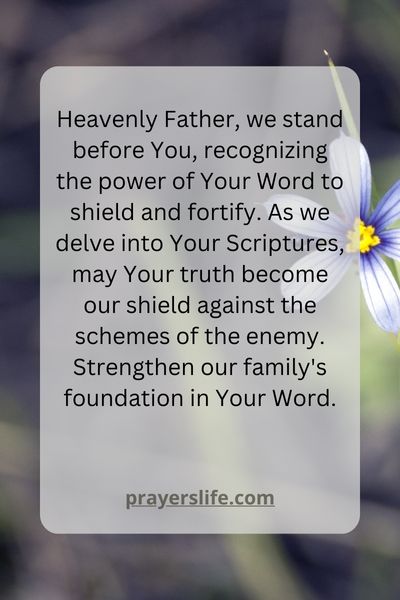 "As for God, his way is perfect: The Lord's word is flawless; he shields all who take refuge in him." Lord, we take refuge in Your flawless Word; shield us as we embrace its truths. Amen.
5. In the Shelter of Faith
Loving Father, we seek refuge in the shelter of our faith, trusting that You are our ultimate guide. Lead us through life's uncertainties, and let our family find solace in the certainty of Your unchanging love.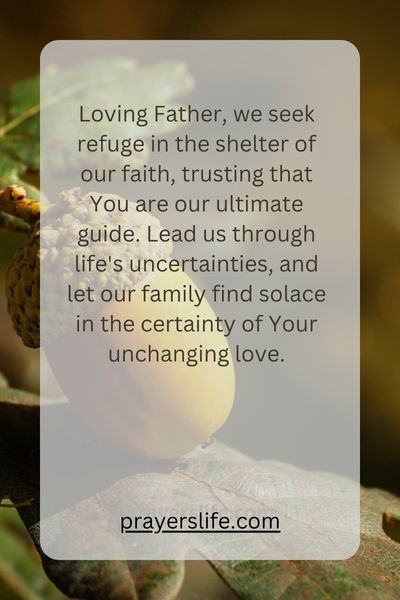 "For this God is our God for ever and ever; he will be our guide even to the end." As we journey, be our eternal guide, O Lord, and lead our family into the safety of Your presence. Amen.
6. Anchored in Hope
Lord of Hope, anchor our family in the unwavering hope found in You. As we face life's storms, may our faith be the anchor that holds us steady. Grant us the assurance that Your promises are our safe harbour.
Hebrews 6:19
"We have this hope as an anchor for the soul, firm and secure." May the hope in Your promises be our anchor, firm and secure, in every circumstance. Amen.
7. Family Sanctuary
Heavenly Father, transform our home into a sanctuary of Your presence. Let our prayers and the reading of Your Word be a source of deliverance, bringing peace, joy, and healing to every member of our family.
Psalm 119:114
"You are my refuge and my shield; I have put my hope in your word." In You, we find refuge; in Your Word, our hope is secure. Make our home a sanctuary of Your abiding presence. Amen.
8. Healing Words
Merciful God, we come before You with our loved ones in our hearts. Pour out Your healing words upon each family member, bringing deliverance from any physical, emotional, or spiritual afflictions. May Your comforting presence surround us.
Psalm 107:20
"He sent out his word and healed them; he rescued them from the grave." We trust in the healing power of Your Word, O Lord, and we thank You for rescuing us. Amen.
9. Divine Intervention
O Sovereign God, intervene in our family's journey with Your divine wisdom and power. As we lift our hearts in prayer and study Your Scriptures, may Your hand of deliverance be evident in every aspect of our lives.
Isaiah 41:10
"So do not fear, for I am with you; do not be dismayed, for I am your God. I will strengthen you and help you; I will uphold you with my righteous right hand." We trust in Your unwavering presence, Lord, and we surrender our fears to Your strength. Amen.
10. Walking in Faith
Faithful God, guide our family as we walk this journey of life. May our steps be ordered by Your Word, and may our faith safeguard us from the snares of the enemy. Grant us the assurance that, in faith, we find true deliverance.
2 Corinthians 5:7
"For we live by faith, not by sight." As we walk in faith, may Your light illuminate our path, and may our family be safeguarded by the power of belief. Amen.
11. Securing Bonds
Gracious Father, strengthen the bonds within our family, weaving a tapestry of unity. As we come together in prayer, grant us deliverance from discord and disharmony. Let Your love be the unbreakable thread that binds us.
Colossians 3:14
"And over all these virtues put on love, which binds them all together in perfect unity." May the love that comes from You bind our family in perfect unity, securing us in Your deliverance. Amen.
12. A Shield of Love
Loving Father, surround our family with a shield of Your enduring love. Let our prayers be rooted in the richness of Your Word, and may the promises found therein be a fortress protecting us from harm.
Psalm 33:20-22
"We wait in hope for the Lord; he is our help and our shield. In him our hearts rejoice, for we trust in his holy name. May your unfailing love be with us, Lord, even as we put our hope in you." As we put our hope in You, Lord, be our help and shield, and let Your unfailing love be our constant companion. Amen.
13. Faithful Foundations
Faithful God, lay the foundations of our family on the solid ground of Your Word. As we build our lives through prayer and seek Your face, may our family be a testimony of Your faithfulness and deliverance.
Matthew 7:24-25
"Therefore everyone who hears these words of mine and puts them into practice is like a wise man who built his house on the rock. The rain came down, the streams rose, and the winds blew and beat against that house; yet it did not fall, because it had its foundation on the rock." May our family's foundation be secure on the rock of Your Word, withstanding the storms of life. Amen.
14. Deliverance Declarations: Speaking Prayers and Scriptures for Your Family
Mighty God, empower our family to declare Your deliverance through spoken prayers and the proclamation of Your Word. Let our words be filled with faith, and may they carry the authority of Your promises.
Mark 11:23
"Truly I tell you, if anyone says to this mountain, 'Go, throw yourself into the sea,' and does not doubt in their heart but believes that what they say will happen, it will be done for them." As we speak Your promises, may mountains of challenges be cast away, and may Your deliverance manifest in our family. Amen.
15. Guarding Generations
Eternal God, guard the legacy of our family for generations to come. As we lift our hearts in prayer, may Your hand of deliverance reach not only the present but also extend its protection to our descendants.
Psalm 145:4
"One generation commends your works to another; they tell of your mighty acts." May the stories of Your mighty acts be passed down from generation to generation within our family, showcasing Your enduring deliverance. Amen.
16. From Fear to Faith
Lord of Comfort, lead our family from the grips of fear into the freedom found in faith. As we immerse ourselves in Your Word and pray fervently, may fear be replaced by the unshakable confidence that comes from trusting in You.
2 Timothy 1:7
"For the Spirit God gave us does not make us timid, but gives us power, love, and self-discipline." May Your Spirit empower our family, replacing fear with power, love, and self-discipline. In You, we find true deliverance. Amen.
17. Sacred Safeguard
Sacred Father, envelop our family in the sanctuary of Your deliverance prayers. Let Your presence be a shield that guards us against spiritual battles, and may Your angels stand as sentinels around our home.
Psalm 34:7
"The angel of the Lord encamps around those who fear him, and he delivers them." As we fear and reverence You, Lord, may Your angelic protection encamp around our family, delivering us from all harm. Amen.
18. Faith-Filled Homes
Faithful God, fill our home with the fragrance of faith and let our prayers and the reading of Your Word be the foundation of our family life. May Your presence permeate every room, bringing deliverance to each member of our household.
Joshua 24:15
"But as for me and my household, we will serve the Lord." May our home be a place where Your presence is served and honored, bringing deliverance to all who dwell within. Amen.
19. The Armor of God
Heavenly Commander, equip our family with the armor of God as we engage in spiritual warfare. May our prayers be a powerful weapon, and may Your Word serve as our shield against the schemes of the enemy.
Ephesians 6:10-11
"Finally, be strong in the Lord and in his mighty power. Put on the full armor of God, so that you can take your stand against the devil's schemes." Strengthen us, Lord, and clothe our family in the armor of Your might, that we may stand firm in Your deliverance. Amen.

Conclusion

In the sacred realms of prayer and scripture, families find a refuge, a source of strength, and a pathway to deliverance. As we conclude our exploration of "Prayers and Scriptures for Family Deliverance," may these words serve as a beacon of hope for families worldwide. Let the echoes of our collective prayers resonate within the walls of homes, transforming them into sanctuaries of faith, love, and resilience.

As we cling to the promises of divine protection and deliverance, may our families be fortified, our bonds strengthened, and our hearts filled with the enduring peace that surpasses all understanding. In the tapestry of family life, may the threads of faith, woven with intention and reverence, create a masterpiece that withstands the tests of time.