The journey of pregnancy is a profound and transformative experience, marked by moments of joy, anticipation, and sometimes challenges. It's a time when a woman's body becomes a sacred vessel, nurturing the miracle of new life within. In the midst of this incredible journey, the power of prayer emerges as a source of comfort, strength, and hope.
Prayers For A Pregnant Woman
"Prayers for a Pregnant Woman" is a collection of heartfelt supplications and reflections specially crafted to support and uplift expectant mothers. It's an invitation to draw near to the divine, seeking guidance, protection, and the blessings of a safe and healthy pregnancy. These prayers serve as a spiritual companion, a reminder that in the sacred space of pregnancy, faith and hope can thrive.
1. A Prayer for a Healthy Pregnancy
Heavenly Father, as I carry this precious life within me, I come before You, seeking Your divine protection and guidance. I pray for a healthy and safe pregnancy, free from complications. Fill me with strength, grant me wisdom to make the best choices, and surround me with Your love.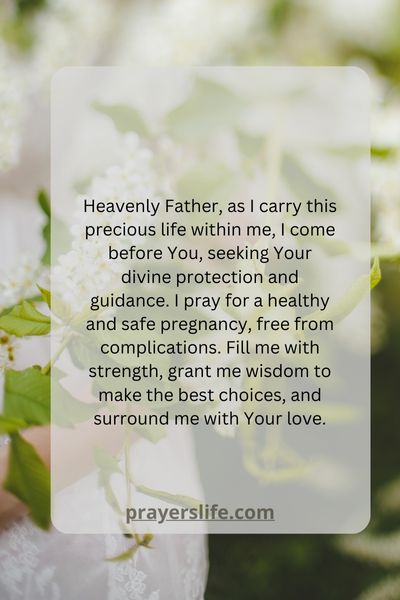 "For you created my inmost being; you knit me together in my mother's womb. I praise you because I am fearfully and wonderfully made; your works are wonderful, I know that full well."
2. Praying for Mother and Baby's Well-Being
Gracious God, I lift my heart to You, asking for Your watchful eye over both me and my unborn child. Grant us good health, protect us from harm, and bless us with vitality. May every aspect of this pregnancy be a testimony to Your grace and loving care.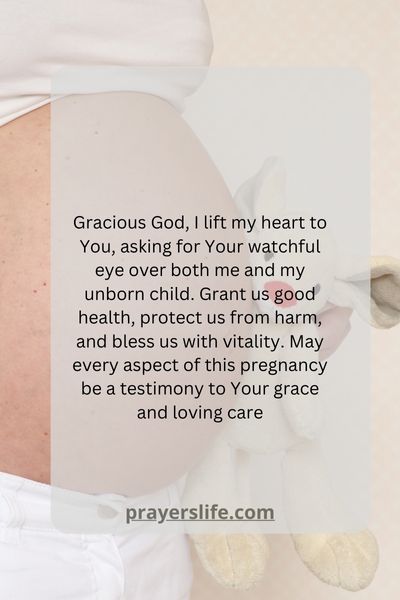 "Before I formed you in the womb I knew you, before you were born I set you apart; I appointed you as a prophet to the nations."
3. Divine Guidance for Expecting Mothers
Lord, as an expecting mother, I seek Your guidance in this journey. Lead me in making the right choices for my well-being and the baby's. Help me embrace the changes and challenges with grace, knowing that You are with me every step of the way.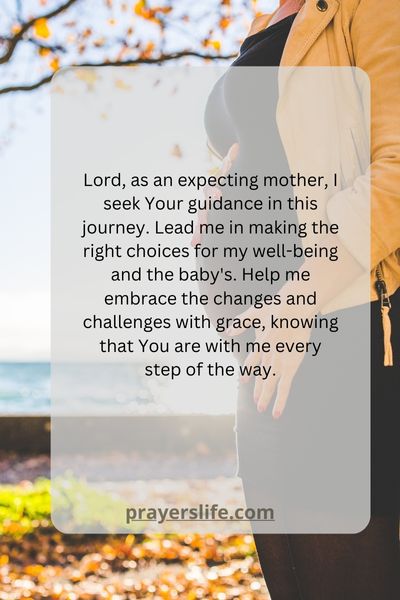 "Trust in the Lord with all your heart and lean not on your own understanding; in all your ways submit to him, and he will make your paths straight."
4. Prayers for a Smooth Pregnancy Journey
Heavenly Father, I come before You with gratitude for the gift of pregnancy. I pray for a smooth and joyful journey, free from complications and worries. May each day bring new blessings and moments of peace as I await the arrival of this precious child.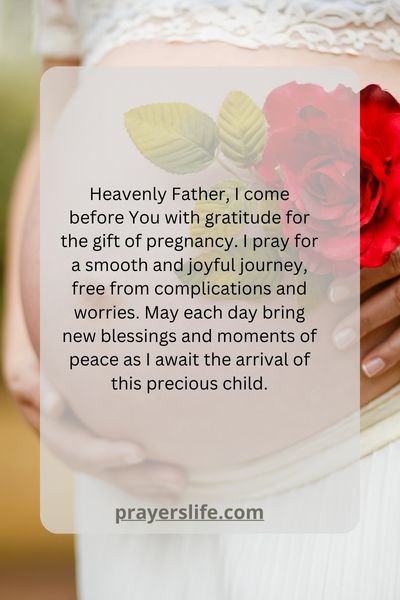 "God is our refuge and strength, an ever-present help in trouble."
5. Blessings for a Joyful Pregnancy
Gracious God, I thank You for the miracle of life growing within me. As I embark on this pregnancy journey, I pray for an abundance of joy, laughter, and happiness. Bless me with a heart full of love and anticipation for the baby's arrival.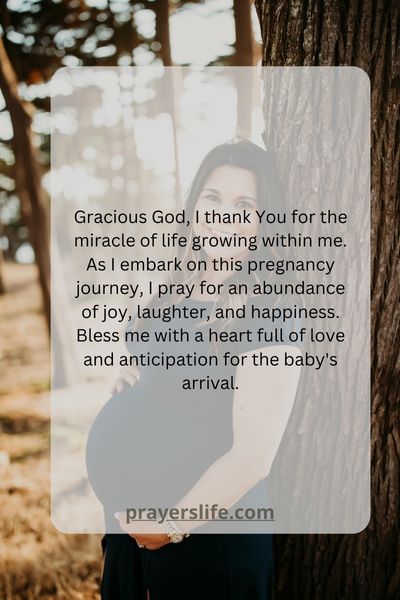 "Children are a heritage from the Lord, offspring a reward from him."
6. Seeking Strength During Pregnancy
Lord, grant me the strength to carry this pregnancy with grace and resilience. When I feel weary, be my source of energy. When doubts arise, fill me with confidence. Help me face each day with the assurance of Your presence.
Isaiah 40:31
"But those who hope in the Lord will renew their strength. They will soar on wings like eagles; they will run and not grow weary, they will walk and not be faint."
7. A Prayer for Pregnancy Comfort
Dear God, I pray for physical comfort and relief from any discomfort during this pregnancy. Ease my pains, calm my anxieties, and surround me with Your peace. Let Your comfort and healing presence be with me and my child.
Psalm 34:17
"The righteous cry out, and the Lord hears them; he delivers them from all their troubles."
8. Protection for Mother and Child
Heavenly Father, I come to You with trust and hope, seeking Your protection for both me and my unborn child. Shield us from harm, both seen and unseen, and keep us safe in Your loving care throughout this pregnancy.
Psalm 121:7-8
"The Lord will keep you from all harm—he will watch over your life; the Lord will watch over your coming and going both now and forevermore."
9. Praying for a Stress-Free Pregnancy
Lord, I lift my anxieties and worries to You. Grant me a pregnancy free from stress and anxiety. May I find tranquility in Your presence, trusting that You hold every detail of this journey in Your hands.
Philippians 4:6-7
"Do not be anxious about anything, but in every situation, by prayer and petition, with thanksgiving, present your requests to God. And the peace of God, which transcends all understanding, will guard your hearts and your minds in Christ Jesus."
10. Safety and Security in Pregnancy
Gracious God, I seek Your assurance of safety and security throughout this pregnancy. Protect me from harm, both physical and spiritual, and grant me the confidence that I am under Your divine care.
Psalm 91:4
"He will cover you with his feathers, and under his wings you will find refuge; his faithfulness will be your shield and rampart."
11. Blessed with a Safe Delivery
Dear Lord, as I carry this pregnancy, I lift up my hopes for a safe and smooth delivery. May Your presence be with me during labor, guiding the medical team and ensuring the baby's safe arrival into this world.
Psalm 22:9-10
"Yet you brought me out of the womb; you made me trust in you, even at my mother's breast. From birth I was cast on you; from my mother's womb you have been my God."
12. Praying for Pregnancy Patience
Heavenly Father, I pray for patience during this pregnancy journey. When discomfort and impatience arise, help me to remain calm and wait in expectation for the miraculous moment of birth.
Galatians 5:22-23
"But the fruit of the Spirit is love, joy, peace, forbearance, kindness, goodness, faithfulness, gentleness and self-control. Against such things there is no law."
13. Embracing Pregnancy with Faith
Lord, I embark on this pregnancy journey with faith and trust in Your plan. Help me embrace the changes and uncertainties with a heart filled with hope, knowing that You are the Author of life and the giver of all good things.
Hebrews 11:1
"Now faith is confidence in what we hope for and assurance about what we do not see."
14. A Mother's Prayer for Her Unborn Child
Gracious God, I lift up my unborn child to You, knowing that You have known this precious life from the beginning. I pray for protection, love, and blessings over my child. May they be guided by Your light throughout their life.
Jeremiah 1:5
"Before I formed you in the womb I knew you, before you were born I set you apart; I appointed you as a prophet to the nations."
15. Gratitude for the Gift of Pregnancy
Lord, I am grateful for the precious gift of pregnancy. Thank You for this miracle and the opportunity to nurture life. As I journey through this pregnancy, may my heart be filled with gratitude and wonder.
Psalm 136:26
"Give thanks to the God of heaven. His love endures forever."
16. Divine Wisdom for Expectant Mothers
Heavenly Father, I seek Your divine wisdom as I navigate this pregnancy. Help me make the right choices for my well-being and my child's. Grant me discernment in decisions related to nutrition, healthcare, and preparation for the baby's arrival.
James 1:5
"If any of you lacks wisdom, you should ask God, who gives generously to all without finding fault, and it will be given to you."
17. Praying for a Miracle in the Womb
Dear God, I come to You in awe of the miracle taking place within my womb. I pray for the development and growth of my unborn child, trusting that Your divine hand is shaping and forming this precious life. May this pregnancy be a testament to Your wonderful works.
Psalm 139:16
"Your eyes saw my unformed body; all the days ordained for me were written in your book before one of them came to be."

https://www.youtube.com/watch?v=Pg4f-tP83-E&pp=ygUcUHJheWVycyBGb3IgQSBQcmVnbmFudCBXb21hbg%3D%3D
Conclusion
As we conclude this exploration of prayers for expectant mothers, we are reminded that the journey of pregnancy is a unique and beautiful chapter in the tapestry of life. It's a time when the maternal heart swells with love, anticipation, and dreams for the precious life growing within. These prayers have provided solace and guidance, an opportunity to express gratitude, and a source of strength during the challenges.
They remind us that in the divine tapestry of creation, every pregnancy is a miracle, every expectant mother is a vessel of love. As the days unfold, may these prayers continue to offer comfort, wisdom, and a profound connection with the divine as mothers-to-be traverse the remarkable path of pregnancy.