Accidents are unforeseen and often traumatic events that can leave a profound impact on individuals and their loved ones. In these challenging moments, when lives are disrupted and physical or emotional wounds are sustained, the power of prayer can provide solace, strength, and hope.
"Prayers for an Accident Victim" is an article that delves into the spiritual and emotional support that can be sought through prayer during times of distress. It explores various prayers for healing, protection, and recovery, accompanied by relevant Bible verses, offering a source of inspiration and comfort for those facing the aftermath of an accident.
Prayers for an Accident Victim
Explore the power of prayers for an accident victim, offering hope and healing during challenging times. Discover the importance of faith and divine intervention in the recovery process.
1. A Prayer for Healing and Recovery
Dear Heavenly Father, I lift the accident victim before You. Please touch their body, mind, and spirit with Your healing grace. Grant them the strength to recover swiftly and completely, restoring their health and vitality.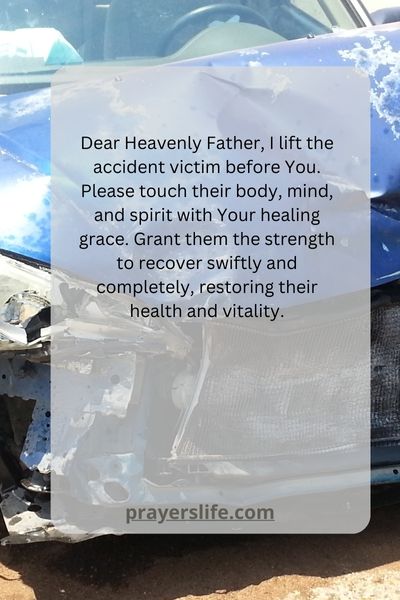 "But he was pierced for our transgressions, he was crushed for our iniquities; the punishment that brought us peace was on him, and by his wounds, we are healed."
May Your divine healing power be upon them, bringing comfort and renewal.
2. Finding Strength in Times of Suffering
Dear Lord, in this time of suffering, we seek Your strength and guidance. Provide the accident victim with the resilience to endure their challenges and emerge from this trial with increased faith.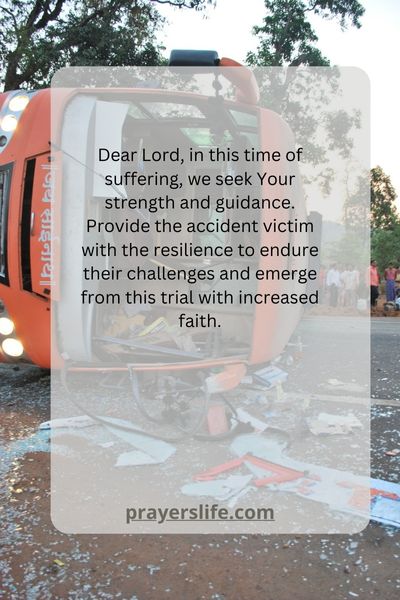 "But he said to me, 'My grace is sufficient for you, for my power is made perfect in weakness.' Therefore, I will boast all the more gladly about my weaknesses, so that Christ's power may rest on me."
May Your grace be their source of courage and endurance.
3. A Request for Divine Protection
Heavenly Father, we pray for divine protection over those who have been affected by the accident. Shield them from further harm and surround them with Your loving care.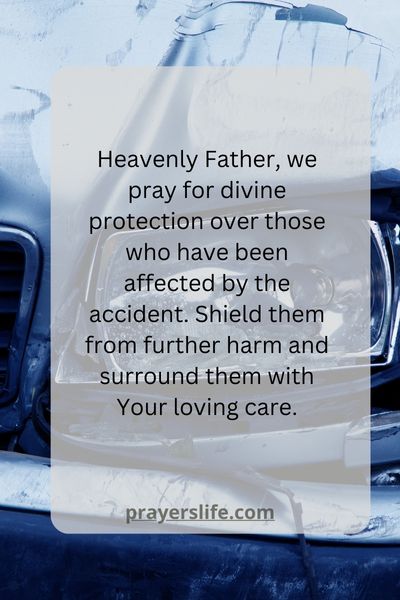 "But let all who take refuge in you be glad; let them ever sing for joy. Spread your protection over them, that those who love your name may rejoice in you."
May Your presence be a refuge in their time of need.
4. Offering Comfort and Solace
Lord, grant comfort and solace to the accident victims and their loved ones during this trying time. Let Your peace, which surpasses all understanding, fill their hearts and minds.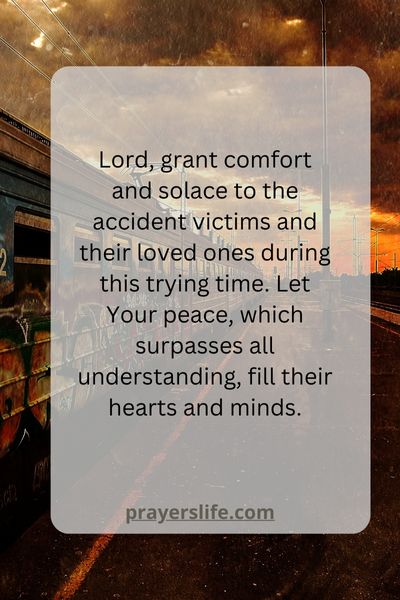 "And the peace of God, which transcends all understanding, will guard your hearts and your minds in Christ Jesus."
May they find strength and assurance in Your loving presence.
5. Praying for Physical and Emotional Restoration
Dear God, we implore You to restore both the physical and emotional well-being of the accident victim. Heal their wounds, mend their brokenness, and bring them emotional healing.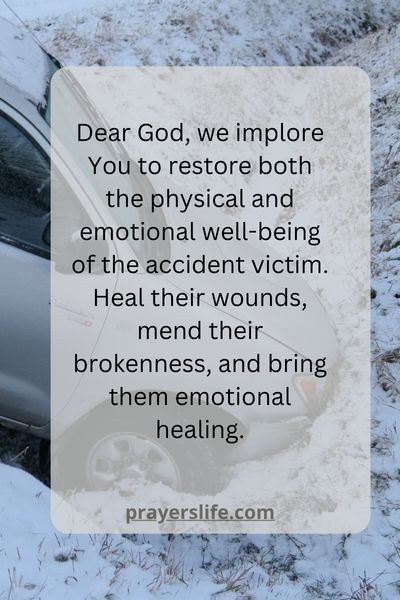 "He heals the brokenhearted and binds up their wounds."
May Your healing touch bring them wholeness and peace.
6. Seeking Guidance for Medical Professionals
Heavenly Father, guide the hands and minds of the medical professionals caring for the accident victim. Grant them wisdom, skill, and compassion in their efforts to bring about healing.
Proverbs 3:5-6
"Trust in the Lord with all your heart and lean not on your understanding; in all your ways submit to him, and he will make your paths straight."
May Your divine wisdom be their source of guidance.
7. Holding Hope for a Swift Recovery
Lord, we hold onto hope for a swift and complete recovery for the accident victim. May they experience Your restorative touch and regain their health.
Jeremiah 30:17
"But I will restore you to health and heal your wounds, declares the Lord."
May they find hope and strength in Your promise of restoration.
8. A Plea for Inner Peace and Courage
Dear God, grant the accident victims inner peace and courage in the face of their challenges. Calm their fears and provide the strength to endure.
Isaiah 41:10
"So do not fear, for I am with you; do not be dismayed, for I am your God. I will strengthen you and help you; I will uphold you with my righteous right hand."
May Your presence be their source of peace and bravery.
9. Asking for God's Grace and Mercy
Heavenly Father, we come before You, seeking Your grace and mercy for the accident victim. Shower them with Your unmerited favour and grant them Your compassion.
Ephesians 2:8
"For it is by grace you have been saved, through faith—and this is not from yourselves, it is the gift of God."
May Your grace and mercy be their sustenance in times of need.
10. Prayers for Family and Loved Ones
Lord, we also lift the family and loved ones of the accident victim. Grant them comfort, strength, and the assurance that You are with them during this challenging time.
Psalm 34:18
"The Lord is close to the brokenhearted and saves those who are crushed in spirit."
May Your presence bring solace and support to those who care for the accident victim.
11. Seeking Divine Intervention for the Injured
Dear God, we beseech You for divine intervention in the healing of the injured. Bring forth Your miraculous touch to speed their recovery and relieve their pain.
Mark 10:27
"Jesus looked at them and said, 'With man this is impossible, but not with God; all things are possible with God.'"
May they experience Your supernatural healing power.
12. A Heartfelt Petition for a Miracle
Heavenly Father, we humbly petition You for a miracle in the life of the accident victim. With faith, we believe in Your ability to bring about the extraordinary.
Matthew 19:26
"Jesus looked at them and said, 'With man, this is impossible, but with God, all things are possible.'"
May Your miraculous intervention be a testament to Your glory.
13. Lifting the Accident Victim in Prayer
Lord, we lift the accident victim in our collective prayers. May the power of our petitions, joined with faith, bring healing, strength, and comfort to their life.
James 5:16
"Therefore confess your sins to each other and pray for each other so that you may be healed. The prayer of a righteous person is powerful and effective."
May our prayers be a source of divine intervention and support.
14. Trusting in God's Plan for Healing
Dear Lord, we place our trust in Your divine plan to heal the accident victim. May they find comfort in knowing that Your purpose will prevail, and Your love will guide them.
Jeremiah 29:11
"For I know the plans I have for you," declares the Lord, "plans to prosper you and not to harm you, plans to give you hope and a future."
May they rest in the assurance of Your loving plan.
15. Praying for the Support of the Community
Heavenly Father, we ask for the support and compassion of the community to surround the accident victim. May they be lifted by the love and care of those around them.
Galatians 6:2
"Carry each other's burdens, and in this way, you will fulfill the law of Christ."
May the community be a source of strength and encouragement.
16. A Call for Strength and Resilience
Lord, we call upon Your strength and resilience for the accident victims as they face the challenges of recovery. May they draw upon Your mighty power to overcome adversity.
Philippians 4:13
"I can do all things through Christ who strengthens me."
May Your strength empower them to persevere.
17. An Appeal for Rapid Rehabilitation
Dear God, we appeal to You for a swift and effective rehabilitation process for the accident victim. Guide their progress, restore their mobility, and grant them health.
Isaiah 35:6
"Then will the lame leap like a deer, and the mute tongue shout for joy. Water will gush forth in the wilderness and streams in the desert."
May their rehabilitation be marked by Your miraculous transformation.
18. Offering Thanks for the Gift of Life
Lord, we thank You for the gift of life and the opportunity for the accident victim to heal and recover. May they recognize the preciousness of life and be grateful for each day.
Psalm 118:24
"This is the day the Lord has made; let us rejoice and be glad in it."
May gratitude fill their hearts as they embrace each new day.
19. A Prayer for Comforting the Affected
Heavenly Father, we pray for Your comforting presence to surround and console all those affected by the accident. May they find peace and solace in You during this challenging time.
2 Corinthians 1:3-4
"Praise be to the God and Father of our Lord Jesus Christ, the Father of compassion and the God of all comfort, who comforts us in all our troubles so that we can comfort those in any trouble with the comfort we ourselves receive from God."
May Your comfort be a balm to their hearts.
20. Seeking Protection from Further Harm
Dear God, we seek Your protection from further harm and accidents for the victim. Surround them with Your guardian angels and keep them safe in all their ways.
Psalm 91:11-12
"For he will command his angels concerning you to guard you in all your ways; they will lift you up in their hands so that you will not strike your foot against a stone."
May Your angels watch over them and keep them from harm.
21. Holding Faith in Recovery and Wholeness
Lord, we hold onto faith in the accident victim's recovery and return to wholeness. May their journey be marked by Your healing touch and Your love.
Jeremiah 17:14
"Heal me, Lord, and I will be healed; save me, and I will be saved, for you are the one I praise."
May their faith be unwavering, and may they experience Your restoration.
In these prayers, we seek the divine intervention, guidance, and support of our Creator for those affected by accidents, asking for healing, protection, and strength during difficult times. May their faith and the power of prayer bring them comfort and hope.
Conclusion
In the face of adversity, we often turn to our faith and seek divine intervention. "Prayers for an Accident Victim" serves as a reminder that, during times of hardship, we are never alone. The healing power of prayer, combined with unwavering faith, can be a guiding light through the darkest hours.
As we offer our prayers for accident victims, we extend not only our hopes for their physical and emotional recovery but also our belief in the miracles and blessings that can come from above. May these prayers provide comfort, strength, and reassurance to those in need, reminding them that God's love and grace are ever-present, even in the most challenging of circumstances.