Graduation is a milestone worth celebrating, and what better way to honor this achievement than with prayers for graduating students?
In this guide, we explore heartfelt blessings, share personal insights, and provide valuable information to guide you through this special moment.
Prayers For Graduating Student
Navigating the transition from student life to the professional world can be daunting. Prayers For Graduating Students serve as a source of comfort, fostering resilience and embracing the positive changes that lie ahead.
1. A Prayer for Guidance and Direction in the Next Chapter of Life:
Dear God, as I graduate and embark on a new chapter of life, I humbly seek Your guidance and direction. Please illuminate my path and show me the way I should go. Help me make wise decisions and discern Your will for my life.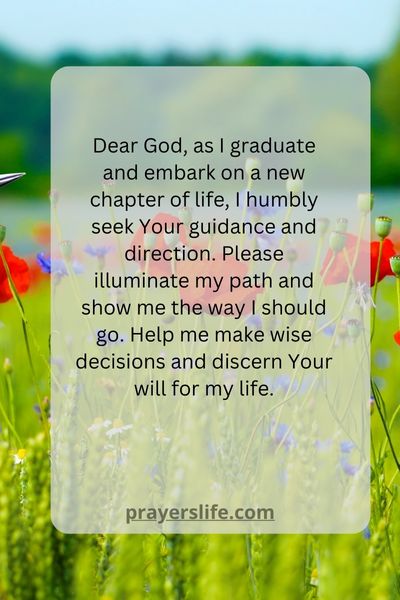 "Trust in the LORD with all your heart and lean not on your own understanding; in all your ways submit to him, and he will make your paths straight."
May Your wisdom lead me to the right opportunities and bless me with a purposeful journey. Amen.
2. A Prayer for Strength and Perseverance During the Final Stretch:
Dear Heavenly Father, as I approach the end of my studies, I pray for strength and perseverance to finish strong. Grant me the determination to overcome any obstacles that come my way. Help me stay focused and motivated, even when the workload feels overwhelming.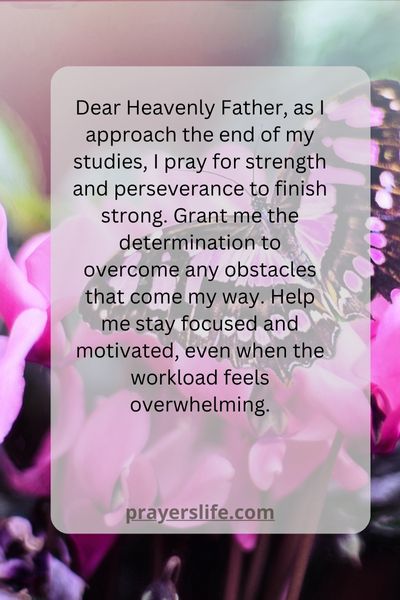 "I can do all this through him who gives me strength."
Lord, empower me with Your divine strength and remind me that I am capable of achieving great things. Thank You for being my source of strength. Amen.
3. A Prayer for Wisdom and Clarity in Making Important Decisions:
Dear Lord, as I stand at the crossroads of life, I seek Your wisdom and clarity in making important decisions. Guide my thoughts and actions, and grant me discernment to choose the right path. Help me align my desires with Your perfect will.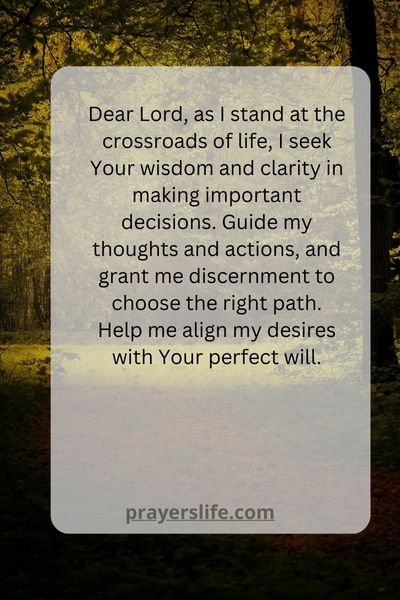 "If any of you lacks wisdom, you should ask God, who gives generously to all without finding fault, and it will be given to you."
Heavenly Father, I trust in Your wisdom to lead me towards a future filled with purpose and fulfillment. Amen.
4. A Prayer for Confidence and Self-belief as You Step into the World:
Dear God, as I step into the world after graduation, I pray for confidence and self-belief. Help me recognize my worth and embrace the unique gifts You have bestowed upon me. Remove any doubts or insecurities that may hinder my progress.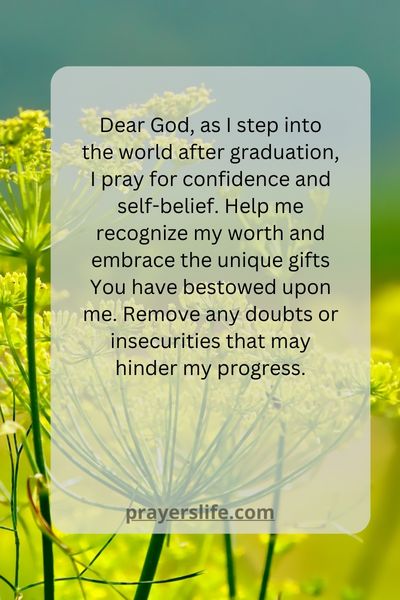 "I praise you because I am fearfully and wonderfully made; your works are wonderful, I know that full well."
Lord, remind me that I am fearfully and wonderfully made in Your image. May I walk with confidence, knowing that You are with me every step of the way. Amen.
5. A Prayer for Success and Favor in Job Interviews and Applications:
Dear Heavenly Father, as I seek employment opportunities, I pray for success and favor in job interviews and applications. Open doors for me, Lord, and grant me the right opportunities that align with Your plans for my life. Give me the words to speak and the confidence to present myself well.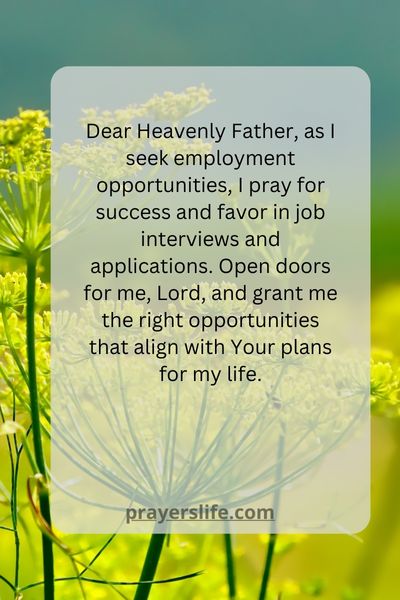 "Commit to the LORD whatever you do, and he will establish your plans."
Heavenly Father, I commit my job search to You, trusting that You will establish my plans and lead me to the right career path. Amen.
6. A Prayer for Financial Provision and Stability in the Post-Graduation Phase:
Dear God, as I transition into the post-graduation phase, I pray for Your financial provision and stability. Guide me in managing my finances wisely and bless the work of my hands. Provide me with opportunities to earn a living and meet my needs.
Philippians 4:19
"And my God will meet all your needs according to the riches of his glory in Christ Jesus."
Heavenly Father, I trust in Your promise to meet all my needs. Thank You for Your faithfulness and provision in my life. Amen.
7. A Prayer for Health and Well-being as You Transition into a New Routine:
Dear Lord, as I transition into a new routine after graduation, I pray for good health and well-being. Protect me from illness and strengthen my body, mind, and spirit. Grant me the discipline to prioritize self-care and maintain a healthy lifestyle.
3 John 1:2
"Dear friend, I pray that you may enjoy good health and that all may go well with you, even as your soul is getting along well."
Heavenly Father, I commit my health to Your care, trusting that You will sustain me and grant me the strength I need. Amen.
8. A Prayer for Meaningful Relationships and Connections in Your Career:
Dear God, as I embark on my career journey, I pray for meaningful relationships and connections. Surround me with mentors, colleagues, and friends who will inspire and support me. Help me build strong professional networks that will contribute to my growth and success.
Proverbs 27:17
"As iron sharpens iron, so one person sharpens another."
Lord, I pray for divine connections that will sharpen and refine me. May my relationships be filled with mutual respect, encouragement, and collaboration. Amen.
9. A Prayer for Emotional Resilience and Mental Strength in Times of Challenges:
Dear Heavenly Father, as I face challenges in my post-graduation journey, I pray for emotional resilience and mental strength. Help me overcome setbacks and disappointments with grace and perseverance. Grant me the ability to manage stress and anxiety, and fill my heart with peace.
Isaiah 41:10
"So do not fear, for I am with you; do not be dismayed, for I am your God. I will strengthen you and help you; I will uphold you with my righteous right hand."
Lord, I trust in Your strength and presence to carry me through difficult times. Amen.
10. A Prayer for Open Doors and Opportunities in Your Desired Field:
Dear God, as I pursue opportunities in my desired field, I pray for open doors and favourable circumstances. Guide me to the right organizations and positions that align with my passions and skills. Grant me the chance to make a positive impact and contribute to the betterment of society.
Revelation 3:8
"I know your deeds. See, I have placed before you an open door that no one can shut. I know that you have little strength, yet you have kept my word and have not denied my name."
Heavenly Father, I trust in Your divine timing and the doors You open for me. Amen.
11. A Prayer for Time Management and Productivity in Balancing Responsibilities:
Dear Lord, as I juggle multiple responsibilities after graduation, I pray for effective time management and productivity. Help me prioritize my tasks and allocate my time wisely. Grant me the focus and discipline to accomplish my goals without feeling overwhelmed.
Ephesians 5:15-16
"Be very careful, then, how you live—not as unwise but as wise, making the most of every opportunity because the days are evil."
Lord, teach me to make the most of every opportunity and use my time wisely for Your glory. Amen.
12. A Prayer for Adaptability and Flexibility in the Face of Change:
Dear Heavenly Father, as I navigate through changes in my post-graduation journey, I pray for adaptability and flexibility. Help me embrace new experiences and adjust to unfamiliar circumstances. Grant me the ability to learn and grow from every change I encounter.
Isaiah 43:19
"See, I am doing a new thing! Now it springs up; do you not perceive it? I am making a way in the wilderness and streams in the wasteland."
Lord, I trust in Your guidance and provision as You lead me through new paths. Amen.
13. A Prayer for Networking and Mentorship in Building a Supportive Community:
Dear God, as I build my professional network after graduation, I pray for networking opportunities and mentorship. Connect me with individuals who can offer guidance, wisdom, and support. Help me foster meaningful relationships that will contribute to my personal and professional growth.
Proverbs 27:9
"Perfume and incense bring joy to the heart, and the pleasantness of a friend springs from their heartfelt advice."
Heavenly Father, I pray for genuine connections that bring joy and wisdom into my life. Thank You for the supportive community You provide. Amen.
14. A Prayer for Creativity and Innovation in Pursuing Your Dreams:
Dear Lord, as I pursue my dreams after graduation, I pray for creativity and innovation. Inspire me with fresh ideas and unique perspectives. Grant me the courage to think outside the box and embrace new possibilities.
1 Chronicles 28:19
"All this," David said, "I have in writing as a result of the LORD's hand on me, and he enabled me to understand all the details of the plan."
Lord, enable me to understand the details of my plans and bless me with creative solutions. May my endeavours bring glory to Your name. Amen.
15. A Prayer for Gratitude and Thankfulness for the Journey Thus Far:
Dear Heavenly Father, as I reflect on my journey thus far, I am filled with gratitude and thankfulness. Thank You for the opportunities, challenges, and growth I have experienced during my studies. Help me appreciate the lessons learned and the people who have supported me along the way.
1 Thessalonians 5:18
"Give thanks in all circumstances; for this is God's will for you in Christ Jesus."
Lord, I give thanks for Your faithfulness and the blessings You have bestowed upon me. May my heart overflow with gratitude. Amen.
16. A Prayer for Humility and Teachability in Continued Learning and Growth:
Dear God, as I continue to learn and grow after graduation, I pray for humility and teachability. Keep my heart open to new knowledge and experiences. Help me recognize that there is always more to learn and room for improvement.
Proverbs 9:9
"Instruct the wise and they will be wiser still; teach the righteous and they will add to their learning."
Heavenly Father, I submit myself to Your instruction and guidance. Teach me, mould me, and make me wiser each day. Amen.
17. A Prayer for Purpose and Fulfillment in Your Post-Graduation Path:
Dear Lord, as I embark on my post-graduation path, I pray for purpose and fulfilment. Guide me to the work that aligns with my passions and allows me to make a positive impact. Grant me the joy and satisfaction that comes from fulfilling Your purpose for my life.
Jeremiah 29:11
"For I know the plans I have for you," declares the LORD, "plans to prosper you and not to harm you, plans to give you hope and a future."
Lord, I trust in Your plans for me and surrender my path to Your divine guidance. Amen.
Conclusion
As we celebrate the accomplishments of graduating students, let our prayers be a guiding force, imparting strength, wisdom, and blessings for the remarkable journey that lies ahead.
May each graduate step into the future with confidence, purpose, and the support of heartfelt prayers.