In the intricate tapestry of life, decisions are the threads that weave our journey. From the seemingly mundane choices to the life-altering crossroads, the path we tread is often shaped by the decisions we make. It is during these pivotal moments that the yearning for divine guidance becomes an earnest prayer on our lips.
Prayers for Guidance in Decision Making
The quest for clarity, wisdom, and assurance in decision-making is a universal human experience, transcending cultural and spiritual boundaries. This article explores the profound practice of seeking solace in prayers for guidance in  decision making.
1. Seeking Divine Wisdom
Dear Lord, in moments of decision, I turn to You, the source of all wisdom. Grant me clarity to discern the path You've set before me. Let Your light guide my choices, and may Your Spirit whisper direction to my heart. In this journey of decision-making, may Your divine wisdom be my compass.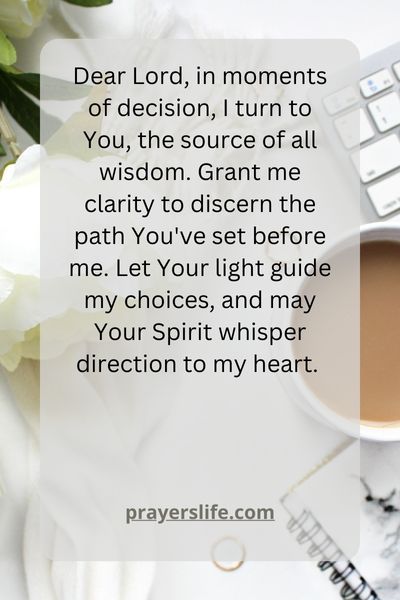 "Trust in the Lord with all your heart and lean not on your own understanding; in all your ways submit to him, and he will make your paths straight."
2. Navigating Life's Crossroads
Heavenly Father, as I stand at life's crossroads, I seek Your guidance. Illuminate the choices before me, that I may choose the path aligned with Your purpose. In moments of uncertainty, let Your peace be my guide. Grant me the strength to step confidently into the future, knowing You are with me.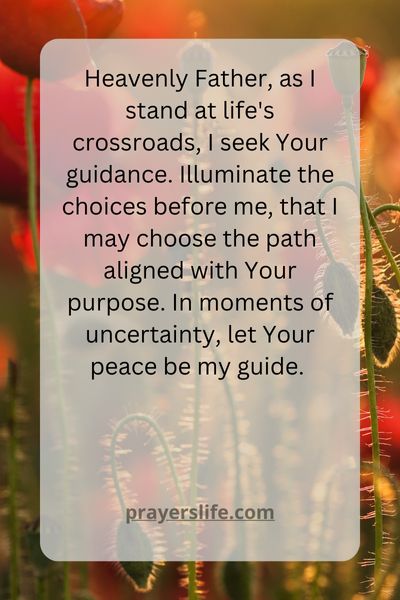 "Whether you turn to the right or to the left, your ears will hear a voice behind you, saying, 'This is the way; walk in it.'"
3. Divine Direction
Lord, I humbly seek Your divine direction as I face decisions. Clear away the fog of confusion, that I may see the path You have laid out for me. Grant me discernment to recognize Your voice above all else.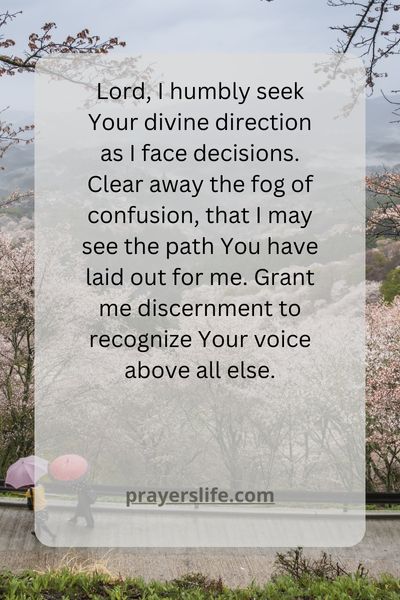 "If any of you lacks wisdom, you should ask God, who gives generously to all without finding fault, and it will be given to you."
4. Sacred Support
O God, I invoke Your sacred support in my decision-making. Be my anchor in the storm of choices, guiding me with Your unwavering love. May my decisions reflect Your will, and may Your presence be felt in every step I take.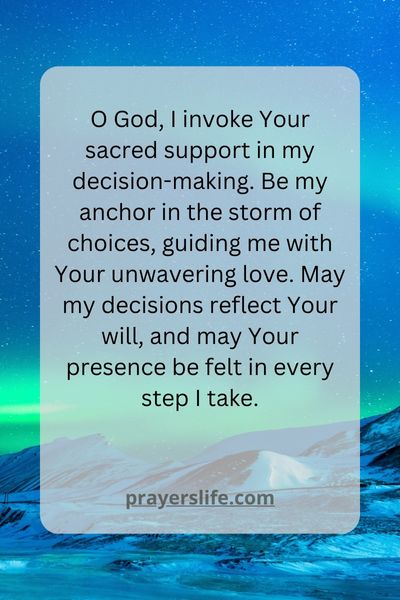 "I will instruct you and teach you in the way you should go; I will counsel you with my loving eye on you."
5. Spiritual Insight
Heavenly Father, grant me spiritual insight as I navigate the twists and turns of life's decisions. Illuminate my path with the light of Your truth, that I may walk confidently in Your will.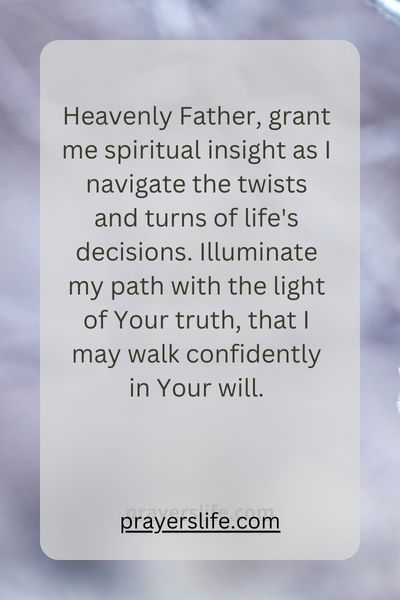 "Your word is a lamp for my feet, a light on my path."
6. Decisions in His Light
Lord, I embark on the journey of decisions bathed in Your divine light. May Your presence shine brightly, revealing the steps I should take. Guide me in every choice, and may Your glory be reflected in the outcomes.
John 8:12
"When Jesus spoke again to the people, he said, 'I am the light of the world. Whoever follows me will never walk in darkness, but will have the light of life.'"
7. Wisdom from Above
Dear God, I seek wisdom from above as I face decisions. Let Your wisdom flow into my heart and mind, guiding me in the choices I make. In Your wisdom, I find strength, and in Your guidance, I place my trust.
Colossians 3:16
"Let the message of Christ dwell among you richly as you teach and admonish one another with all wisdom through psalms, hymns, and songs from the Spirit, singing to God with gratitude in your hearts."
8. Heartfelt Supplication
Lord, in heartfelt supplication, I bring my decisions before You. Hear my prayers, guide my thoughts, and lead me in the way that honors You. In the quiet moments of seeking, may Your voice resonate in my spirit.
Philippians 4:6-7
"Do not be anxious about anything, but in every situation, by prayer and petition, with thanksgiving, present your requests to God. And the peace of God, which transcends all understanding, will guard your hearts and your minds in Christ Jesus."
9. Divinely Guided Choices
Almighty God, arm me with prayers for divinely guided choices. Let my decisions be bathed in the light of Your truth. May Your wisdom be my shield, and Your guidance, my strength.
Psalm 25:4-5
"Show me your ways, Lord, teach me your paths. Guide me in your truth and teach me, for you are God my Savior, and my hope is in you all day long."
Lord, lead me along the prayerful path as I seek Your guidance in decision-making. May my prayers align with Your will, and may the choices I make be rooted in faith and trust in Your perfect plan.
Proverbs 16:3
"Commit to the Lord whatever you do, and he will establish your plans."
11. Heavenly Counsel
Heavenly Father, I seek Your heavenly counsel as I navigate decisions. Grant me discernment to recognize Your voice amid the noise of the world. May Your counsel be my guide, and Your peace, my assurance.
Psalm 32:8
"I will instruct you and teach you in the way you should go; I will counsel you with my loving eye on you."
12. Soulful Decisions
Dear Lord, as I make soulful decisions, I invite Your presence into the process. Nurture clarity in my mind and heart through the power of prayer. May the choices I make align with the desires You have planted within my soul.
1 Corinthians 2:9-10
"What no eye has seen, what no ear has heard, and what no human mind has conceived—the things God has prepared for those who love him—these are the things God has revealed to us by his Spirit."
13. In His Hands
O Lord, I place my decisions in Your hands, knowing that Your guidance is sure. Be my guide in every decision-making moment, and may my trust in You be unwavering.
Psalm 16:7-8
"I will praise the Lord, who counsels me; even at night my heart instructs me. I keep my eyes always on the Lord. With him at my right hand, I will not be shaken."
14. Faithful Choices
Heavenly Father, I lift my prayers for faithful choices before You. Grant me the strength to choose the path of righteousness and the wisdom to discern Your divine direction. May my decisions reflect the faith I have in Your unchanging love.
Proverbs 4:11
"I instruct you in the way of wisdom and lead you along straight paths."
15. The Power of Prayer
Lord, I recognize the power of prayer in invoking Your guidance. As I face decisions, may my prayers be a conduit for Your wisdom. May the choices I make align with Your purpose, and may Your presence be evident in every step.
Matthew 21:22
"If you believe, you will receive whatever you ask for in prayer."
Conclusion:
As we traverse the landscape of decisions, we find solace in the realization that we are not alone in our quest for guidance. The power of prayer serves as a steadfast companion, offering a connection to the divine wisdom that transcends our understanding. In the moments of uncertainty, may these prayers be a source of comfort, a beacon of light illuminating the path we are destined to walk. With faith as our guide and prayer as our compass, may we face each decision with courage, knowing that the divine is intricately woven into the fabric of our choices.