In a world plagued by conflict and turmoil, a prayer for war-torn countries has the potential to be a beacon of hope and a catalyst for peace. This article explores the significance, impact, and importance of prayer for these troubled regions. Join us as we explore how this simple act can make a difference and provide solace to those affected by the ravages of war.
Prayers For War-Torn Countries
Prayer is a universal practice that transcends borders, languages, and beliefs. It's a heartfelt plea to a higher power for intervention, comfort, and guidance, and it holds immense potential for making a difference in war-torn countries. Here, we'll explore these prayers below.
1. A Prayer for Peace in War-Torn Lands
Dear Heavenly Father, we lift up the war-torn countries of our world to You. We pray for peace to replace the turmoil and violence that has plagued these nations. In Your infinite mercy, grant wisdom to leaders, comfort to the suffering, and healing to the wounded. Let Your peace, which surpasses all understanding, reign in these lands.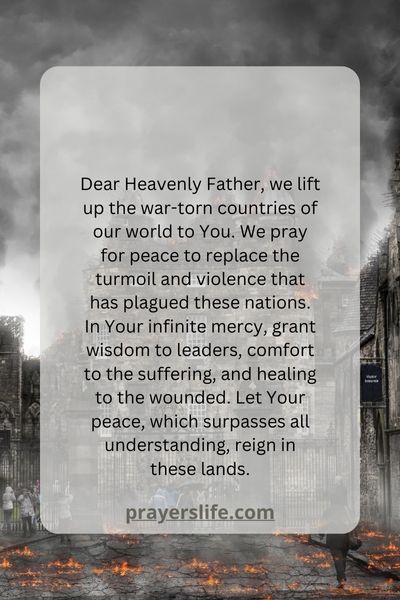 "And the peace of God, which transcends all understanding, will guard your hearts and your minds in Christ Jesus."
2. Interceding for Healing in Conflict Zones
Lord, we intercede for healing in the midst of conflict. May Your divine touch bring physical and emotional healing to those affected by war. Restore hope and rebuild shattered lives in these troubled regions.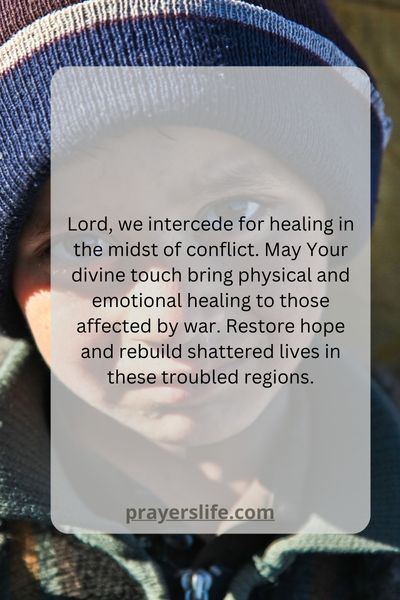 "But I will restore you to health and heal your wounds, declares the Lord."
3. Praying for Hope Amidst Warfare
God of hope, we lift up those living amidst warfare. Grant them hope in the midst of despair, and strength to endure. May they find solace in Your presence and know that You are their refuge.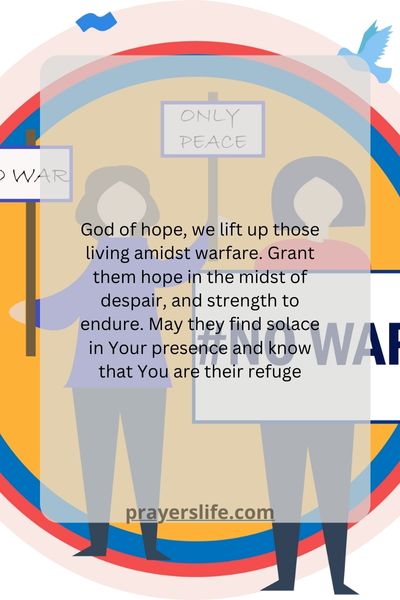 "May the God of hope fill you with all joy and peace as you trust in him, so that you may overflow with hope by the power of the Holy Spirit."
4. Seeking Divine Intervention in Troubled Nations
Heavenly Father, we seek Your divine intervention in troubled nations. Guide leaders toward peaceful solutions, and protect the innocent. Let Your justice and righteousness prevail in these lands.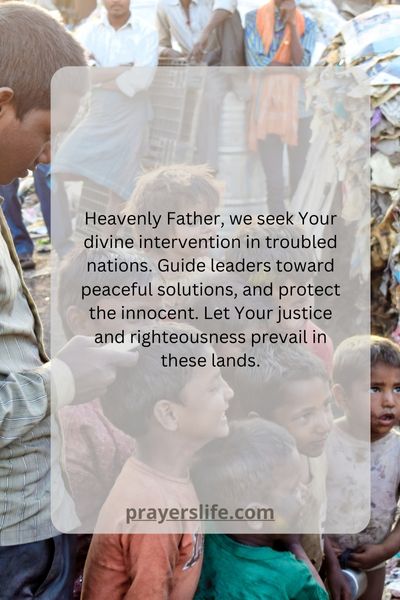 "Learn to do right; seek justice. Defend the oppressed. Take up the cause of the fatherless; plead the case of the widow."
5. Lifting Up Nations Ravaged by War
Lord, we lift up nations ravaged by war, praying for restoration and renewal. May the scars of conflict be replaced by signs of growth, and may Your grace bring redemption to these lands.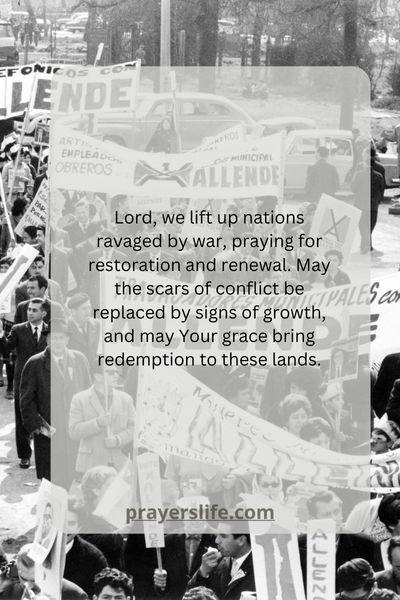 "I will repay you for the years the locusts have eaten—the great locust and the young locust, the other locusts and the locust swarm—my great army that I sent among you."
6. Healing Hearts and Minds in War-Stricken Areas
Heavenly Father, we pray for the healing of hearts and minds in war-stricken areas. Comfort those who bear emotional scars and grant them peace. May Your love mend what war has broken.
Psalms 147:3
"He heals the brokenhearted and binds up their wounds."
7. Uniting in Prayer for War-Torn Countries:
Almighty God, unite us in prayer for war-torn countries. May our collective voices echo with compassion and love, bringing healing and restoration to those in need.
1 Corinthians 1:10
"I appeal to you, brothers and sisters, in the name of our Lord Jesus Christ, that all of you agree with one another in what you say and that there be no divisions among you, but that you be perfectly united in mind and thought."
8. A Plea for Stability in Conflict-Ridden Regions
Heavenly Father, we plead for stability in conflict-ridden regions. Bring an end to the chaos and uncertainty. Grant strength to the weary and guide them toward a future of peace.
Psalm 29:11
"The Lord gives strength to his people; the Lord blesses his people with peace."
9. Praying for Strength in Times of War
Lord, we pray for strength for those enduring the trials of war. Bestow courage and resilience upon them, and let them find refuge in Your unwavering presence.
Isaiah 40:29
"He gives strength to the weary and increases the power of the weak."
10. Finding Comfort in Prayer for War-Afflicted Lands
Merciful God, we find comfort in praying for war-afflicted lands. May our prayers be a source of solace and light in the darkest of times, knowing that You hear our cries.
Psalm 34:17
"The righteous cry out, and the Lord hears them; he delivers them from all their troubles."
11. Support and Solace Through Prayer in Conflict Zones
Lord, provide support and solace to those in conflict zones. Let Your presence be a refuge, and may our prayers offer them comfort and hope in the midst of turmoil.
Psalm 46:1
"God is our refuge and strength, an ever-present help in trouble."
12. Healing the Wounds of War through Prayer
Heavenly Father, we pray for the healing of the wounds of war. May Your divine touch mend broken lives and restore wholeness to those affected by conflict.
Psalm 147:3
"He heals the brokenhearted and binds up their wounds."
13. Praying for Peace Amidst the Storms of War
God of peace, we pray for peace amidst the storms of war. Calm the raging conflicts and bring tranquility to the hearts of those who suffer.
Isaiah 26:3
"You will keep in perfect peace those whose minds are steadfast because they trust in you."
14. Empathy and Compassion for War-Stricken Nations
Lord, grant us empathy and compassion for war-stricken nations. May our hearts be open to the suffering of others, and may we extend help and hope to those in need.
Colossians 3:12
"Therefore, as God's chosen people, holy and dearly loved, clothe yourselves with compassion, kindness, humility, gentleness, and patience."
15. A Spiritual Response to Global Conflict
Heavenly Father, guide us in our spiritual response to global conflict. Help us seek Your wisdom and compassion in addressing the challenges faced by war-torn nations.
Matthew 5:9
"Blessed are the peacemakers, for they will be called children of God."
16. Prayer as a Beacon of Hope in War-Torn Countries
Lord, may prayer be a beacon of hope in war-torn countries. Illuminate the path to peace and restoration through our heartfelt prayers.
Psalm 27:1
"The Lord is my light and my salvation—whom shall I fear? The Lord is the stronghold of my life—of whom shall I be afraid?"
17. Standing Together in Prayer for Peace
Almighty God, help us stand together in prayer for peace. Unite our hearts and efforts to bring about positive change in the war-torn regions of the world.
Ephesians 4:3
"Make every effort to keep the unity of the Spirit through the bond of peace."
18. Seeking God's Grace in Times of War
Lord, we seek Your grace in times of war. Pour out Your mercy upon those who suffer, and grant them strength to endure the trials they face.
Hebrews 4:16
"Let us then approach God's throne of grace with confidence, so that we may receive mercy and find grace to help us in our time of need."
19. Intercession for War-Torn Communities
Heavenly Father, we intercede for war-torn communities. May Your divine intervention bring peace, healing, and restoration to these areas.
James 5:16
"Therefore, confess your sins to each other and pray for each other so that you may be healed. The prayer of a righteous person is powerful and effective."
20. A Global Call to Prayer for Nations in Turmoil
Lord, we issue a global call to prayer for nations in turmoil. Let our collective voices rise in unity, seeking Your intervention and peace for those who suffer.
Psalm 122:6
"Pray for the peace of Jerusalem: 'May those who love you be secure.'"
21. Praying for Reconciliation and Unity in War-Torn Regions
Heavenly Father, we fervently pray for reconciliation and unity in war-torn regions. Let divisions and hatred give way to understanding and love. May Your grace mend the broken relationships and bring people together in peace.
Ephesians 4:3
"Make every effort to keep the unity of the Spirit through the bond of peace."
22. Comforting the Orphans and Widows of War
Lord, we seek Your comfort and care for the orphans and widows left in the wake of war. Surround them with Your love and provide for their needs. Let them know that they are not alone.
James 1:27
"Religion that God our Father accepts as pure and faultless is this: to look after orphans and widows in their distress and to keep oneself from being polluted by the world."
23. Praying for the Hearts of Oppressors to Change
Merciful God, we pray for the hearts of oppressors in war-torn regions to change. Soften their hearts and lead them to paths of righteousness and peace. May they be transformed by Your love and grace.
Proverbs 21:1
"The king's heart is a stream of water in the hand of the Lord; he turns it wherever he will."
Conclusion
A prayer for war-torn countries is a powerful and universal tool for healing, unity, and peace. It offers hope in the darkest of times and serves as a reminder of our shared humanity. While it may not be a standalone solution, its role in fostering forgiveness, guiding decision-makers, and promoting hope cannot be underestimated. By coming together in prayer, we can contribute to a brighter future for these troubled regions.