With the turning of the calendar and the advent of a new month, we often find ourselves in a contemplative space, brimming with optimism for the days ahead. The inception of each month marks a distinctive moment, akin to a blank canvas where we can sketch our hopes, aspirations, and intentions. It serves as an invitation to wholeheartedly embrace the boundless opportunities that lie in wait during the weeks to come.
Prayer For The 1st Day Of The Month
A spiritual journey that holds the promise of inner peace, guidance, and a deeper connection with the divine. Join us as we explore the significance of starting each month with a heartfelt prayer and discover the profound impact it can have on our lives.
1. The Significance of Monthly Prayers
Heavenly Father, we gather on this first day of the month to recognize the significance of regular prayer. Just as each month brings new opportunities, may our prayers usher in blessings and renewed faith.
"Do not be anxious about anything, but in every situation, by prayer and petition, with thanksgiving, present your requests to God." We present our hearts to You, trusting that You hear our petitions and grant us peace. Amen.
2. The Blessings of Starting the Month with Prayer
Gracious Lord, we express gratitude for the blessings that come from initiating the month with prayer. May this practice fill our lives with hope, joy, and divine guidance.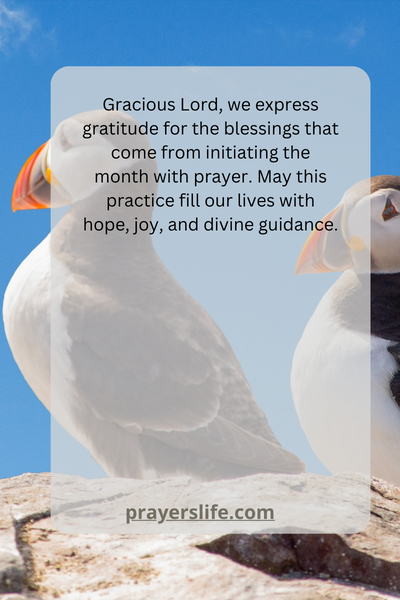 "In the morning, Lord, you hear my voice; in the morning, I lay my requests before you and wait expectantly." We present our requests with eager hearts, knowing that You listen and respond. Amen.
3. Establishing a Morning Prayer Routine
Dear God, on this first day of the month, we commit to establishing a morning prayer routine. Grant us the discipline and devotion to begin each day with You.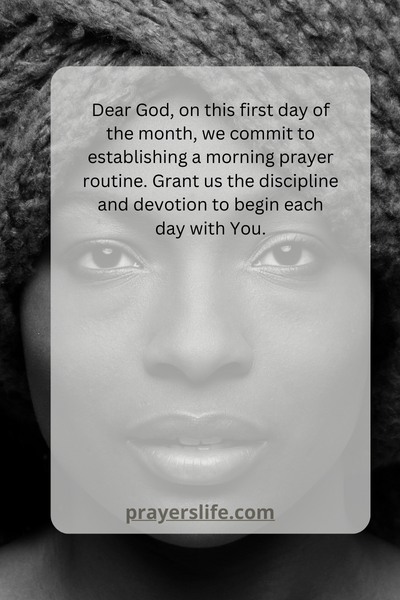 "Your word is a lamp for my feet, a light on my path." May our morning prayers light the path before us, guiding us in Your ways. Amen.
4. Connecting with the Divine on the 1st Day
Lord of all, as we begin this new month, we seek to connect with the divine on this 1st day. May our hearts be open to Your presence, and may we find solace in communion with You.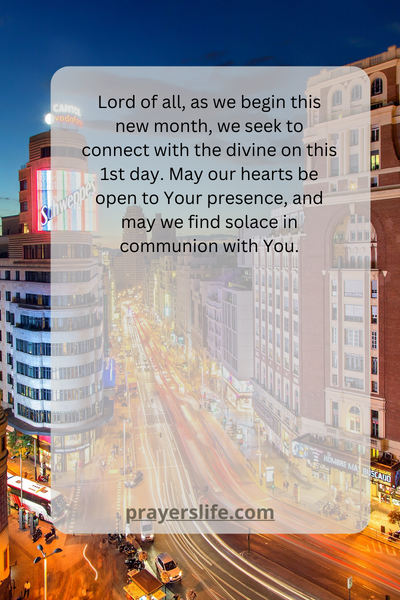 "Come near to God and he will come near to you." We draw near to You, confident that You draw near to us in return. Amen.
5. Finding Hope and Inspiration in Daily Prayer
Heavenly Father, we gather in prayer, seeking hope and inspiration as we embrace this new day and month. May our daily conversations with You fill our hearts with unwavering faith.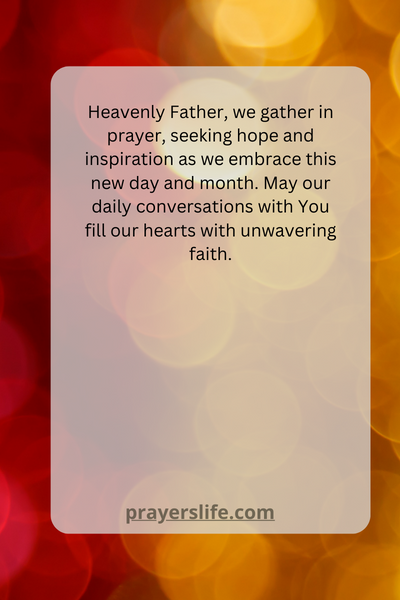 "You make known to me the path of life; you will fill me with joy in your presence, with eternal pleasures at your right hand." In Your presence, we find joy and the path of life. Amen.
6. The Power of Intentions in Monthly Prayer
God of purpose, we come before You with our intentions for this month. May our prayers set the course for a month filled with righteousness, love, and fulfillment.
Proverbs 16:3
"Commit to the Lord whatever you do, and he will establish your plans." We commit our plans and intentions to You, trusting in Your guidance. Amen.
7. Setting Goals Through Prayer on the 1st
Lord, as we mark the 1st day of the month, we gather in prayer to set our goals. May Your divine wisdom and guidance help us chart a course for success.
Proverbs 3:6
"In all your ways submit to him, and he will make your paths straight." We submit our plans and goals to You, trusting that You will guide us. Amen.
8. Seeking Guidance and Direction for the Month
Almighty God, on this 1st day of the month, we seek Your guidance and direction. Lead us on the right path, illuminate our way, and grant us the discernment to make wise choices.
Psalm 25:5
"Guide me in your truth and teach me, for you are God my Savior, and my hope is in you all day long." We place our hope in Your guidance, O Lord. Amen.
9. Monthly Prayer: A Path to Inner Peace
God of peace, we gather in prayer on this first day of the month to find inner peace. May our conversations with You bring serenity to our souls and calm to our spirits.
John 14:27
"Peace I leave with you; my peace I give you. I do not give to you as the world gives. Do not let your hearts be troubled and do not be afraid." We embrace the peace You offer and release our worries to You. Amen.
10. The Spiritual Benefits of First-Day Prayer
Lord, as we start this month, we celebrate the spiritual benefits of first-day prayer. May our souls be nourished, and our faith strengthened through this sacred practice.
Isaiah 40:31
"But those who hope in the Lord will renew their strength. They will soar on wings like eagles; they will run and not grow weary, they will walk and not be faint." We place our hope in You, renewing our strength each day. Amen.
11. The Ritual of Morning Prayer for Each Month
Heavenly Father, we embrace the ritual of morning prayer on this 1st day. May this practice become a cornerstone of our faith, a source of guidance, and a channel for divine blessings.
Psalm 5:3
"In the morning, Lord, you hear my voice; in the morning, I lay my requests before you and wait expectantly." We come before You, laying our requests with eager hearts. Amen.
12. Prayer as a Tool for Positive Change:
God of transformation, we utilize prayer as a tool for positive change on this 1st day. May our conversations with You ignite a desire for growth, kindness, and impactful change.
2 Corinthians 5:17
"Therefore, if anyone is in Christ, the new creation has come: The old has gone, the new is here!" We embrace the newness and transformation that prayer brings to our lives. Amen.
13. Embracing Gratitude on the 1st Day
Gracious God, on this 1st day, we gather in prayer to embrace gratitude. May our hearts overflow with thankfulness for the opportunities and blessings this new month holds.
1 Thessalonians 5:18
"Give thanks in all circumstances; for this is God's will for you in Christ Jesus." We give thanks in all things, knowing that Your will is revealed through our gratitude. Amen.
14. Sharing the First-Day Prayer Experience
Lord, we come together to share the first-day prayer experience. May our shared devotion and insights create a sense of community and deepen our connection to You.
Romans 1:12
"that is, that you and I may be mutually encouraged by each other's faith." We encourage one another and find strength in our shared faith. Amen.
15. Enriching Your Spiritual Journey Monthly
God of enrichment, we gather on the 1st day to enrich our spiritual journey. May our monthly prayers elevate our connection with You and deepen our understanding of Your love.
Ephesians 3:16-17
"I pray that out of his glorious riches he may strengthen you with power through his Spirit in your inner being, so that Christ may dwell in your hearts through faith." We pray for Your strengthening and the indwelling of Christ in our hearts. Amen.
16. Prayer for the 1st Day: A Time for Reflection
Lord, we reflect on the significance of prayer on this 1st day. May this time of reflection deepen our spirituality and open our hearts to Your divine presence.
Lamentations 3:22-23
"Because of the Lord's great love we are not consumed, for his compassions never fail. They are new every morning; great is your faithfulness." We acknowledge Your faithfulness and the newness of Your compassion each day. Amen.
17. Incorporating Daily Affirmations in Prayer
Heavenly Father, we come together to incorporate daily affirmations into our prayers on this 1st day. May these affirmations infuse us with positivity, confidence, and a sense of purpose.
Proverbs 18:21
"The tongue has the power of life and death, and those who love it will eat its fruit." We speak life and positivity into our journey, knowing that our words have power. Amen.
18. The Beauty of Consistent Monthly Prayer
Lord, we celebrate the beauty of consistent monthly prayer on this 1st day. May the continuity of our conversations with You be a source of strength, growth, and spiritual enlightenment.
Matthew 6:6
"But when you pray, go into your room, close the door and pray to your Father, who is unseen. Then your Father, who sees what is done in secret, will reward you." We treasure the rewards of our faithful and consistent prayers. Amen.
Conclusion
As we draw the curtains on our exploration of prayer for the 1st day of the month, we are reminded of the power of intention, the beauty of gratitude, and the transformative potential of a heart that seeks connection with the divine. Each new month presents a fresh opportunity to infuse our lives with purpose and spiritual growth through the act of prayer.
The 1st day of the month is not just a date on the calendar; it is an invitation to start anew, to nurture our faith, and to align our aspirations with the divine will. May the practice of prayer on this special day continue to guide and bless us, filling our lives with hope, inspiration, and a deep sense of spiritual fulfillment.