Going through a divorce is a life-altering experience that often leaves individuals feeling overwhelmed and emotionally drained. In times of despair and uncertainty, many turn to the power of prayer to find strength, guidance, and solace. In this article, we will explore the significance of prayers when going through divorce, offering insights, bible verses, and spiritual support to help you navigate this challenging chapter in your life.
Prayers When Going Through Divorce
Navigating the emotional turmoil of divorce can be an arduous journey, and turning to prayers can provide solace and guidance. The frequency of prayer varies from person to person. Some find solace in daily prayers, while others may pray whenever they feel the need. There are no strict rules; it's about what brings you comfort.
Whether you're seeking inner strength or hope for the future, here are some ways you can use the power of prayer during divorce:
1. Finding Peace in Divorce Through Prayer
Dear Heavenly Father, as I navigate the challenges of divorce, I seek Your presence and guidance. Grant me inner peace and strength during this difficult time. Help me find solace in knowing that You are with me, even in the midst of this storm.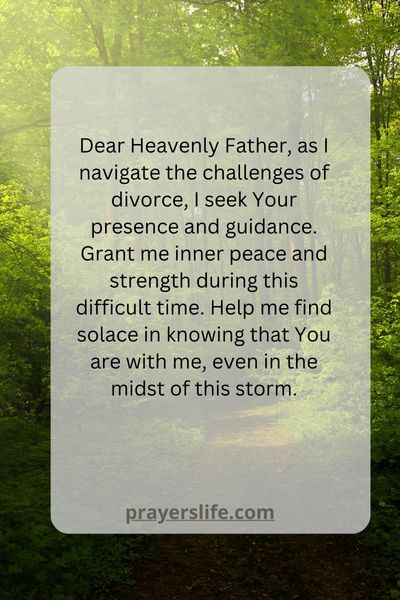 "Do not be anxious about anything, but in everything, by prayer and petition, with thanksgiving, present your requests to God. And the peace of God, which transcends all understanding, will guard your hearts and your minds in Christ Jesus."
2. Prayer for Strength During a Divorce
Heavenly Father, I am facing the challenges of divorce, and I feel weak. Please grant me the strength to endure and overcome this difficult chapter in my life. Fill me with Your power and resilience to face each day with courage.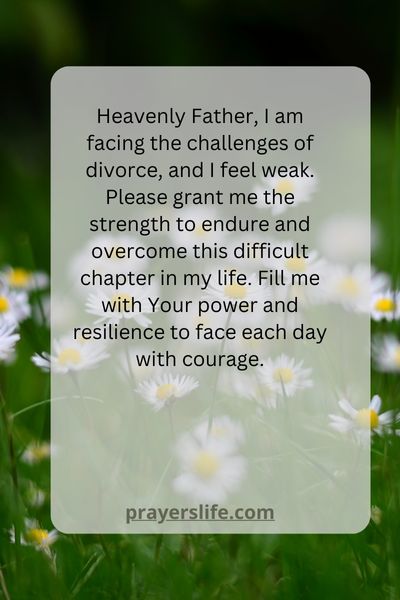 "But those who hope in the Lord will renew their strength. They will soar on wings like eagles; they will run and not grow weary, they will walk and not be faint."
3. Seeking Guidance in Divorce Through Prayer
Dear God, as I make decisions during my divorce, I turn to You for guidance and wisdom. Direct my steps and help me discern the best path to follow. May Your divine wisdom illuminate my choices.
"If any of you lacks wisdom, you should ask God, who gives generously to all without finding fault, and it will be given to you."
4. Praying for Healing in the Midst of Divorce
Lord, I am broken and hurting due to the pain of divorce. I pray for Your healing touch to mend my wounded heart and bring restoration to my soul. May Your love and grace fill the void left by this separation.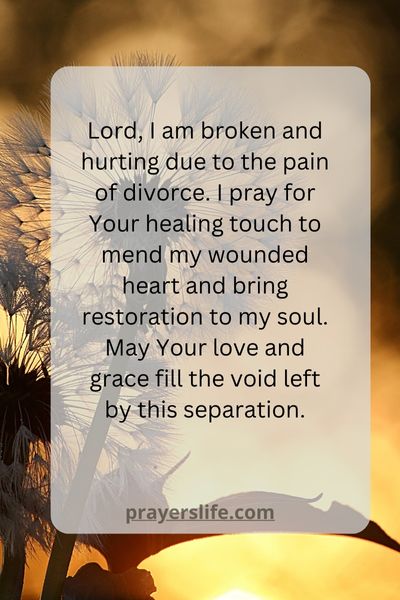 "He heals the brokenhearted and binds up their wounds."
5. Finding Hope and Comfort in Divorce Prayers
Heavenly Father, in the midst of divorce, I seek hope and comfort. Please envelop me in Your comforting presence and instill hope in my heart. Let me know that You are with me and that brighter days are ahead.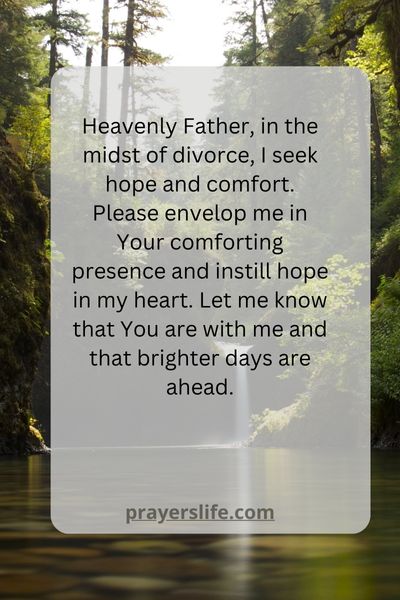 "May the God of hope fill you with all joy and peace as you trust in him, so that you may overflow with hope by the power of the Holy Spirit."
6. Letting Go and Moving Forward with Divorce Prayers
Lord, divorce has brought the need to let go of the past. Help me release any bitterness, anger, or regrets. Grant me the courage and faith to move forward into a new and brighter future.
Isaiah 43:18-19
"Forget the former things; do not dwell on the past. See, I am doing a new thing! Now it springs up; do you not perceive it? I am making a way in the wilderness and streams in the wasteland."
7. A Prayer for Wisdom in Divorce Decisions
Heavenly Father, as I make important decisions during this divorce, I ask for Your wisdom and discernment. Guide me to choices that honor You and promote fairness and justice.
Proverbs 3:5-6
"Trust in the Lord with all your heart and lean not on your own understanding; in all your ways submit to him, and he will make your paths straight."
Lord, in the midst of this divorce, I seek to draw closer to You. Rekindle the flame of my faith and help me find solace and strength in our relationship. May my trust in You grow stronger.
James 4:8
"Come near to God and he will come near to you. Wash your hands, you sinners, and purify your hearts, you double-minded."
9. Surrendering to God's Plan in Divorce Through Prayer
Dear God, I surrender my life, including the pain of divorce, into Your loving hands. Help me accept Your plan for my life, even when it's different from my own. May Your will be done.
Proverbs 16:9
"In their hearts humans plan their course, but the Lord establishes their steps."
10. Finding Forgiveness and Closure Through Prayer
Lord, grant me the strength to forgive and seek closure as I go through this divorce. Help me release any grudges and find peace in my heart.
Colossians 3:13
"Bear with each other and forgive one another if any of you has a grievance against someone. Forgive as the Lord forgave you."
11. Coping with Loneliness Through Divorce Prayers
Heavenly Father, in my loneliness during this divorce, I turn to You for companionship and comfort. Fill the emptiness in my heart with Your presence and love.
Matthew 28:20
"And surely I am with you always, to the very end of the age."
12. Prayers for Your Children During a Divorce
Lord, watch over my children during this divorce. Protect their hearts and minds, and help them navigate this challenging time with resilience and love.
Psalm 127:3
"Children are a heritage from the Lord, offspring a reward from him."
13. Finding Strength to Face Divorce Challenges
Dear God, I face numerous challenges in this divorce process. Grant me the strength to confront these obstacles with courage and unwavering faith. Help me overcome adversity.
2 Corinthians 12:9
"But he said to me, 'My grace is sufficient for you, for my power is made perfect in weakness.' Therefore, I will boast all the more gladly about my weaknesses, so that Christ's power may rest on me."
14. Overcoming Fear and Anxiety Through Divorce Prayers
Lord, I am burdened by fear and anxiety in the face of divorce. Please replace my worries with Your peace, and calm the storm within me.
Psalm 34:4
"I sought the Lord, and he answered me; he delivered me from all my fears."
15. A Prayer for Peaceful Co-Parenting After Divorce
God, as I embark on co-parenting after divorce, help me and my ex-spouse find common ground and act in the best interest of our children. Grant us patience, understanding, and love.
Ephesians 4:32
"Be kind and compassionate to one another, forgiving each other, just as in Christ God forgave you."
16. Praying for Emotional Healing After Divorce
Lord, I carry emotional wounds from my divorce. I pray for Your healing touch to mend these scars and bring emotional wholeness.
Psalm 34:18
"The Lord is close to the brokenhearted and saves those who are crushed in spirit."
17. Trusting God's Timing in Divorce Through Prayer
Dear God, I struggle with the timing of this divorce. Help me trust in Your perfect timing and plan, knowing that You work all things for my good.
Ecclesiastes 3:1
"There is a time for everything, and a season for every activity under the heavens."
18. Navigating the Legal Process with Divorce Prayers
Lord, guide me through the legal complexities of divorce. Grant me wisdom, favor, and a just resolution as I navigate the legal aspects of this process.
Proverbs 21:15
"When justice is done, it brings joy to the righteous but terror to evildoers."
19. Embracing a New Beginning Through Divorce Prayer
God, as I close this chapter of my life with divorce, help me embrace the new beginnings and opportunities that lie ahead. Lead me into a future filled with hope and purpose.
Jeremiah 29:11
"For I know the plans I have for you, declares the Lord, plans for welfare and not for evil, to give you a future and a hope."
20. Prayer for Rebuilding Self-Esteem After Divorce
Heavenly Father, in the aftermath of divorce, my self-esteem has been shaken. Please help me rebuild my self-worth and find confidence in who I am. Remind me that I am fearfully and wonderfully made in Your image.
Psalm 139:14
"I praise you because I am fearfully and wonderfully made; your works are wonderful, I know that full well."
21. Prayer for Gratitude Amidst Divorce
Dear God, despite the difficulties of divorce, I want to express my gratitude for the blessings in my life. Help me focus on the positive aspects, the lessons learned, and the people who support me during this challenging time. May thankfulness fill my heart.
1 Thessalonians 5:18
"Give thanks in all circumstances; for this is God's will for you in Christ Jesus."
Conclusion
In the tumultuous journey of divorce, the power of prayer can be a guiding light, offering strength, comfort, and hope. Forgiveness can be challenging, but prayer can guide you toward letting go of resentment and finding the path to forgiveness. It's a process that takes time and self-reflection.
It's essential to remember that everyone's divorce experience is unique, and finding solace through prayer can be a personal and individual journey. Embrace the power of prayers when going through divorce, and may it help you navigate this challenging chapter with resilience and optimism.