In biblical narratives, the story of the Shunamite woman stands as a beacon of faith and divine intervention. Her journey, intricately woven into the fabric of the Old Testament, reveals not only the challenges of life but also the transformative power of prayer. As we look into the prayer points of the Shunamite woman, we embark on a spiritual exploration, seeking wisdom, inspiration, and a deeper understanding of how her example can illuminate our own prayer lives.
Join us on this insightful journey as we unpack the layers of her faith, persistence, and profound lessons embedded in the prayers of the Shunamite woman.
Prayer Points From the Shunamite Woman
Unlock the power of prayer with insights into the prayer points from the Shunamite woman. Dive into a transformative journey, discovering the significance of prayer and decoding her unwavering faith. Explore the lessons that resonate through biblical narratives, offering guidance and inspiration for your prayer life.
1. Seeking Divine Favor
Dear Heavenly Father, I humbly seek Your favour in every aspect of my life. Just as the Shunamite woman found favour in Your eyes, let Your grace surround me. Guide me to walk in alignment with Your will, so that I may experience divine favour in my relationships, work, and endeavours. May Your favour open doors that no one can shut, and may it be a testimony to Your goodness.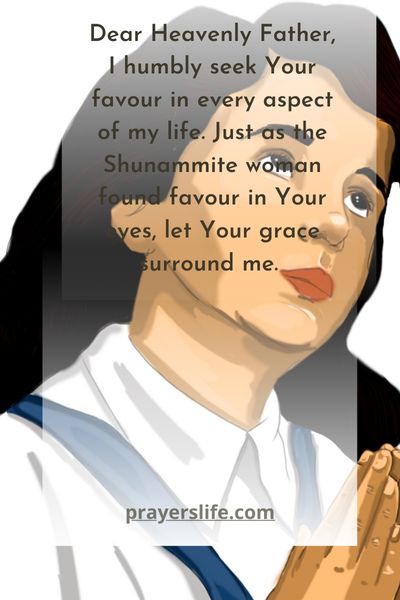 "Let love and faithfulness never leave you; bind them around your neck, write them on the tablet of your heart. Then you will win favor and a good name in the sight of God and man." I pray for Your favor to be my constant companion, shining through my actions and drawing others closer to You. Amen.
2. Empowered Petitions
Heavenly Father, grant me the wisdom to discern and present my needs before You with clarity, just as the Shunamite woman did. Help me articulate my prayers with faith and confidence, knowing that You hear and answer. I surrender my petitions to You, trusting in Your perfect timing and sovereign will. May my prayers align with Your purposes for my life.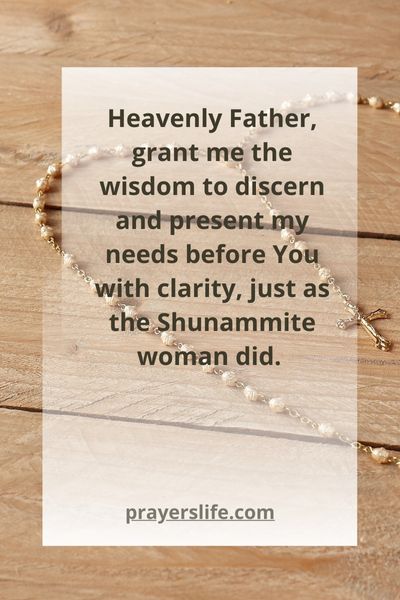 "Do not be anxious about anything, but in every situation, by prayer and petition, with thanksgiving, present your requests to God. And the peace of God, which transcends all understanding, will guard your hearts and your minds in Christ Jesus." I cast my cares upon You, believing that Your peace will guard my heart as I bring my petitions before You. Amen.
3. Lessons in Faith
Dear Lord, as I study the faith of the Shunamite woman, deepen my faith. May I trust You wholeheartedly, even when circumstances seem dire. Teach me to hold onto Your promises and to remain steadfast in faith, just as she did when facing challenges. Strengthen my belief in Your power to turn situations around for my good.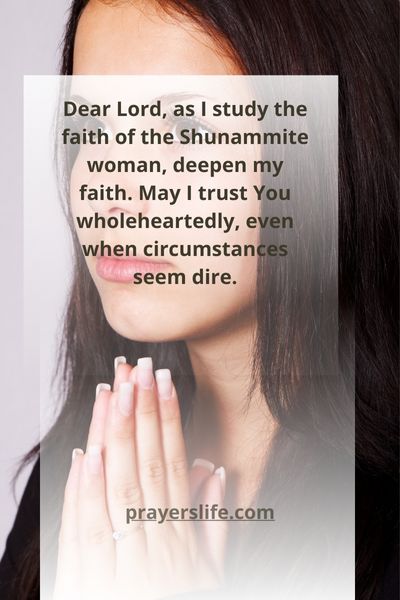 "Now faith is confidence in what we hope for and assurance about what we do not see." I pray for unwavering faith, rooted in the assurance of Your promises, that I may face life's uncertainties with confidence. Amen.
4. Persistent Prayer
Heavenly Father, grant me the spirit of persistence in prayer. Just as the Shunamite woman persisted in seeking Elisha's help, may I approach You with determination and steadfastness. Strengthen my resolve to continue in prayer, knowing that You are attentive to the cries of Your children.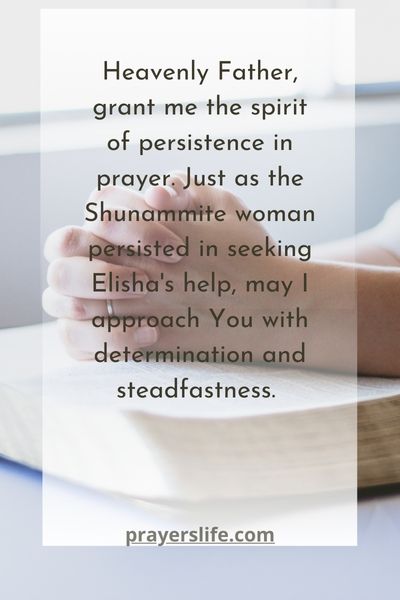 "Then Jesus told his disciples a parable to show them that they should always pray and not give up." I pray for the perseverance to remain in prayer, trusting that Your timing is perfect and Your answers are sure. Amen.
5. Miracles in the Making
Dear Lord, just as the Shunamite woman received the miracle of a son, I bring my heartfelt desires before You. Whether big or small, known or hidden, I trust You with the fulfilment of my prayers. Open my eyes to see the miracles in the making and grant me patience as I wait for Your perfect timing.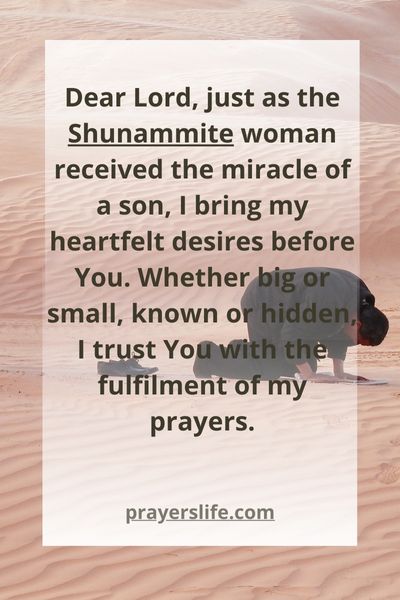 "Therefore I tell you, whatever you ask for in prayer, believe that you have received it, and it will be yours." I approach You with faith, believing that You are at work in response to my prayers. Thank You for the assurance of answered prayers. Amen.
6. Heavenly Dialogue
Gracious Father, deepen my intimacy with You through prayer. Just as the Shunamite woman had a close relationship with Elisha, I desire a profound connection with You. Teach me to approach prayer as a dialogue, listening as much as I speak, and may our communion strengthen my faith and bring glory to Your name.
James 4:8
"Come near to God and he will come near to you. Wash your hands, you sinners, and purify your hearts, you double-minded." I draw near to You, longing for a closer relationship, knowing that as I seek You, You will draw near to me. Amen.
7. Supernatural Encounter
Lord, I open my heart to supernatural encounters with You. Just as the Shunamite woman experienced the miraculous restoration of her son, I invite Your divine interventions into my life. May my testimony be a testament to Your power and faithfulness, drawing others to experience the awe-inspiring work of Your hands.
Jeremiah 32:27
"I am the Lord, the God of all mankind. Is anything too hard for me?" I declare that nothing is too difficult for You, and I trust in Your ability to bring about supernatural encounters in my life. Amen.
8. Divine Intimacy
Heavenly Father, ignite a deep longing for divine intimacy in my heart. As I explore the prayers of the Shunamite woman, may her passion for communion with You inspire my own. Help me prioritize time in Your presence, seeking Your face and aligning my heart with Your desires.
Psalm 27:8
"My heart says of you, 'Seek his face!' Your face, Lord, I will seek." I declare my intention to seek Your face, desiring a profound intimacy that transforms my life. Thank You for the invitation to draw near to You. Amen.
9. Faith in Action
Lord, guide me to translate my faith into action. Just as the Shunamite woman's faith prompted her to prepare a room for Elisha, may my belief in You propel me to acts of obedience and service. Show me practical ways to live out my faith, impacting those around me for Your glory.
James 2:17
"In the same way, faith by itself, if it is not accompanied by action, is dead." I commit to living out my faith through actions that reflect Your love and grace. May my life be a testament to the transformative power of faith in action. Amen.
10. Heartfelt Supplication
Dear God, cultivate in me a heart of sincere supplication. Just as the Shunamite woman poured out her heart before Elisha, may my prayers be characterized by authenticity and vulnerability. Remove any pretense and help me approach You with genuine openness, trusting in Your love and understanding.
Psalm 145:18
"The Lord is near to all who call on him, to all who call on him in truth." I approach You in truth, laying bare my heart and desires before You, knowing that You are near to those who seek You with sincerity. Amen.
11. Persistent Faith
Lord, instil in me a spirit of persistent faith in intercession. Just as the Shunamite woman interceded for her son's life, may I persistently lift up the needs of others before You. Grant me the faith to believe in Your power to bring about transformation and healing in the lives of those I intercede for.
1 Thessalonians 5:17
"Pray continually." I take to heart the call to pray without ceasing, interceding persistently for the needs of others. May my prayers be a source of hope and healing. Amen.
12. Powerful Petitions
Heavenly Father, empower my prayers to be bold and powerful. Just as the Shunamite woman approached Elisha with determination, may I approach You with confidence, knowing that You can do immeasurably more than I can ask or imagine. May my petitions be marked by faith and reliance on Your unlimited power.
Ephesians 3:20
"Now to him who is able to do immeasurably more than all we ask or imagine, according to his power that is at work within us." I present my petitions with the assurance that You can exceed my expectations and accomplish great things through my prayers. Amen.
13. Divine Manifestations
Dear Lord, open my eyes to recognize Your divine manifestations. Just as the Shunamite woman witnessed the fulfilment of Elisha's prophecy, may I discern Your hand at work in my life. Help me see the signs of Your presence, guidance, and provision, and may my heart be filled with gratitude for Your faithfulness.
Psalm 145:9
"The Lord is good to all; he has compassion on all he has made." I praise You for Your goodness and compassion, evident in the divine manifestations that unfold in my life. Thank You for Your faithful presence. Amen.
14. Spiritual Resilience
Lord, fortify my spirit with resilience in the face of challenges. Just as the Shunamite woman demonstrated unwavering faith when her son faced death, may I navigate life's difficulties with the same trust in Your sovereignty. Strengthen me to stand firm in faith, knowing that You are with me through every trial.
Isaiah 41:10
"So do not fear, for I am with you; do not be dismayed, for I am your God. I will strengthen you and help you; I will uphold you with my righteous right hand." I cling to Your promise of strength and assistance, trusting that You will uphold me through every challenge. Amen.
15. Transformative Prayers
Dear Heavenly Father, guide me in applying the transformative principles of the Shunamite woman's prayers in my life. May her example inspire me to seek You earnestly, trust You completely, and experience the profound impact of prayer on my journey. Help me integrate these principles into my daily walk, fostering a deeper and more meaningful relationship with You.
Romans 12:2
"Do not conform to the pattern of this world, but be transformed by the renewing of your mind. Then you will be able to test and approve what God's will is—his good, pleasing and perfect will." I pray for transformation, aligning my thoughts and actions with Your perfect will through the principles of prayer. Amen.