As we grow older, the importance of faith, spirituality, and prayer becomes more apparent than ever. "Prayers For Growing Old Gracefully" is not just a phrase; it's a guiding light that can illuminate the path of aging, bringing us strength, inner peace, and a sense of purpose.
In this article, we will explore the profound significance of prayers for growing old gracefully. We will explore how faith and prayer can provide wisdom, and gratitude, strengthen relationships, and offer a sense of fulfillment as we age. These aren't mere words; they are the keys to unlocking a more meaningful and joyful journey through the golden years. So, let us embark on this spiritual journey and discover how prayers can lead us to grow old gracefully.
Prayers For Growing Old Gracefully
Are you looking to navigate the journey of aging with grace, wisdom, and inner peace? Growing old is a natural part of life, and it can be a beautiful experience when approached with the right mindset and spiritual guidance. In this comprehensive guide, we will explore the significance of Prayers For Growing Old Gracefully. These explore these prayers;
1. Embracing the Wisdom of Age Through Prayer
Dear Heavenly Father, as I grow older, I seek Your wisdom and guidance. Help me embrace the knowledge and understanding that come with age. Grant me the patience to navigate life's challenges with grace.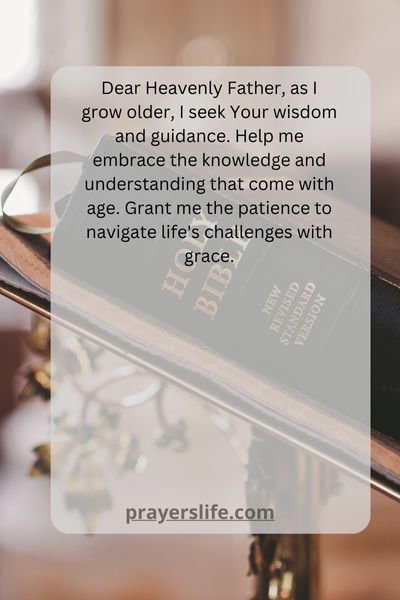 "Gray hair is a crown of glory; it is gained in a righteous life."
2. Seeking Inner Peace in the Aging Process
Almighty God, as I age, grant me inner peace and tranquility. Help me find solace in Your presence and let Your peace fill my heart, dispelling anxiety and worry.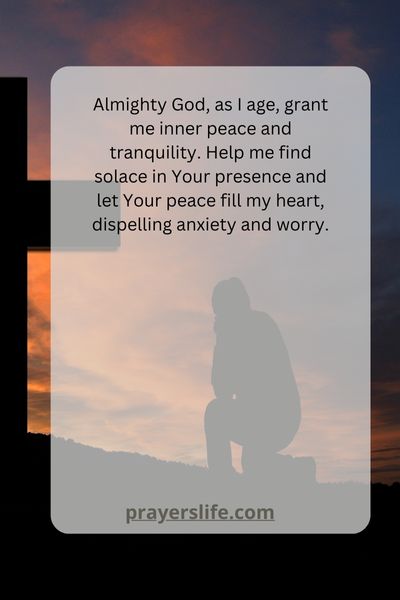 "And the peace of God, which surpasses all understanding, will guard your hearts and your minds in Christ Jesus."
3. Grateful Hearts
Lord, I thank You for the gift of life and the privilege of growing old. Let gratitude fill my heart as I age gracefully, knowing that every day is a blessing from You.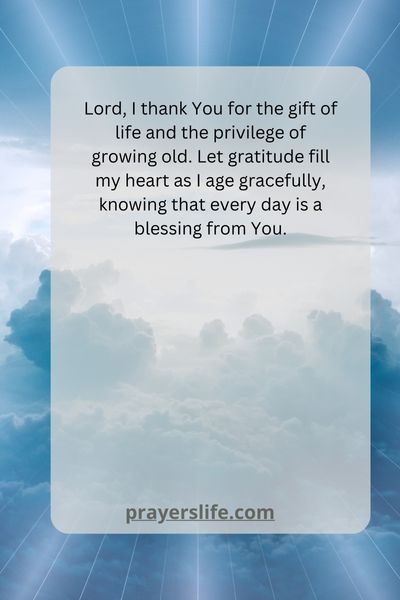 "Bless the Lord, O my soul, and forget not all his benefits."
4. Finding Strength in Prayer as We Age
Heavenly Father, grant me strength and resilience as I face the physical and emotional challenges of aging. Help me find solace in prayer, knowing that Your strength is made perfect in weakness.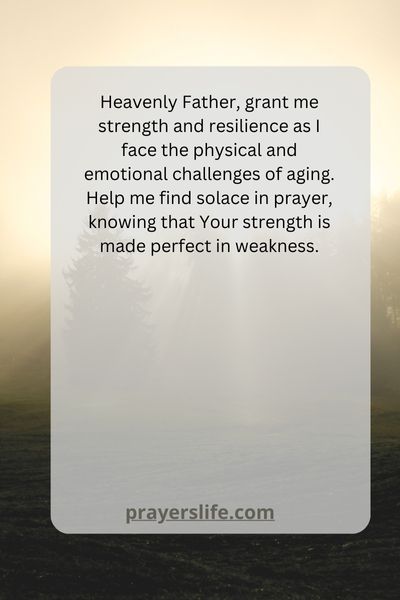 "But he said to me, 'My grace is sufficient for you, for my power is made perfect in weakness.' Therefore, I will boast all the more gladly about my weaknesses, so that Christ's power may rest on me."
5. Navigating Life's Seasons with Graceful Aging Prayers
Lord, guide me through the changing seasons of life with grace and dignity. Help me embrace each new chapter and find purpose in every stage of aging.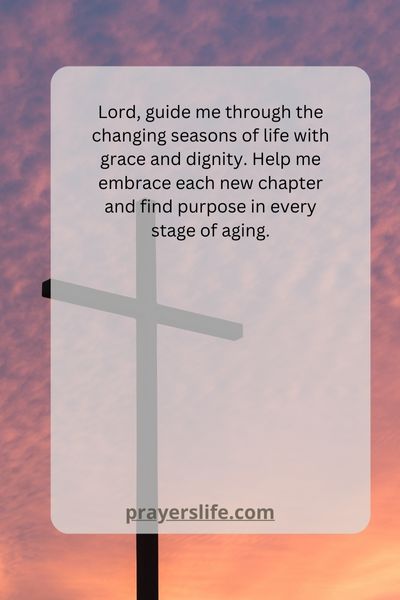 "For everything there is a season, and a time for every matter under heaven."
Heavenly Father, I pray for good health and well-being as I enter my golden years. Grant me the strength to take care of my body and make wise choices to ensure a vibrant and active life.
3 John 1:2
"Beloved, I pray that all may go well with you and that you may be in good health, as it goes well with your soul."
7. Embracing God's Plan for Graceful Aging Through Prayer
Lord, I trust in Your divine plan for my life as I age. Help me accept the changes and uncertainties that come with growing older, knowing that Your plan is perfect.
Jeremiah 29:11
"For I know the plans I have for you, declares the Lord, plans for welfare and not for evil, to give you a future and a hope."
8. Praying for Resilience and Adaptability in Aging
Almighty God, grant me resilience and adaptability in the face of life's transitions. Help me embrace change with a steadfast heart, knowing that You are with me through every step of my journey.
Isaiah 43:19
"Behold, I am doing a new thing; now it springs forth, do you not perceive it? I will make a way in the wilderness and rivers in the desert."
9. Finding Comfort in Prayer as We Grow Older
Lord, be my comforter in the challenges of aging. Let Your presence soothe my heart, bringing solace and relief when I face physical discomfort, loneliness, or loss.
Psalm 34:18
"The Lord is near to the brokenhearted and saves the crushed in spirit."
10. Prayers for Serenity and Contentment in Later Life
Heavenly Father, grant me serenity and contentment in the later stages of life. Help me find joy in simple pleasures and peace in the knowledge that I am in Your loving care.
Philippians 4:11
"Not that I am speaking of being in need, for I have learned in whatever situation I am to be content."
11. Seeking Spiritual Guidance in the Journey of Aging:
Lord, guide my spiritual journey as I age. Help me deepen my relationship with You and draw nearer to Your wisdom, seeking Your guidance in every aspect of my life.
Proverbs 3:5-6
"Trust in the Lord with all your heart, and do not lean on your own understanding. In all your ways acknowledge him, and he will make straight your paths."
12. Reflecting on a Life Well-Lived Through Prayer
Almighty God, as I grow older, grant me the opportunity to reflect on a life well-lived. Help me see the impact I've made and the blessings I've received.
Psalm 90:12
"So teach us to number our days that we may get a heart of wisdom."
13. Praying for Gratitude and Acceptance in Old Age
Lord, help me cultivate a heart of gratitude and acceptance as I age. Let me appreciate the unique blessings and opportunities that come with growing older.
1 Thessalonians 5:18
"Give thanks in all circumstances; for this is the will of God in Christ Jesus for you."
14. Connecting with God in the Silver Years Through Prayer
Heavenly Father, as I enter my silver years, deepen my connection with You. Let my relationship with You be a source of strength, comfort, and purpose.
Psalm 16:8
"I have set the Lord always before me; because he is at my right hand, I shall not be shaken."
15. Nurturing Inner Beauty and Grace Through Prayer
Lord, I pray for inner beauty and grace as I age. Help me cultivate a gentle and gracious spirit, reflecting Your love and character to those around me.
1 Peter 3:3-4
"Do not let your adorning be external—the braiding of hair and the putting on of gold jewelry, or the clothing you wear—but let your adorning be the hidden person of the heart with the imperishable beauty of a gentle and quiet spirit, which in God's sight is very precious."
16. Praying for Meaning and Purpose in the Elderly Years
Almighty God, I seek meaning and purpose in my elderly years. Guide me to discover new ways to serve, mentor, and share Your love with others.
Ecclesiastes 12:13
"The end of the matter; all has been heard. Fear God and keep his commandments, for this is the whole duty of man."
17. Embracing God's Love in the Sunset of Life Through Prayer
Lord, let me bask in Your love in the sunset of life. Help me feel Your unwavering love and presence, bringing warmth and light to my later years.
Romans 8:38-39
"For I am sure that neither death nor life, nor angels nor rulers, nor things present nor things to come, nor powers, nor height nor depth, nor anything else in all creation, will be able to separate us from the love of God in Christ Jesus our Lord."
18. Strengthening Relationships Through Prayer in Old Age
Heavenly Father, help me strengthen my relationships in old age. Grant me the wisdom and grace to nurture connections with loved ones and friends, fostering love and unity.
1 Peter 4:8
"Above all, keep loving one another earnestly, since love covers a multitude of sins."
19. Seeking Hope and Joy in the Later Chapters of Life
Lord, I seek hope and joy in the later chapters of my life. Let Your hope fill me with optimism and Your joy be my strength in every circumstance.
Romans 15:13
"May the God of hope fill you with all joy and peace in believing, so that by the power of the Holy Spirit you may abound in hope."
20. Finding Peace and Fulfillment Through Graceful Aging Prayers
Almighty God, grant me peace and fulfillment as I age gracefully. May I find contentment in Your presence and fulfillment in living out Your purpose?
Isaiah 26:3
"You keep him in perfect peace whose mind is stayed on you because he trusts in you."
"Prayers For Growing Old Gracefully" is the melody that accompanies us on this profound journey, guiding us to a destination of grace, inner peace, and fulfillment. It is not just a concept; it's a way of life that can transform the way we age.
Conclusion
As we conclude our exploration of this topic, let us remember that aging gracefully is not about the absence of challenges or the denial of the passage of time. It is about embracing these realities with faith, gratitude, and the strength that comes from within.
May your journey of growing old be filled with the serenity of prayer, the warmth of strong relationships, and the profound sense of purpose that brings fulfillment to your later years. "Prayers For Growing Old Gracefully" is not just a wish; it's a powerful tool to make your golden years truly golden.