In today's fast-paced world, we all encounter situations that seem insurmountable, leaving us feeling helpless and in need of divine intervention.
Whether it's a financial crisis, a health scare, or a personal hardship, there are moments when we face the seemingly impossible. In such times, turning to the power of prayer can provide solace, hope, and even miracles.
Prayers for Impossible Situations
Prayers for impossible situations are a source of strength, comfort, and guidance for countless individuals. They offer a way to connect with a higher power, seek solace, and ultimately find solutions to the seemingly insurmountable challenges that life throws our way. Let's explore prayers for impossible situations.
Dear Heavenly Father, I come before You in awe of Your boundless power. In the face of seemingly insurmountable challenges, I humbly ask for Your divine intervention. Just as You parted the Red Sea for Moses, I pray that You will make a way for me where there seems to be no way. Let Your mighty hand guide and lead me through these impossible situations, showing Your glory and love.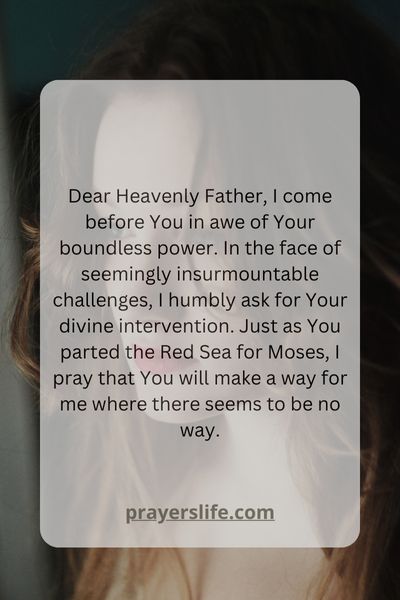 "See, I am doing a new thing! Now it springs up; do you not perceive it? I am making a way in the wilderness and streams in the wasteland."
2. A Prayer for Seeking Guidance
Heavenly Father, when I'm lost in the darkness of impossible situations, I seek Your divine guidance. Like the Psalmist, I pray for Your light to illuminate my path and lead me in the right direction. Show me the way, O Lord, and grant me wisdom to make the right decisions in the midst of confusion.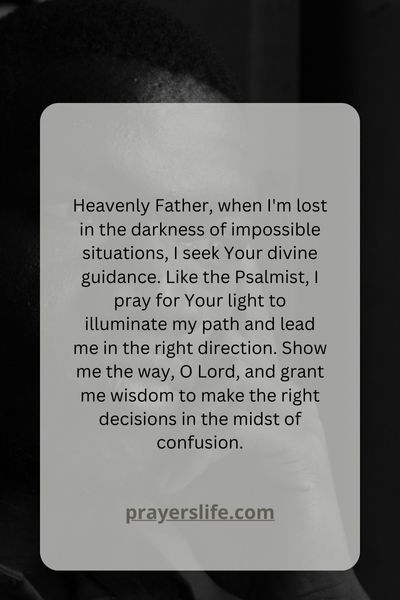 "Your word is a lamp to my feet and a light to my path."
3. A Prayer for Trusting God
Dear Lord, in times of overwhelming impossibility, I put my trust in You. Just as Abraham trusted in Your promise despite the impossible, I choose to have unwavering faith in Your plans. Help me surrender my doubts and fears, knowing that You are in control and that all things are possible through You.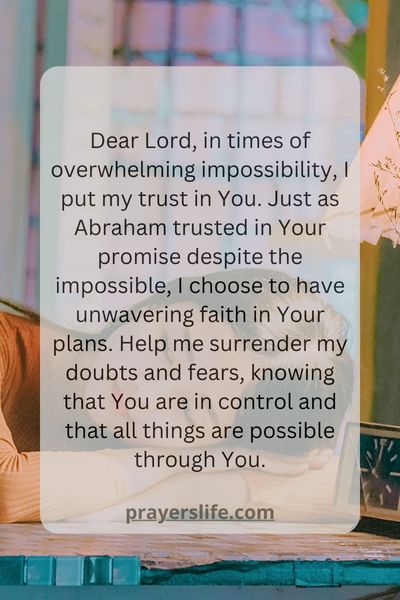 "And he believed the Lord, and he counted it to him as righteousness."
4. A Prayer for Finding Hope
Heavenly Father, when life feels hopeless and impossible, I turn to You, the source of all hope. Your Word reminds me that in You, I can find the strength and hope to carry on, even in the most challenging situations. Fill me with Your presence and lift my spirit, knowing that You are the ultimate source of hope and encouragement.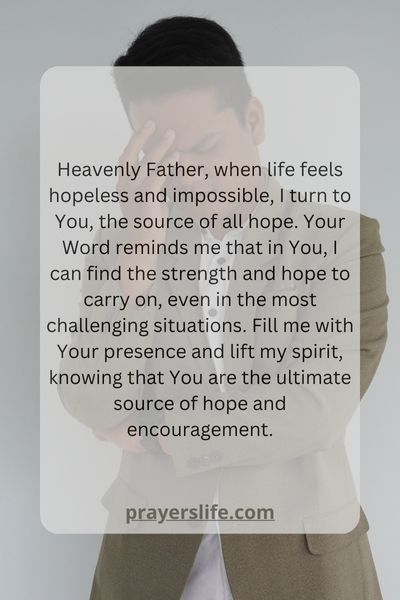 "May the God of hope fill you with all joy and peace in believing, so that by the power of the Holy Spirit you may abound in hope."
5. A Prayer for Unsolvable Problems
Dear Lord, I bring before You the problems that seem unsolvable in my life. Just as the Israelites faced the Red Sea, and there seemed to be no way out, I too found myself at an impasse. Yet, I believe in Your miraculous ability to make a way where there seems to be none. Please intervene, Lord, and bring a solution to these impossible issues.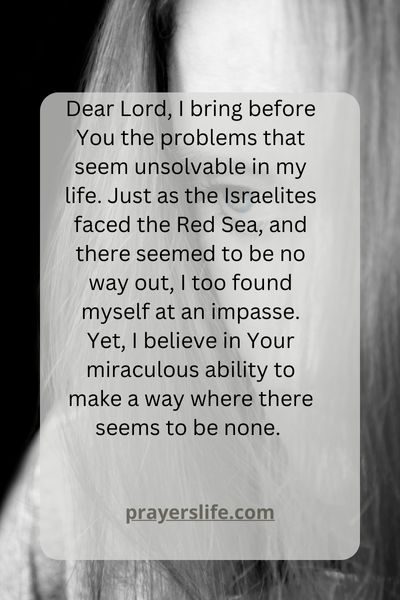 "The Lord will fight for you, and you have only to be silent."
6. A Prayer for Believing in Miracles
Heavenly Father, I come before You with faith in miracles. Just as You performed miraculous wonders throughout history, I believe that You can work miracles in my life. Help me hold onto this faith, even when the odds seem stacked against me. Lord, make the impossible possible and let Your glory shine through every situation.
Mark 9:23
"And Jesus said to him, 'If you can'! All things are possible for one who believes.'"
7. A Prayer for When at the End of the Rope
Dear Lord, when I feel like I've reached the end of my rope and there's no way forward, I turn to You. Just as Peter walked on water with faith, I ask for the faith to step out of my comfort zone and trust in Your supernatural guidance. Keep me from sinking, Lord, and lead me safely through impossible circumstances.
Matthew 14:29-30
"He said, 'Come.' So Peter got out of the boat and walked on the water and came to Jesus. But when he saw the wind, he was afraid, and beginning to sink, he cried out, 'Lord, save me.'"
8. A Prayer for Overcoming the Unthinkable
Heavenly Father, in the face of the unthinkable and unimaginable, I seek Your strength and guidance. Like Job, who endured immense suffering, I ask for the resilience to overcome the impossible challenges in my life. Help me to stand firm in my faith, knowing that You are with me through it all.
Job 42:10
"And the Lord restored the fortunes of Job, when he had prayed for his friends. And the Lord gave Job twice as much as he had before."
9. A Prayer for Unwavering Faith
Dear Lord, in moments of doubt and despair, I pray for unwavering faith. Just as the woman with the issue of blood had faith to touch the hem of Your garment, I too reach out to You with faith, believing that You can heal and transform the impossible. Strengthen my faith, Lord, and help me trust in Your healing power.
Matthew 9:22
"But Jesus turned, and when he saw her, he said, 'Take heart, daughter; your faith has made you well.' And instantly the woman was made well."
10. A Prayer for Asking for Strength
Heavenly Father, when I face impossible situations, I ask for the strength to endure and overcome. Just as You strengthened Samson when he faced the Philistines, I pray for Your divine empowerment. Lord, grant me the physical, emotional, and spiritual strength needed to face the challenges before me.
Judges 16:28
"Then Samson called to the Lord and said, 'O Lord God, please remember me and please strengthen me only this once, O God, that I may be avenged on the Philistines for my two eyes.'"
11. A Prayer for When Odds Are Stacked Against You
Dear Lord, when the odds are stacked against me, I turn to You for help. Just as David faced Goliath, an impossible opponent, I seek Your guidance and courage. Lord, grant me the faith and resilience to stand strong in the face of overwhelming challenges, knowing that with You, nothing is impossible.
1 Samuel 17:45
"Then David said to the Philistine, 'You come to me with a sword and with a spear and with a javelin, but I come to you in the name of the Lord of hosts, the God of the armies of Israel, whom you have defied.'"
12. A Prayer for Holding onto Faith
Heavenly Father, in moments of doubt and uncertainty, I choose to hold onto my faith. Just as the father of the demon-possessed boy cried out to You, "I believe; help my unbelief," I echo his plea. Lord, help me overcome my doubts and strengthen my faith in the face of the impossible.
Mark 9:24
"Immediately the father of the child cried out and said, 'I believe; help my unbelief!'"
13. A Prayer for Trusting in God's Plan
Dear Lord, when I can't comprehend the circumstances before me, I choose to trust in Your divine plan. Just as Joseph endured trials and tribulations, yet Your plan prevailed, I surrender my own desires and trust in Your greater purpose. Help me see the beauty in Your plan, even when it seems impossible.
Genesis 50:20
"As for you, you meant evil against me, but God meant it for good, to bring it about that many people should be kept alive, as they are today."
14. A Prayer for Praying for Breakthroughs
Heavenly Father, in the face of seemingly unbreakable barriers, I come before You in prayer. Just as the walls of Jericho fell through Your power, I pray for breakthroughs in my life. Lord, dismantle the obstacles and barriers that seem impossible to overcome. Let Your mighty hand bring down the walls that stand in my way.
Joshua 6:20
"So the people shouted, and the trumpets were blown. As soon as the people heard the sound of the trumpet, the people shouted a great shout, and the wall fell down flat, so that the people went up into the city, every man straight before him, and they captured the city."
15. A Prayer for Clinging to Hope
Dear Lord, when despair tries to grip my heart, I choose to cling to the hope found in You. Just as Noah held on to hope during the flood, I too hold on to the promise of Your presence and salvation. Keep me anchored in Your hope, Lord, even when the world seems to be against me.
Genesis 6:18
"But I will establish my covenant with you, and you shall come into the ark, you, your sons, your wife, and your sons' wives with you."
16. A Prayer for When Human Efforts Fail
Heavenly Father, when human efforts fail and situations seem impossible, I turn to You as my ultimate source of strength and support. Just as the disciples toiled all night without success, only to find a miraculous catch of fish at Your command, I ask for Your divine intervention in the areas where my efforts fall short. Lord, help me cast my net on the right side and experience the abundance You provide.
John 21:6
"He said to them, 'Cast the net on the right side of the boat, and you will find some.' So they cast it, and now they were not able to haul it in because of the quantity of fish."
17. A Prayer for Unsolvableness
Dear Lord, in the face of seemingly unsolvable challenges, I turn to You, the ultimate problem solver. Just as You provided manna in the wilderness for the Israelites, I pray for Your provision and solutions in my life. Please reveal Your wisdom, and grant me the understanding and clarity to resolve the unsolvable issues I face.
Exodus 16:4
"Then the Lord said to Moses, 'Behold, I am about to rain bread from heaven for you, and the people shall go out and gather a day's portion every day, that I may test them, whether they will walk in my law or not.'"
18. A Prayer for Finding Peace
Heavenly Father, when chaos surrounds me and peace feels unattainable, I come to You for the peace that surpasses all understanding. Just as Jesus calmed the stormy sea, I pray for Your calming presence in my life. Bring serenity to my heart and mind, even in the midst of impossible circumstances.
Philippians 4:7
"And the peace of God, which transcends all understanding, will guard your hearts and your minds in Christ Jesus".
Conclusion
Prayers for impossible situations offer a path to hope and healing when life presents its toughest challenges. They may not guarantee specific outcomes, but they can bring comfort, strength, and sometimes even miracles. Remember, faith and positivity are the driving forces behind the effectiveness of these prayers. In the face of adversity, turning to prayers can be a source of solace, resilience, and ultimate triumph.