In human existence, there are moments when we find ourselves standing before seemingly insurmountable mountains. These mountains may take the form of personal challenges, adversities, or the profound struggles of our times. Yet, in these moments, we discover a potent truth: prayers possess the remarkable ability to move mountains. This age-old concept, grounded in faith, has been a source of solace, strength, and transformation for countless individuals throughout history.
The belief in "Prayers That Move Mountains" transcends religious and cultural boundaries, resonating with the human spirit's innate yearning for hope and transcendence.
Prayers That Move Mountains
As we embark on this exploration, we will look into the profound insights, guidance, and wisdom that illuminate the path of mountain-moving prayers.
1. The Power of Mountain-Moving Prayers:
Heavenly Father, I am in awe of the power of prayer. Your Word reminds us that with faith the size of a mustard seed, we can move mountains. I come before You with a heart full of faith, believing that through prayer, I can overcome any obstacle. Strengthen my faith and help me trust in Your divine plan.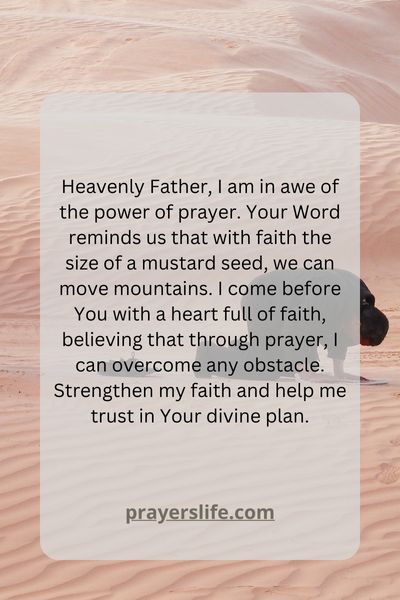 "Truly I tell you, if you have faith as small as a mustard seed, you can say to this mountain, 'Move from here to there,' and it will move. Nothing will be impossible for you."
2. Understanding the Concept of Prayers That Move Mountains:
Gracious Lord, I seek understanding in the concept of mountain-moving prayers. Teach me how to align my will with Yours and to pray with faith and perseverance. Grant me the wisdom to discern the mountains in my life and the strength to overcome them through prayer.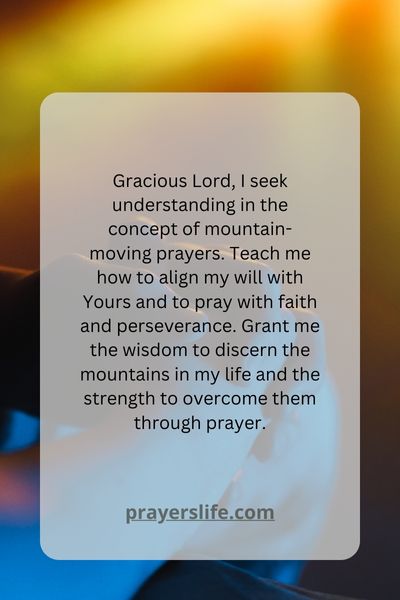 "If any of you lacks wisdom, you should ask God, who gives generously to all without finding fault, and it will be given to you."
3. How to Develop a Strong Mountain-Moving Prayer Life:
Dear God, guide me in developing a strong prayer life that moves mountains. Help me establish a deep, intimate connection with You through consistent and fervent prayer. Show me how to draw closer to You and experience the transformative power of prayer in my daily life.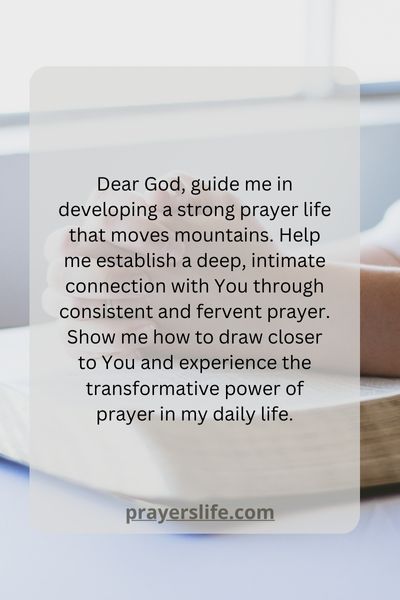 "Do not be anxious about anything, but in every situation, by prayer and petition, with thanksgiving, present your requests to God. And the peace of God, which transcends all understanding, will guard your hearts and your minds in Christ Jesus."
4. Praying with Unwavering Faith and Confidence:
Heavenly Father, grant me unwavering faith and confidence in my prayers. Help me believe that You hear and answer my prayers according to Your will. Strengthen my trust in Your goodness and your ability to move the mountains in my life.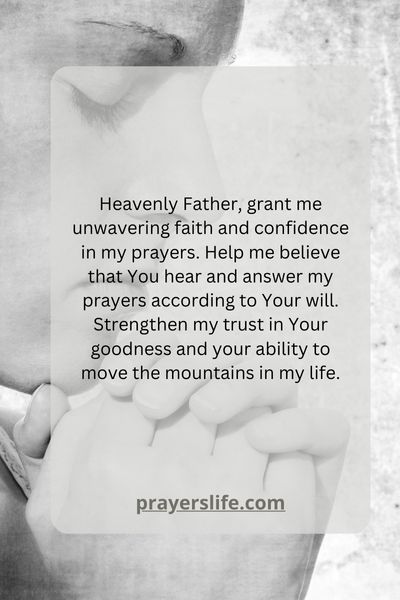 "Therefore I tell you, whatever you ask for in prayer, believe that you have received it, and it will be yours."
5. Overcoming Obstacles Through Mountain-Moving Prayers:
Lord, I face obstacles that seem insurmountable. I pray for the strength and courage to overcome them through the power of prayer. Grant me the perseverance to keep praying even when the challenges seem overwhelming. Let Your light shine through my difficulties, showing me the way to victory.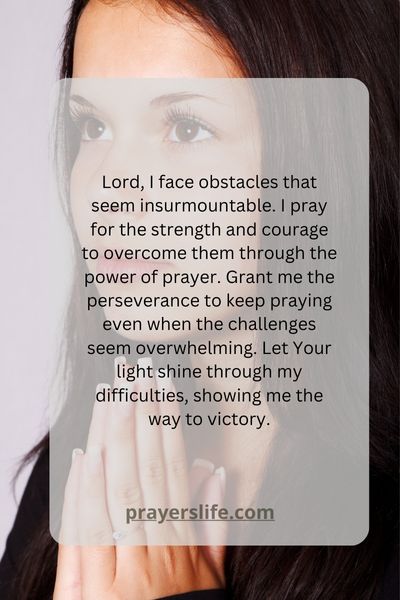 "So do not fear, for I am with you; do not be dismayed, for I am your God. I will strengthen you and help you; I will uphold you with my righteous right hand."
6. Harnessing the Energy of Persistent Prayer:
Heavenly Father, I am reminded of the importance of persistent prayer. Help me understand the value of continually seeking Your presence and intervention. Give me the strength to persevere in prayer, knowing that Your timing and plans are perfect.
Luke 18:1
"Then Jesus told his disciples a parable to show them that they should always pray and not give up."
7. The Role of Belief and Trust in Mountain-Moving Prayers:
Dear God, I acknowledge the pivotal role of belief and trust in mountain-moving prayers. Grant me unwavering faith, and help me trust Your promises. Strengthen my belief that You are capable of moving mountains and that all things are possible through You.
Proverbs 3:5-6
"Trust in the Lord with all your heart and lean not on your own understanding; in all your ways submit to him, and he will make your paths straight."
8. Steps to Activate Miracles Through Prayer:
Lord, I seek to understand the steps to activate miracles through prayer. Show me the way to align my prayers with Your divine will and to experience Your supernatural intervention. Guide me as I take deliberate steps in faith, knowing that You are the God of miracles.
Matthew 21:22
"If you believe, you will receive whatever you ask for in prayer."
9. The Connection Between Prayer and Divine Intervention:
Gracious God, I recognize the profound connection between prayer and divine intervention. Help me see that my prayers have a direct impact on Your involvement in my life. Teach me to pray with expectation, knowing that You are always listening and ready to act on my behalf.
Jeremiah 33:3
"Call to me and I will answer you and tell you great and unsearchable things you do not know."
10. Cultivating a Heart of Gratitude in Your Prayers:
Lord, as I pray for mountain-moving moments, may I also cultivate a heart of gratitude. Help me to recognize and appreciate Your blessings and answered prayers. Let my prayers be filled with thanksgiving for Your goodness and faithfulness.
1 Thessalonians 5:18
"Give thanks in all circumstances; for this is God's will for you in Christ Jesus."
11. Mountains of Challenges and the Prayers to Overcome Them:
Heavenly Father, I face mountains of challenges in my life. Grant me the strength to face them head-on through prayer. Show me the specific prayers and actions needed to conquer these obstacles and emerge victorious.
Psalm 18:32
"It is God who arms me with strength and keeps my way secure."
12. Praying for Healing and Restoration in Difficult Times:
Lord, in times of hardship and pain, I pray for Your healing touch and restoration. Please grant me the strength to endure and the faith to believe in Your power to bring healing and restoration to my life.
Jeremiah 30:17
"But I will restore you to health and heal your wounds, declares the Lord."
13. Invoking God's Strength in Your Mountain-Moving Prayers:
Almighty God, as I face daunting challenges, I invoke Your strength in my mountain-moving prayers. Fill me with Your power, courage, and determination to overcome any obstacle that stands before me. Let Your strength be my source of hope and victory.
Isaiah 40:31
"But those who hope in the Lord will renew their strength. They will soar on wings like eagles; they will run and not grow weary, they will walk and not be faint."
14. Praying for Guidance and Direction in Life's
Journey:
Lord, guide me on my life's journey. I seek Your wisdom and direction in every step I take. Help me to make decisions aligned with Your will, and let my prayers be a constant source of guidance, ensuring that I am on the right path.
Proverbs 3:6
"In all your ways submit to him, and he will make your paths straight."
15. The Transformative Power of Mountain-Moving Prayers:
Heavenly Father, I believe in the transformative power of mountain-moving prayers. May my prayers bring about positive changes in my life and the lives of others. Show me how to pray with purpose and intention, knowing that You can transform any situation.
2 Corinthians 5:17
"Therefore, if anyone is in Christ, the new creation has come: The old has gone, the new is here!"
16. Prayers That Align with God's Will and Purpose:
Dear God, help me pray in alignment with Your will and purpose. May my prayers reflect Your desires for my life and the world. Grant me the wisdom to discern Your plan and the humility to accept it. Let Your will be done through my prayers.
1 John 5:14
"This is the confidence we have in approaching God: that if we ask anything according to his will, he hears us."
17. Experiencing the Miraculous in Your Mountain-Moving Prayers:
Lord, I long to experience the miraculous in my mountain-moving prayers. Strengthen my faith and help me believe that nothing is impossible for You. Grant me the joy of witnessing Your miracles in my life, and let my heart overflow with gratitude.
Ephesians 3:20
"Now to him who is able to do immeasurably more than all we ask or imagine, according to his power that is at work within us."

https://www.youtube.com/watch?v=FcUkLLxTqyM&pp=ygUbUHJheWVycyBUaGF0IE1vdmUgTW91bnRhaW5z
Conclusion
In the words of the great spiritual leader, Mahatma Gandhi, "Prayer is not asking. It is a longing of the soul. It is daily admission of one's weakness. It is better in prayer to have a heart without words than words without a heart." So, let us embrace the gift of prayer and the faith that moves mountains, for in its embrace, we discover the boundless potential of the human spirit and its ability to overcome even the most formidable of challenges.
Whether you find solace in a sacred text, the stillness of meditation, or the simplicity of a heartfelt conversation with the divine, remember that prayers have the power to shape destinies, heal wounds, and usher in miracles. The mountains in our lives may be vast, but so too is the wellspring of faith that resides within each of us.