The 60th birthday of a pastor is not just a personal celebration; it is a moment for the entire church community to come together in gratitude, prayer, and joy. As our beloved pastor reaches this significant milestone, we gather to honor their remarkable journey and to seek God's blessings for the years ahead.
In this article, we offer a collection of heartfelt prayers and relevant Bible verses, each tailored to the themes of this special occasion. These prayers reflect our deep appreciation for our pastor's dedication and commitment to their ministry, and our hope for continued inspiration and blessings as they step into their 60th year.
60th Birthday Prayer for a Pastor
A 60th birthday prayer for a pastor is not just a set of words; it's a spiritual offering, a symbol of gratitude, and a source of inspiration. It's a moment to reflect on the journey of faith and seek blessings for the future. Let's explore a heartfelt prayer for your beloved pastor's 60th birthday.
1. A Blessed Journey to 60:
Dear Heavenly Father, we gather today to celebrate our pastor's 60th birthday, a journey marked with Your blessings. We thank You for the wisdom and grace You've poured into their life. May the years ahead be even more fruitful.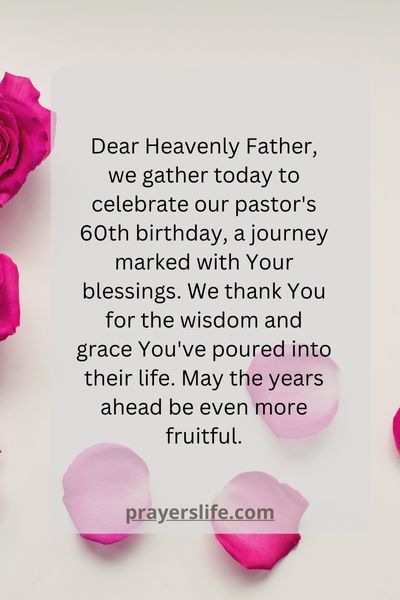 "Blessed are those who find wisdom, those who gain understanding, for she is more profitable than silver and yields better returns than gold."
2. Honoring Our Beloved Pastor:
Lord, we honor our beloved pastor on this special day. Thank You for their leadership and dedication. May this milestone be a reminder of the love and appreciation we have for them.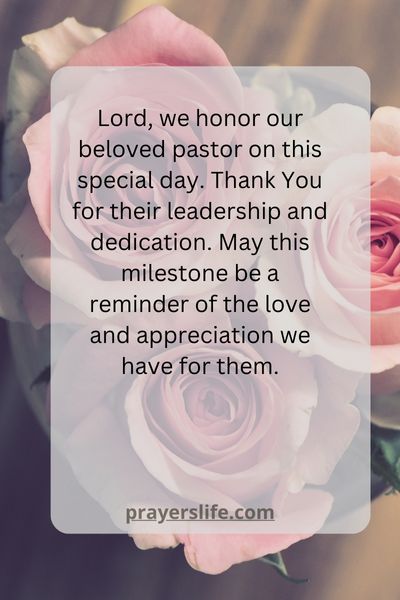 "Now we ask you, brothers and sisters, to acknowledge those who work hard among you, who care for you in the Lord and who admonish you."
3. Praying for God's Grace at 60:
Heavenly Father, we pray for Your abundant grace to continue to shine upon our pastors as they turn 60. May Your grace sustain them and keep them strong in their ministry.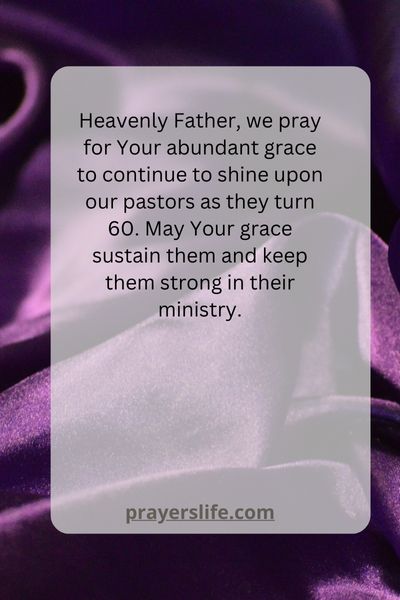 "But he said to me, 'My grace is sufficient for you, for my power is made perfect in weakness.' Therefore I will boast all the more gladly about my weaknesses, so that Christ's power may rest on me."
4. Reflecting on Six Decades of Service:
Lord, as we reflect on our pastor's 60 years of service, we thank You for the impact they've made. Bless their continued efforts in spreading Your Word.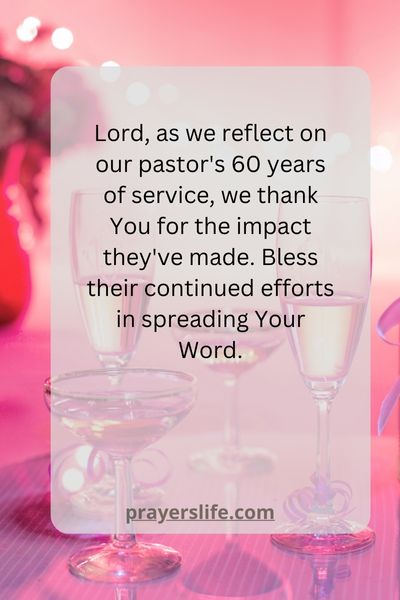 "Therefore, my dear brothers and sisters, stand firm. Let nothing move you. Always give yourselves fully to the work of the Lord, because you know that your labor in the Lord is not in vain."
5. A Milestone of Faith and Dedication:
Dear God, as our pastor reaches this milestone, we celebrate their unwavering faith and dedication. May their life continue to inspire us all.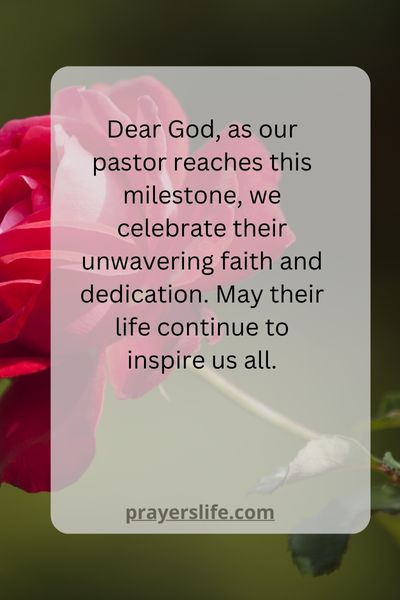 "God is not unjust; he will not forget your work and the love you have shown him as you have helped his people and continue to help them."
6. Celebrating 60 Years of Spiritual Leadership:
Heavenly Father, we celebrate 60 years of our pastor's spiritual leadership. May they always find strength and guidance in Your Word.
Isaiah 40:31
"But those who hope in the Lord will renew their strength. They will soar on wings like eagles; they will run and not grow weary, they will walk and not be faint."
7. Pastor's Diamond Jubilee: A Prayerful Tribute:
Lord, we offer a prayerful tribute as our pastor celebrates their Diamond Jubilee. May this day be filled with Your love, joy, and renewed purpose.
Proverbs 16:31
"Gray hair is a crown of splendor; it is attained in the way of righteousness."
8. Seeking God's Blessings on this Special Day:
Heavenly Father, as we gather on this special day, we seek Your blessings for our pastor's 60th birthday. Shower them with Your love, joy, and good health.
Numbers 6:24-26
"The Lord bless you and keep you; the Lord make his face shine on you and be gracious to you; the Lord turn his face toward you and give you peace."
9. Wisdom, Strength, and Love for the Pastor:
Dear God, on this significant day, we pray for our pastor to receive an abundance of wisdom, strength, and love from You as they enter their 60th year.
1 Corinthians 1:4-5
"I always thank my God for you because of his grace given you in Christ Jesus. For in him you have been enriched in every way—with all kinds of speech and with all knowledge."
10. Blessings for the Years Ahead:
Lord, we lift our pastor's 60th year before You and ask for blessings for the years ahead. May they continue to be a beacon of light and inspiration.
Jeremiah 29:11
"For I know the plans I have for you, declares the Lord, plans for welfare and not for evil, to give you a future and a hope."
11. Gratitude for 60 Years of Ministry:
Heavenly Father, we express our gratitude for our pastor's 60 years of ministry. May they know how deeply their work is appreciated and how much they mean to us.
1 Thessalonians 1:2-3
"We always thank God for all of you and continually mention you in our prayers. We remember before our God and Father your work produced by faith, your labor prompted by love, and your endurance inspired by hope in our Lord Jesus Christ."
12. Asking for Divine Guidance and Health:
Lord, we ask for Your divine guidance and continued good health for our pastor as they celebrate 60 years of life and ministry.
Psalm 32:8
"I will instruct you and teach you in the way you should go; I will counsel you with my loving eye on you."
13. A Prayer for Continued Inspiration:
Dear God, as our pastor turns 60, we pray for their continued inspiration in leading our congregation. May they always be filled with Your spirit and wisdom.
2 Timothy 3:16-17
"All Scripture is God-breathed and is useful for teaching, rebuking, correcting and training in righteousness, so that the servant of God may be thoroughly equipped for every good work."
14. A Legacy of Faith and Service:
Lord, we celebrate our pastor's legacy of faith and dedicated service. May their example continue to inspire and lead others closer to You.
1 Timothy 4:12
"Don't let anyone look down on you because you are young, but set an example for the believers in speech, in conduct, in love, in faith, and in purity."
15. 60 Years of Touching Hearts: A Prayer:
Heavenly Father, we offer a prayer of gratitude for 60 years of our pastor touching hearts and making a difference. May their impact continue to grow.
Galatians 6:9
"Let us not become weary in doing good, for at the proper time we will reap a harvest if we do not give up."
16. Praying for Abundant Joy and Peace:
Dear God, on this special day, we pray for our pastor to experience abundant joy and peace as they enter their 60th year.
John 16:24
"Until now you have not asked for anything in my name. Ask and you will receive, and your joy will be complete."
17. Wishing Pastor a Spirit-Filled 60th Birthday:
Lord, we wish our pastor a spirit-filled 60th birthday. May they be filled with Your Holy Spirit and continue to lead with faith and passion.
Acts 1:8
"But you will receive power when the Holy Spirit comes on you; and you will be my witnesses in Jerusalem, and in all Judea and Samaria, and to the ends of the earth."
18. A Pastor's 60th Year in God's Hands:
Heavenly Father, as our pastor enters their 60th year, we place them in Your loving hands. Guide them, protect them, and bless them in their continued ministry.
Psalm 34:7
"The angel of the Lord encamps around those who fear him, and he delivers them."
19. Trusting in God's Plan for the Pastor's Future:
Lord, as our pastor reaches this milestone, we trust in Your divine plan for their future. May they find purpose, fulfillment, and happiness in serving You.
Jeremiah 29:11
"For I know the plans I have for you, declares the Lord, plans for welfare and not for evil, to give you a future and a hope."
Conclusion
A 60th birthday is a momentous occasion for your pastor, and a heartfelt prayer can make it truly special. This article has provided you with a 60th birthday prayer for a pastor that celebrates their dedication, wisdom, and leadership. May your pastor's journey ahead be blessed with good health, continued guidance, and the unwavering support of their congregation.