In the ever-changing landscape of our lives, there are moments when the weight of uncertainties and challenges feels overwhelming. It is during these times that the profound practice of prayer becomes a refuge—a sanctuary where we seek solace, guidance, and the assurance that everything will be okay.
Prayers For Everything To Be Okay
In this exploration of the transformative power of prayer, we look into the depths of the human spirit's connection with the divine, unraveling the threads of hope, resilience, and peace that weave through the fabric of our existence. Join us on a spiritual journey as we discover the potency of prayer in navigating life's complexities, holding steadfast to the belief that, through faith, everything can indeed be okay.
1. The Comfort of Surrendering in Prayer:
Heavenly Father, in the midst of life's uncertainties, I surrender my worries to You. Grant me the peace that surpasses understanding as I lay my burdens at Your feet. Help me trust in Your plan, knowing that everything will be okay in Your perfect timing.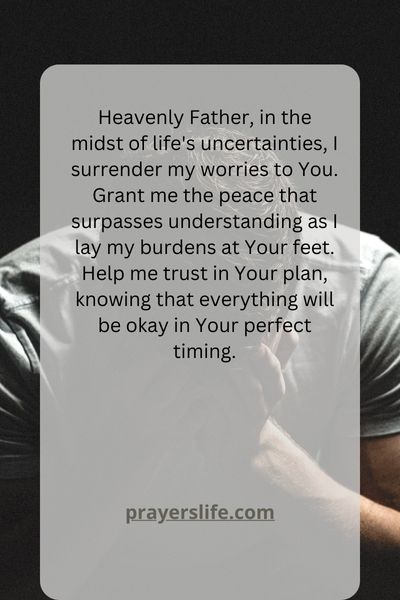 "Do not be anxious about anything, but in every situation, by prayer and petition, with thanksgiving, present your requests to God. And the peace of God, which transcends all understanding, will guard your hearts and your minds in Christ Jesus."
2. Navigating Uncertainty Through Faithful Prayer:
Gracious God, guide me through the uncertainties of life with the light of Your wisdom. Strengthen my faith as I navigate the unknown, and may my prayers be a compass leading me toward Your divine purpose.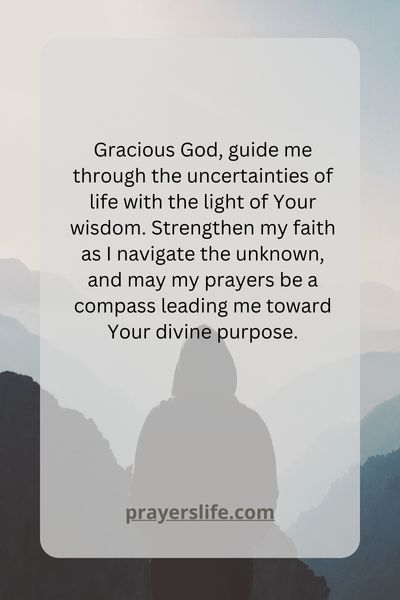 "Trust in the Lord with all your heart and lean not on your own understanding; in all your ways submit to him, and he will make your paths straight."
3. Seeking Guidance and Assurance in Prayer:
Loving Father, I come to You seeking guidance and assurance. Illuminate my path with Your wisdom, and reassure my heart that Your plans for me are good. May I find comfort in the knowledge that everything will be okay under Your watchful care.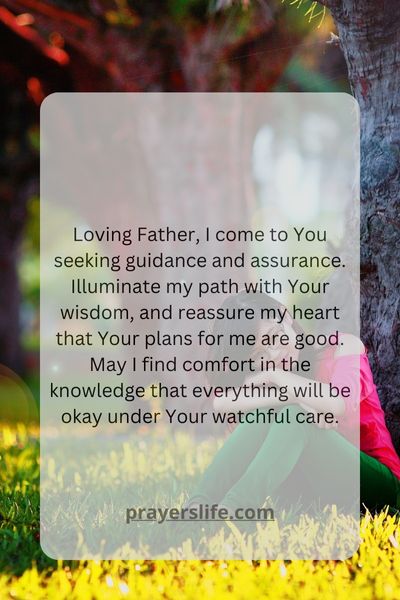 "The Lord will guide you always; he will satisfy your needs in a sun-scorched land and will strengthen your frame. You will be like a well-watered garden, like a spring whose waters never fail."
4. Finding Serenity Amid Life's Turbulence:
God of peace, grant me serenity in the midst of life's turbulence. Calm my anxious heart and help me find tranquility in Your unchanging love. I trust that, with You, everything will be okay.
"Peace I leave with you; my peace I give you. I do not give to you as the world gives. Do not let your hearts be troubled and do not be afraid."
5. Overcoming Anxiety with the Power of Prayer:
Merciful Lord, I lay my anxieties before You, trusting in Your promise to carry my burdens. Grant me the strength to overcome fear through the transformative power of prayer. In Your hands, everything will be okay.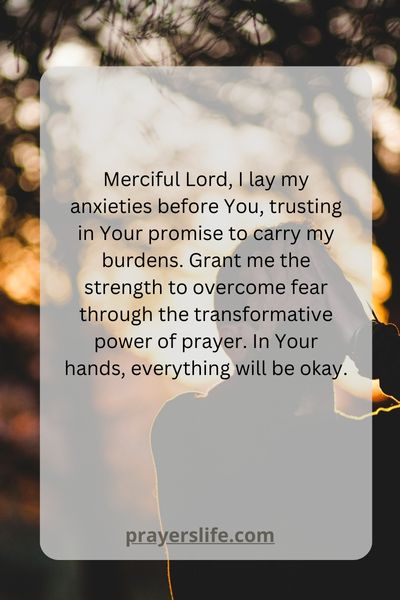 "Cast all your anxiety on him because he cares for you."
6. Trusting the Process: A Prayerful Perspective:
Almighty God, as I journey through life, help me trust the process and embrace Your divine timing. Grant me patience and perseverance, knowing that, in Your hands, everything will unfold perfectly.
Ecclesiastes 3:1
"There is a time for everything, and a season for every activity under the heavens."
7. Embracing Hope through Daily Prayer Rituals:
Heavenly Father, as I engage in daily prayer, infuse my heart with hope. May the consistency of my communion with You be a source of strength, knowing that, through hope in You, everything will be okay.
Romans 15:13
"May the God of hope fill you with all joy and peace as you trust in him, so that you may overflow with hope by the power of the Holy Spirit."
8. The Healing Power of Prayer in Tough Times:
Compassionate Healer, I turn to You in tough times, seeking the healing power of prayer. Grant me comfort, restoration, and the assurance that, with Your grace, everything will be okay.
Jeremiah 17:14
"Heal me, Lord, and I will be healed; save me and I will be saved, for you are the one I praise."
9. Strengthening Resilience Through Persistent Prayer:
Almighty God, as I persistently pray, fortify my resilience. Grant me the strength to endure challenges and rise above adversity, trusting that, through perseverance in prayer, everything will be okay.
James 5:16
"Therefore confess your sins to each other and pray for each other so that you may be healed. The prayer of a righteous person is powerful and effective."
10. Transformative Prayers for Inner Peace:
Prince of Peace, I offer transformative prayers for inner peace. May the serenity that comes from communing with You be a source of strength, assuring me that, with Your peace, everything will be okay.
Colossians 3:15
"Let the peace of Christ rule in your hearts, since as members of one body you were called to peace. And be thankful."
11. Connecting with Divinity for Stability and Calm:
Divine Anchor, I seek stability and calm through my connection with You. Ground me in Your unwavering presence, and assure me that, with Your divine stability, everything will be okay.
Psalm 46:1
"God is our refuge and strength, an ever-present help in trouble."
12. Crafting Personalized Prayers for Peace of Mind:
Loving Creator, guide me in crafting personalized prayers for peace of mind. May the intimate conversations with You bring assurance, knowing that, with Your peace, everything will be okay.
Philippians 4:8
"Finally, brothers and sisters, whatever is true, whatever is noble, whatever is right, whatever is pure, whatever is lovely, whatever is admirable—if anything is excellent or praiseworthy—think about such things."
13. Weathering Storms: Prayers for a Stable Tomorrow:
Sovereign Lord, as I weather life's storms, I offer prayers for a stable tomorrow. Shelter me under Your protective wings, and assure me that, with Your stability, everything will be okay.
Psalm 61:3
"For you have been my refuge, a strong tower against the foe."
14. Fostering Positivity Through Affirmative Prayer:
Source of Positivity, I engage in affirmative prayer to foster positivity. May my words align with Your promises, and may the affirmation that everything will be okay become a reality.
Matthew 21:22
"If you believe, you will receive whatever you ask for in prayer."
15. The Therapeutic Value of Daily Prayer Habits:
Divine Therapist, I recognize the therapeutic value of daily prayer habits. May my consistent communion with You bring healing and peace, assuring me that, through these habits, everything will
be okay.
Psalm 145:18
"The Lord is near to all who call on him, to all who call on him in truth."
16. A Guide to Centering Yourself Through Prayer:
Guiding Light, as I center myself through prayer, lead me into a place of peace and centeredness. May the divine guidance assure me that, in this centered state, everything will be okay.
Psalm 32:8
"I will instruct you and teach you in the way you should go; I will counsel you with my loving eye on you."
17. Building Emotional Strength through Consistent Prayer:
God of Strength, I build emotional resilience through consistent prayer. Strengthen me from within and assure me that, with Your unwavering support, everything will be okay.
Isaiah 41:10
"So do not fear, for I am with you; do not be dismayed, for I am your God. I will strengthen you and help you; I will uphold you with my righteous right hand."
18. Harnessing Faith to Navigate Life's Challenges:
Faithful Guide, I harness faith to navigate life's challenges. May my unwavering trust in You be a source of assurance, knowing that, with faith, everything will be okay.
Hebrews 11:1
"Now faith is confidence in what we hope for and assurance about what we do not see."
Conclusion
In the quiet aftermath of our collective prayerful reflection, we find ourselves not only with a renewed sense of purpose but also with a profound recognition of the enduring impact of our communion with the divine. The echoes of our heartfelt supplications linger in the air, creating an invisible tapestry that weaves through the fabric of our lives. Each prayer, a thread meticulously woven with faith, has become an integral part of the narrative of our existence.
In these sacred spaces of prayer, we've discovered more than just solace; we've uncovered a reservoir of unyielding strength. It is a strength that doesn't merely fortify us against the trials of today but serves as a beacon guiding us through the uncertain contours of tomorrow. The wellspring of hope, once a gentle trickle, now flows abundantly, irrigating the landscapes of our aspirations with the promise of brighter days.
Moreover, the comfort we've found in prayer extends beyond mere reassurance—it is a balm that soothes the wounds of the soul, healing the scars left by the struggles of yesteryears. As we step into the unknown of what lies ahead, the threads of faith, meticulously woven into the very fabric of our prayers, serve as an unbreakable connection to the eternal. It is a connection that transcends the transient nature of our worldly concerns, grounding us in a reality that reaches far beyond the tangible.
As we carry the assurance gleaned from our prayers into the journey that awaits us, let it be a constant reminder that storms may come, but they do not define us. The divine promise of peace and well-being, echoing in the chambers of our prayers, becomes a steadfast companion through every twist and turn of life's symphony. Our prayers, like a melody, continue to harmonize with the rhythms of the universe—an intricate part of the grand orchestration of existence.
In the chorus of life, may our prayers resonate not only within our individual hearts but reverberate outward, touching the lives of those around us. For in the collective cadence of our supplications, we contribute to a harmonious tapestry that threads together the hopes, dreams, and aspirations of humanity. As we stand on the threshold of the unknown, let the eternal truth embedded in our prayers resound—a truth that declares, with unwavering certainty, that indeed, everything will be okay.