The night is a time of transition, where the hustle and bustle of the day slowly gives way to a peaceful, restful interlude. It's a period when we leave behind the tasks and worries of the day and turn our thoughts towards tranquility and rejuvenation. For many, this transition is made more meaningful with the practice of good night prayers and blessings. "Good Night Prayers And Blessings" is an exploration of the profound role these nightly rituals play in our lives.
Good Night Prayers And Blessings
In this article, we delve into the significance of ending our day with prayers and blessings, discussing the comfort, serenity, and spiritual connection they bring. We share a collection of heartfelt and purposeful night prayers for various intentions, each accompanied by relevant verses from sacred texts for reflection and inspiration. Whether you seek peaceful sleep, gratitude, healing, or guidance, these good night prayers can be a source of solace and spiritual nourishment.
1. Evening Prayers for Peaceful Sleep:
Heavenly Father, as the day ends, I come before You seeking peaceful rest. Grant me tranquility in mind and body, that I may sleep in Your embrace. Keep me safe through the night, as I trust in Your protection.
"In peace I will both lie down and sleep; for you alone, O Lord, make me dwell in safety."
2. Blessings for a Restful Night:
Lord, as I prepare to sleep, I ask for Your blessings and guidance throughout the night. May Your presence bring me peaceful dreams and renew my spirit for the day ahead.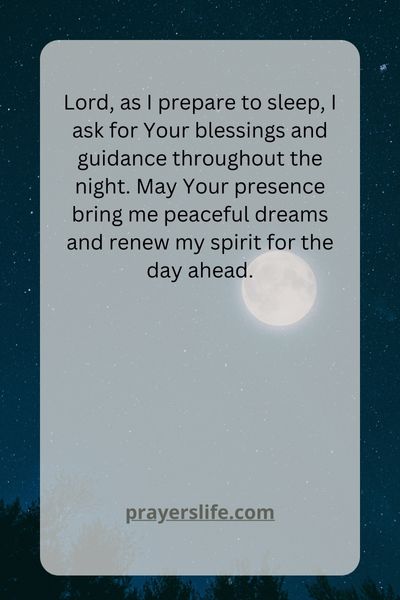 "When you lie down, you will not be afraid; when you lie down, your sleep will be sweet."
3. Good Night Prayers for Loved Ones:
Heavenly Father, I lift up my loved ones to You as the night falls. Bless them with safety, love, and a peaceful rest. Watch over them as they sleep and grant them Your grace.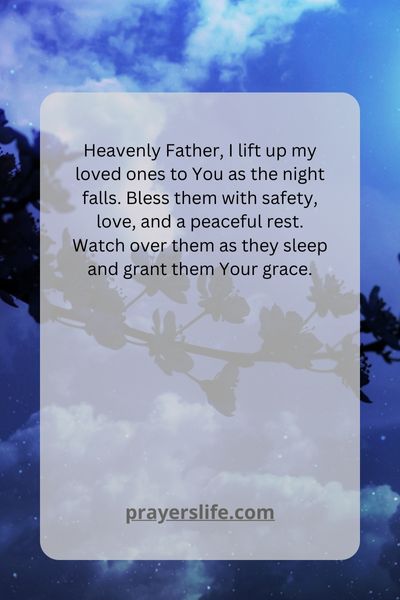 "The angel of the Lord encamps around those who fear him, and delivers them."
4. Gratitude in Evening Prayer:
Lord, as I end this day, I'm grateful for Your blessings. Thank You for the gift of life and the experiences of today. I offer my gratitude and ask for Your guidance and protection tonight.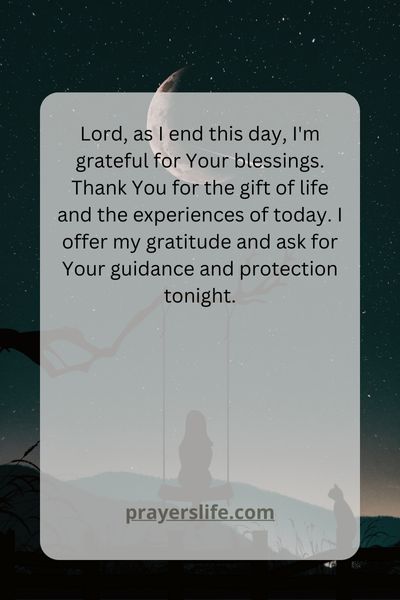 "Give thanks in all circumstances; for this is the will of God in Christ Jesus for you."
5. Prayer for Sweet Dreams and Comfort:
Heavenly Father, as I lay down to rest, I ask for sweet dreams and a comforting sleep. Let Your presence be felt in the stillness of the night, and may I wake renewed.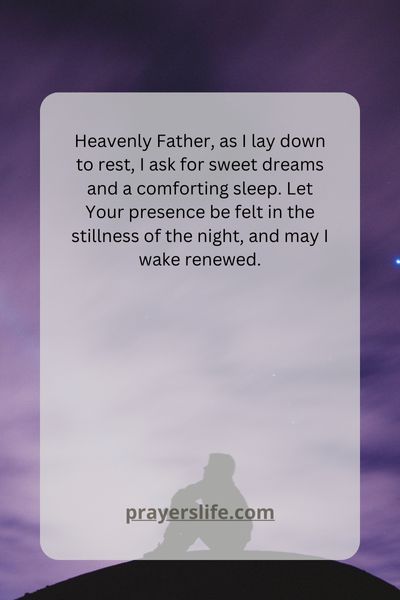 "I lay down and slept; I woke again, for the Lord sustained me."
6. Ending the Day with Blessings:
Lord, I seek Your blessings as the day closes. May Your grace envelop me and my loved ones, bringing peace, love, and protection during the night.
Numbers 6:24-26
"The Lord bless you and keep you; the Lord make his face to shine upon you and be gracious to you; the Lord lift up his countenance upon you and give you peace."
7. A Family Good Night Prayer:
Heavenly Father, we gather as a family to end this day in prayer. Bless us with a restful night's sleep and guide us with Your love. Protect our home and hearts.
Psalm 121:8
"The Lord will keep your going out and your coming in from this time forth and forevermore."
8. Bedtime Prayers for Children:
Lord, watch over our children as they sleep. Keep them safe, fill their dreams with wonder, and guide their hearts. Bless our little ones with Your love and protection.
Matthew 19:14
"But Jesus said, 'Let the little children come to me and do not hinder them, for to such belongs the kingdom of heaven.'"
9. A Prayer for Healing and Renewal:
Heavenly Father, I come to You seeking healing and renewal. As I rest, let Your loving presence restore my body and spirit. May I awaken with newfound strength and hope.
Jeremiah 30:17
"For I will restore health to you, and your wounds I will heal, declares the Lord."
10. Blessing the Night with Gratitude:
Lord, I end this day with a heart full of gratitude for Your blessings. Let Your grace fill my dreams, and may I wake tomorrow with a thankful spirit.
Psalm 28:7
"The Lord is my strength and my shield; in him my heart trusts, and I am helped; my heart exults, and with my song I give thanks to him."
11. Communing with God Before Sleep:
Heavenly Father, I seek communion with You before I sleep. Let Your presence be my comfort and guide through the night. Watch over me and grant me Your peace.
Psalm 16:7
"I bless the Lord who gives me counsel; in the night also my heart instructs me."
12. Restoring Your Spirit with Nightly Prayers:
Lord, as the night falls, I seek restoration for my weary spirit. In prayer, I find strength, and I ask for Your grace to renew my soul during the night.
Isaiah 40:31
"But they who wait for the Lord shall renew their strength; they shall mount up with wings like eagles; they shall run and not be weary; they shall walk and not faint."
13. Praying for Protection and Safety:
Heavenly Father, I pray for protection and safety through the night. Keep harm and fear at bay. May Your angels guard my home and loved ones, granting peace and security.
Psalms 91:11
"For he will command his angels concerning you to guard you in all your ways."
14. Good Night Prayers for Inner Peace:
Lord, grant me inner peace as I rest tonight. May Your love and presence calm my heart, removing anxiety and fear. Let me sleep soundly in Your embrace.
John 14:27
"Peace I leave with you; my peace I give to you. Not as the world gives do I give to you. Let not your hearts be troubled, neither let them be afraid."
15. A Prayer for the Troubled Heart:
Heavenly Father, I come to You with a troubled heart. As I lay down to sleep, bring comfort and solace to my spirit. Help me find peace and rest in Your loving arms.
Psalm 34:18
"The Lord is near to the brokenhearted and saves the crushed in spirit."
16. Letting Go and Finding Serenity:
Lord, as I close my eyes, I release the burdens of the day to Your care. Grant me the serenity to accept what I cannot change and find courage in Your grace.
Philippians 4:6-7
"Do not be anxious about anything, but in everything by prayer and supplication with thanksgiving let your requests be made known to God. And the peace of God, which surpasses all understanding, will guard your hearts and your minds in Christ Jesus."
17. Nighttime Blessings for a New Dawn:
Heavenly Father, I pray for blessings upon this night. May it be a time of rest and renewal, preparing me for a new dawn filled with Your grace and love.
Lamentations 3:22-23
"The steadfast love of the Lord never ceases; his mercies never come to an end; they are new every morning; great is your faithfulness."
18. Closing the Day with Love and Forgiveness:
Lord, I close this day with love and forgiveness in my heart. As I sleep, may Your love fill my dreams and may I wake with a forgiving spirit.
Ephesians 4:32
"Be kind to one another, tenderhearted, forgiving one another, as God in Christ forgave you."
19. A Prayer of Thanks for the Day's Blessings:
Heavenly Father, I thank You for the blessings of this day. As I sleep, I offer gratitude for Your love and guidance. May Your blessings continue through the night.
Psalm 92:1
"It is good to give thanks to the Lord, to sing praises to your name, O Most High."
20. Nurturing Faith and Hope in Good Night Prayers:
Lord, as I rest, I nurture my faith and hope in You. May my dreams be filled with inspiration and my spirit be strengthened for the challenges of tomorrow.
Romans 15:13
"May the God of hope fill you with all joy and peace in believing, so that by the power of the Holy Spirit you may abound in hope."
Conclusion
Concluding our insightful journey through the world of "Good Night Prayers And Blessings," we sincerely trust that you've not only gained an understanding of the profound significance these bedtime rituals hold but have also unearthed their extraordinary capacity to elevate the quality of your life.
Indeed, as the day draws to a close and we turn our attention to the evening, these night prayers and blessings become the bridge between the hectic world we navigate during the day and the peaceful realm of dreams. They serve as a sacred space where we can shed the weight of our daily burdens, unburdening our minds and hearts, and turn our focus toward the divine.
In the gentle moments of this transition, we find solace, a gentle sanctuary that allows us to reconnect with our spiritual core, rekindle the flame of hope, and offer our gratitude for the day's blessings. The act of reaching out to the divine in these quiet hours can bring about a profound sense of inner peace, helping us release the anxieties, regrets, and concerns that may have accumulated throughout the day.
Moreover, it's in these nightly conversations with the divine that we recognize the countless reasons for gratitude. The ability to express thanks for the gift of life, for the experiences we've had, and for the relationships we cherish is a powerful reminder of the beauty and abundance that surrounds us. It's a moment to acknowledge the grace that guides us and be grateful for the many blessings, both big and small, that grace our lives.
In essence, good night prayers and blessings serve as a conduit to the divine, a source of comfort and serenity, and an opportunity to cultivate a heart brimming with gratitude. This nighttime ritual offers the promise of a restful sleep, knowing that as we surrender our concerns to the divine, we awaken the next morning with renewed spirit and a heart full of hope.